Don't Expect Bikini Pics on Leo's Instagram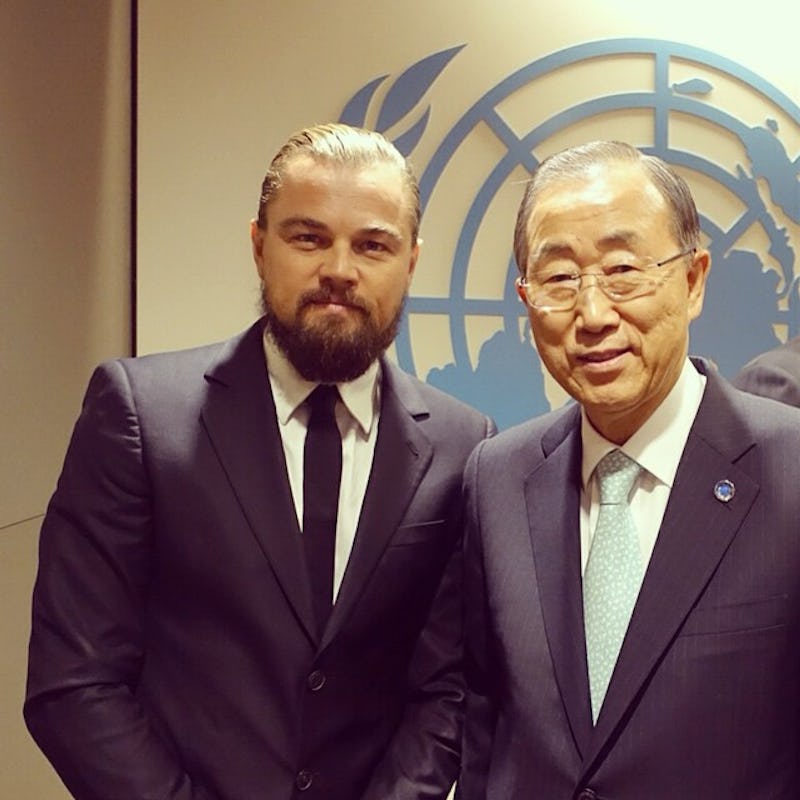 Batten down the hatches, grab your iPhone 6's, and call your mother because Leonardo DiCaprio just got himself an Instagram. While this certainly is a major, life altering development that will surely bring you joy for years to come, don't expect to see Leo being your typical Instagrammer. I don't think we'll get to witness him taking a selfie, get a glimpse of his lunchtime sushi, or see an upload of a hot, poolside bikini shot any time soon. Although I'm sure he'd get so many likes, DiCapz (is it cool if I call him that?) doesn't use social media for vain purposes. No, on top of being extremely talented and equally as handsome, he has to go and be a model citizen as well. So there is such a thing as perfection.
DiCaprio visited the U.N. on Tuesday to give a speech on the climate crisis and decided it was the perfect time to join Instagram. As evidence of the professional-type of Instagram he's sure to uphold, DiCaprio's first two debut pictures are of the U.N. General Assembly floor and a photo with U.N. Secretary-General, Ban Ki-moon. What should also be noted is the third person in the picture, DiCaprio's lush beard, that he should certainly enter in to some sort of contest. Body hair aside, I think you see what I'm getting at here... we're almost guaranteed to never see DiCaprio share a picture of his particularly foamy looking cappuccino. But, even more importantly, he does give you so many opportunities to get behind various charities and movements close to his heart. If you follow DiCaprio on Twitter, you'd know that he pretty much only tweets about his charity and activism, and it's likely his Instragram account will be a continuation of that, just on a different platform.
Here are some of DiCaprio's infrequent yet poignant tweets:
He does occasionally take some time out from planet saving to sweetly encourage his friends or promote a movie:
And here are his new Instagram pictures:
We look forward to more of your world-changing Instagrams, Leo.
Images: leonardodicaprio/Instagram