Jill's Wedding Was Huge Even By Duggar Standards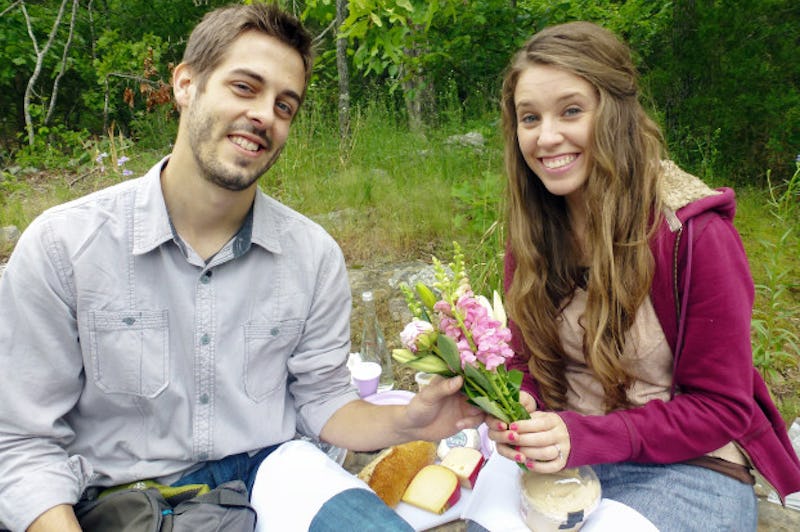 This summer might have been full of celebrity weddings, but in the delayed universe of reality TV, we're just getting started. On 19 Kids & Counting, wedding season is officially in gear, because not only is Jill married, but her younger sister, Jessa, is recently engaged as well. But before we start planning Jessa's nuptials to her fiance, Ben Seewald, we have to witness Jill's wedding — and the time has almost come to watch her walk down the aisle. The actual wedding took place back in June and by all accounts, it was spectacular.
From the pictures that have been released, it looks like it was a beautiful (and super elaborate) event. On June 21, Jill and Derick tied the knot at the Cross Church in Springdale, Ark., in an outdoor wedding fit for any Pinterest bride. And like her older brother Josh, Jessa managed to include just about everybody in her family in the ceremony, including Josie, the youngest Duggar, who acted as one of her flower girls. Basically, it sounds amazing and I think I might be more excited to see this go down than when Kim and Kanye got hitched. Yep. It's that serious.
But before we watch Jill and Derick say their vows, let's round up everything we know about their wedding so far.
Jill's dress was surprisingly flawless
In a family populated by girls who mostly wear denim skirts and consider high necklines and sleeves non-negotiable when shopping, I was a little nervous to see what Jill would be wearing on her big day. Obviously, she'd look gorgeous no matter what she was wearing — have you seen that hair? Please trade with me — but some modest wedding dresses can end up looking matronly on anyone. However Jill looked phenomenal and she managed to pick out a dress that preserved her conservative modesty while being completely flattering and romantic.
According to People, the dress was an Allure Romance gown that was originally strapless. In order to bring it up to Duggar standards, lace from Jill's veil was used to create a top that went over the dress, and it worked out perfectly.
Jill & Derick's kiss at the altar was her first
In true Duggar tradition, Jill and Derick abstained from everything but hand-holding through their engagement, so the kiss we'll see at the altar is their actual first kiss. For people who don't subscribe to their philosophy on dating and courtship, this fact can be a little mind blowing. How did Jill deal with the pressure of having such a big (and usually awkward) moment in front of just about everyone she knows? I wouldn't have been able to handle it.
But she took it in stride, and the bride told People that "it was worth the wait."
The wedding was HUGE
When you have 19 kids, you can expect any family affair to have a really, really ridiculous guest list... and Jill's wedding was no exception. People reports that 1,000 guests were in attendance, and about 100 of them were directly related to the Duggars. Those guests came from 30 different states, which means I wish I'd invested in Delta before this wedding went down.
The reception was held at the Duggar home
After the wedding, everyone was invited to keep the party going at Jim Bob and Michelle's abode. How they managed to fit so many people into that house is beyond me. There's gotta be a secret party basement they're not showing us.
The food sounds amazing
Jill and her family enlisted volunteers from their church and community to help serve the food to their legions of hungry guests, and those guests were served well. Let's talk about these crazy numbers, because according to People, the reception included 600 cupcakes, 3,000 cookies, and 3,000 root beer floats. YUM.
When Jessa gets married, I expect to be invited. I can only imagine how amazing the next Duggar wedding will be.
Images: TLC (2), JillMDillard/Instagram (3), DuggarFam/Instagram