Taylor Swift's Cat Knows What You're Thinking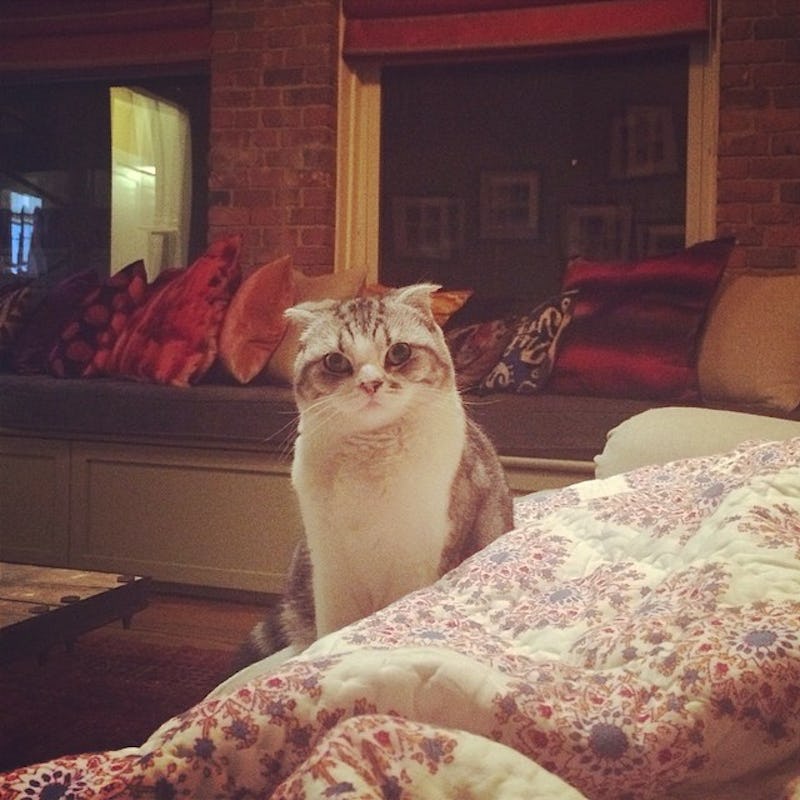 There's been a lot of attention directed towards Taylor Swift's sweet new kitten, Olivia Benson, recently. Listen, I get it. It's understandable — she's tiny, she's fluffy, she's all sorts of cute, she's named after a magnificent woman. But let's be real here, Taylor Swift's oldest cat daughter, Meredith, is where it's at and it's time our attention was refocused on her. And it seems like Swift also shares this sentiment (new baby guilt?), because she uploaded a hilarious video of her on Sunday night. The main focus of the video, was Meredith's human-like position she had on the couch, sitting upright and, apparently, ready to hash out her existential musings.
The video got me thinking: We are Meredith. Meredith is us. Her furry face and big saucer-like eyes are so emotive and expressive that we know what she's thinking without her even having to meow one word. And, it's almost always something we're feeling, too, regardless of the moment it's happening. She's like a singular feline Greek Chorus in Swift's life, letting her know when she either approves or disapproves of her recent life choices and I, for one, almost always agree. Let's take a look at all the times Mere has accurately conveyed our feelings on Swift's life with just one judge-y stare.
But first, the video:
"YOU HUNG OUT WITH LORDE. AGAIN. WITHOUT ME."
Explain yourself.
"WE ARE NEVER, EVER, EVER GOING TO DATE JOHN MAYER AGAIN, RIGHT?"
Like, ever?
"I'M NOT SURE HOW I FEEL ABOUT THAT LONG-SLEEVED LEOTARD. TRY IT ON AGAIN."
Ah, OK. With your hair like that it's cute.
"KEEPING UP WITH THE AMOUNT OF NEW FRIENDS YOU HAVE THAT AREN'T ME IS EXHAUSTING."
Why do you even need other friends?
**LISTENS TO "SHAKE IT OFF"** "NEVER TAKE TWO YEARS TO COME OUT WITH AN ALBUM AGAIN."
Do you even know what we had to listen to in the meantime? Do you?
AFTER LISTENING TO RED IN ITS ENTIRETY
It's an emotionally taxing yet cathartic experience.
THE MOMENT SHE FIGURED OUT WHO "BAD BLOOD" WAS ABOUT
Images: taylorswift/Instagram (7)