What Happened With The 'B 99' Unit Last Season?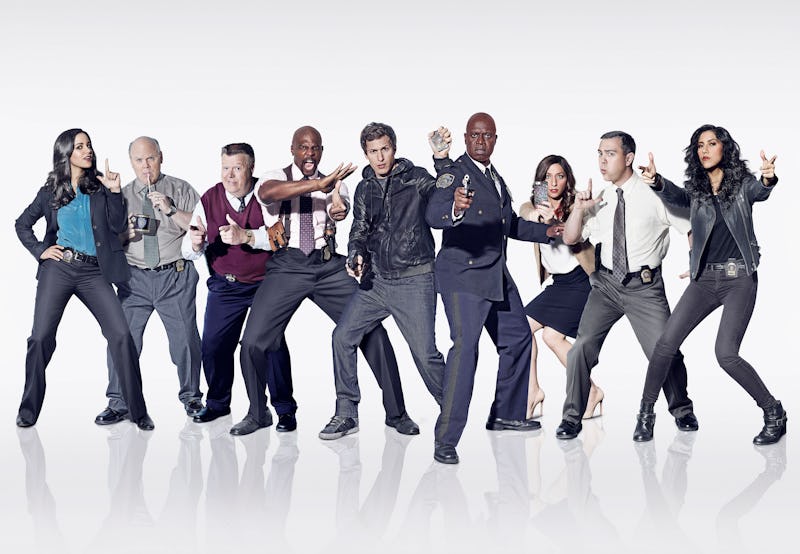 Is it just me or was Brooklyn Nine-Nine easily one of the better comedies of last year? The Golden Globes clearly agreed. It just feels so right to have Andy Samberg's Jake Peralta and the rest of the precinct back, because I have been sorely missing hilarious silliness from my television shows for the past few months. Before we jump back into the show and find out what happened with Peralta's undercover work with the FBI and whether or not Teddy and Amy have broken up, let's backtrack and recap Brooklyn Nine-Nine Season 1 to remember precisely what happened last year that made us love these crazy characters so much. Because it's important to know how many different pizza places Boyle's has ranked and whether or not his desk yogurt is actually any good (probably not).
While the series began with tough, no-nonsense Ray Holt taking over as Captain of the NYPD's 99th precinct and his clash with Detective Jake Peralta, the show's first season ended up becoming so much more, focusing on the entire unit and their shenanigans. And thank goodness for that, because if I had never gotten to meet Gina and see her obsession with Kwazy Cupcakes transfer over to Captain Holt, there would be a huge void in my life that could never be filled.
Captain Holt
So let's shake things up and start with the Captain first, shall we? Ray Holt is a tough-as-nails cop who has a penchant for rules and, more specifically, ties being worn at the workplace. Thankfully he learned to relax (not just with the tie rule) and started creating lasting relationships with his subordinates. Last year we learned Captain Holt was an openly gay officer (he came out in '87 and founded a group for gay African-American members of the NYPD) and was married to Columbia University professor Kevin Cozner. Still love that name.
When Peralta stumbled across some corruption in the city government, Holt asked him to get himself fired instead of reporting his findings so that Peralta could join hands with the FBI to work undercover and take down the bigger fish in the New York pond. One of my slight annoyances with Season 1 of Brooklyn Nine-Nine was that we only got a short glimpse into the captain's life. But apparently Season 2 will provide more information about Holt as he faces off with a rival and feature the return of not just his husband, but his '70s hair and mustache too!
Jake Peralta
Oh Jake, the absolutely ridiculous, yet somehow still charming oaf of the Brooklyn Nine-Nine crew. Jake started off the series challenging the new authority of Captain Holt, but learned to respect the man and started a weird, endearing friendship with him. Peralta had great relationships with all of his co-workers including a silly competition with fellow detective Amy Santiago to see who can collar the most bad guys. The bet ended midway through Season 1 with Jake taking the final lead, and he required Amy to go on the "worst date ever" with him. It was bad. Like '80s prom dress, only getting 3 bathroom breaks, cargo shorts and tuxedo T-shirt bad.
Clearly Jake had a thing for Amy, but didn't reveal it to anyone until he found out that Amy started dating her old boyfriend from the police academy. He told Boyle, his best friend for whom he was supposed to be a best man, only because Boyle had already figured it out. And after getting fake fired in order to go undercover for an assignment with the FBI, he finally told Amy about his feelings, but didn't give her much time to process her own feelings and react. Hopefully in Season 2, Jake can keep his nonsensical attitude towards life while learning how to be an even better cop thanks to his time with the FBI. Because I really love it when Jake rubs his achievements in his fellow Nine-Niners faces.
Boyle & Diaz
Now I know it seems strange to put Boyle and Diaz together, but despite never going out in the past and probably even in the future, their storylines intertwine quite a bit, since Boyle thinks he's in love with Diaz. Boyle's love for the tough and awesome Diaz is justified because, like I said, she's awesome. When he was drugged up on pain killers thanks to taking a bullet in the ass for Diaz, he revealed via one of his "truth bombs" that he didn't take the bullet for Diaz because he loves her. He did it because it was what any good cop would do. Then Boyle delivers his single most suave line "When you finally go out with me, and you will, it'll be because I do things that only Charles Boyle would do."
But that crush became dormant while Boyle found love with food author Vivian. The two were supposed to get married and move to Canada, until Boyle told her he couldn't leave New York and she later dumped him. Boyle rebounded at the end of the season after getting drunk and waking up next to Gina. God do I hope the whole precinct finds out about this insane pairing in Season 2. And God do I hope the others tease them about it for a little while. It would be funny to see how Gina particularly handles the teasing, rather than being the one to dish it out.
Gina Linetti
She's amazing, she introduced Captain Holt to Kwazy Cupcakes, she was the master of burns on the show's first season, and she hooked up with Boyle. Besides that, when it comes to Gina, I think you need to watch her antics for yourself to fully understand her awesomeness.
Amy Santiago
The thing that always struck me about Amy was that she was clearly a good cop, but always needed the approval from Captain Holt to prove it to herself. I really hope Brooklyn Nine-Nine explores that idea a little more in Season 2. For much of Season 1, Amy felt very much like an open, slightly boring book. She loved her job, she had a competition with Peralta, and she was awkward socially. She was almost like the Ann Perkins of Brooklyn Nine-Nine, the quintessential straight man with no insane quirks. But her desperation to get affection and praise from Captain Holt became a defining character trait for Amy and that gave her some really interesting and hilarious depth.
Amy's relationship with Teddy was really sweet and healthy, though it's hard to bet against her potential relationship with Jake. While I don't see Amy and Jake as endgame at the moment, I still think they would be great together. But Amy deserves some time with a great guy like Teddy for a while too. It'll be nice to see Amy try to choose between two good men in Season 2. She definitely deserves the best.
Let's Not Forget About Terry Jeffords
Y'all, Terry Crews is funny. His character, Terry Jeffords, might look tough as nails, but in Season 1 he was afraid of everything. Sergeant Jeffords was involved in a shooting before the start of Season 1 that resulted in trauma for Terry and one death... of a mannequin. Yet because of that incident, he was unable to get over the fear and his family basically forbade him from going back into the field. Terry got over his fear over the course of Season 1 and finally went back into the field where he saved Captain Holt's life during a bust. His wife was furious with him at first, but understood his need to be a brave cop for his kids and for himself. Though it's fun to see scared Terry, I cannot wait to see him back in action. He's built like a Terminator, he might as well use what he's got.
Now you're completely caught up and all that's left to do is wait in anticipation for the premiere of Season 2. When it comes to Brooklyn Nine-Nine, one thing is for certain: the only thing that sucks about the show is waiting for its return.
Images: Scott Schafer, John Fleenor (2), Eddy Chen (4)/FOX