Catch Up with 'Return To Amish's Sabrina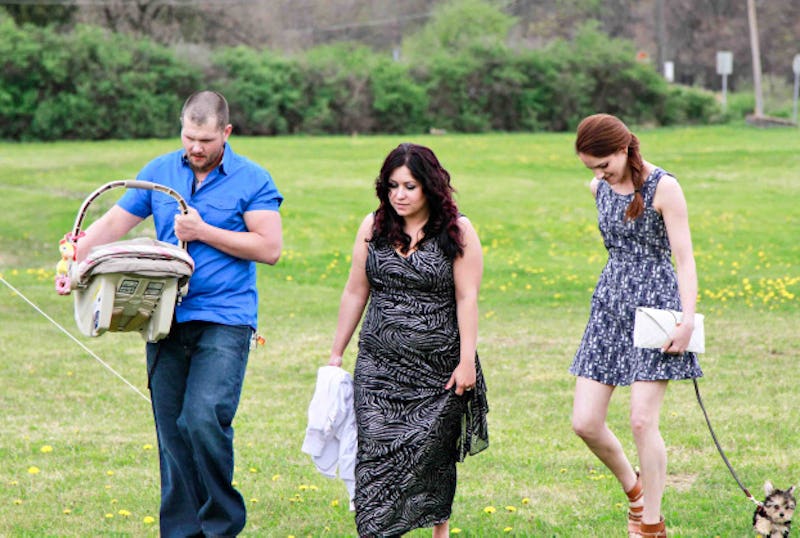 It's been a big year for Sabrina High Burkholder. It seems like the drama didn't stop for Sabrina once the Return to Amish cameras stopped rolling. And it's not like her time on the show was smooth sailing. Raised a Mennonite, Sabrina's family disapproved of her having a baby out of wedlock and cut her off, calling the child a "disappointment." Ouch.
Despite the family issues, Sabrina seems to have bounced back, taking the life changes, makeups and breakups, and reality-show scrutiny in stride. Here's what she's been up to recently.
Raising Baby Oakley Is Priority No. 1
And what a cute baby she is. Sabrina gave birth to this little one, named Oakley Leila, on March 21, 2014. For a while, she was secretive about the identity of Oakley's father, but it was later revealed to be Harry Kreiser III, who also appeared on Breaking Amish . Now, it seems like most of Sabrina's life is devoted to raising her daughter — and posting ultra-cute pictures of her on Twitter. From the looks of the snaps, it seems as if Oakley is a budding reality star too, even if her TV debut was cut from the Return to Amish reunion.
She's Had a Complicated Love Life
Sabrina's love life has been, well, hard to keep track of. Has she been with Jeremiah Raber recently? Is she still with Harry, the father of Oakley? Thankfully, Sabrina took to twitter to straighten some of it out.
As for Harry, the on-again, off-again relationship seems to be, well, off again. In a Facebook post (now deleted) from July, Sabrina noted that she didn't have a boyfriend and was actually dating women. According to Starcasm, the post read as follows:
In honor of pride week, I decided I wanna be honest with everyone and let y'all know that no, I don't have a boyfriend anymore, but I have been casually seeing various beautiful women
True love is a gift from God Himself ♥ Judge me all you want, but you will not ruin my happiness… I've learned to look at people as souls instead of whether they are male or female.
She hasn't said anything about her love life publicly since then, so hopefully the Harry/Jeremiah issues have stayed firmly in the past and she can find someone who makes her happy without all of the drama.
She Supports Her Castmates
Though she hasn't tweeted since the Return To Amish "The Shunning Truth" special, Sabrina has expressed support for her fellow TLC castmates. Her last tweet, on July 20, promoted Kate Stoltz's burgeoning fashion career.
She also likes to retweet fans' reactions to the show, so if we're ever lucky enough to see Sabrina on TV again and you want to get her attention, it shouldn't be too hard.
Image: TLC