What Would It Take To Get Her To Run For Office?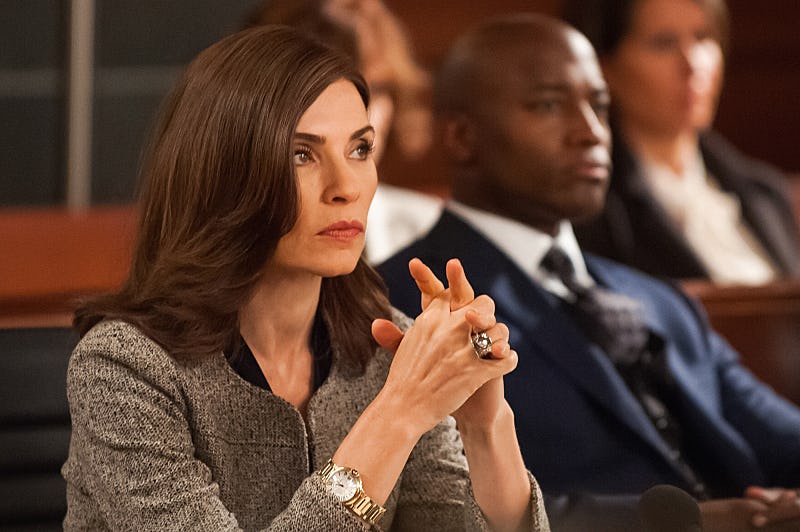 We saw quite the strange turn of events in The Good Wife Season 6 premiere "The Line." Cary Agos is in jail. I repeat, Cary. Agos. Is. In. Jail. But while my fellow writers are handling Cary's current prison predicament (and hopefully they bring up his shirtlessness), I feel like it's important to focus on the other gigantic political elephant in the room. Alicia still won't run for State's Attorney, despite Eli's persistence. In "The Line," Eli went behind Alicia's back and refusal to run some polls that would determine whether or not Alicia actually had a chance to win. The results had her winning by eight points ahead of her opponent, the incumbent James Castro. Even Alicia's husband Governor Peter, thanks to Eli's manipulation comes around to the idea of Alicia taking on the campaign.
And yet it doesn't seem like she'll be all that interested just by those two points which any normal person would be intrigued to hear. So what exactly would cause the named partner of Florrick/Agos to actually make the leap and run for State's Attorney like I assume we all believe and hope she will? I have some ideas but one thing is definitely for sure: It'll take a lot more hard work and manipulation on Eli's part.
Cary's Case
Obviously, Cary's case is really putting a dent on the Florrick/Agos rise, especially Diane is hoping to join the team soon. Perhaps if Alicia starts the campaign to get elected as State's Attorney and remove Castro from office, Cary can finally get a break with this arrest which is clearly targeting Lemond Bishop. Plus this way she can beat Finn Polmar's attempts to win Cary's case and put him behind bars as well as stick it to the police who are trying to scapegoat him just to get her client arrested.
Alicia's Kids
Zach's in college and Grace is still around. But just because they're currently doing their own thing and not featured prominently on the show, that doesn't mean that Alicia won't take their opinions into consideration. If the State's Attorney race will be damaging to her children in any way, she won't do it. So what Eli should really do is get to the kids first and convince them to let their mother start this campaign. They would have to prove to her that they'd be willing to:
A. Have another parent possibly in an elected position.
B. Officially be in the spotlight all the time, something they were saddled with when their dad ran for and won the Governor's seat.
Diane Urges Her To Do It
Diane has always known that Alicia was destined for greatness in the world of justice and lately it seems as though even when Alicia left Lockhart/Gardner to start her own firm, Diane has still, in many ways, had Alicia's back. Now that Diane is not only joining Florrick/Agos but also offering to help with Cary's case by being his lawyer, it seems to make sense that she would also support Alicia's potential State's Attorney campaign. It would be helpful for Diane to have the State's Attorney on her side of course, but also she knows, as we all do, that Alicia would flourish in the position. Diane's urging could be what Alicia needs to push her towards Eli and the campaign.
The Draw Of Being In A Powerful Position Like Her Husband
I don't know about Alicia, but if I were in her position up until this point, no matter how much Peter and Alicia are in agreement about their open marriage and how much she says she's forgiven him for his indiscretions, it would be feel like such a joy to be in a powerful position and prove that I had made it on my own in my line of work. Hopefully, Alicia will embrace the position and the potential triumph of winning that her husband has been chasing for years. She's a strong, intelligent, awesome woman who deserves to feel that way on her own accord.
Starting her own firm is definitely a step in the right direction, but winning State's Attorney would put that feeling on top.
Images: Jeff Neumann (3), Craig Blankenhorn, Jeff Neira/CBS