Alicia's Not Running for State's Attorney...Yet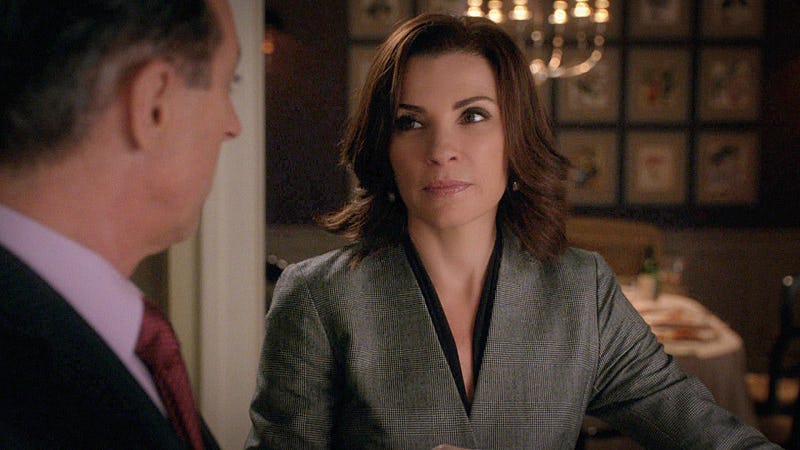 When The Good Wife returned with its Season 6 premiere, "The Line," on Sunday, the one question on everybody's mind was, "Will Alicia Florrick run for state's attorney?" Unfortunately, the episode didn't give us a definitive answer, but it did make one thing clear: Everybody wants Alicia to run for state's attorney — Alicia herself just isn't sold on the idea yet! But if Alicia's husband, Peter Florrick, and his right-hand man, Eli Gold, get their way, she could be launching her campaign very soon.
"The Line" picks up right where Season 5 left off: Eli has just asked Alicia if she would ever consider running for state's attorney — and she totally turns him down. Can you blame her? Why would Alicia want to run for state's attorney? She manages her own business, she still has a kid at home, and she barely has enough time to breathe as it is — no, Eli, Alicia does not want to run for state's attorney. But of course, he doesn't give up that easily.
Eli takes it upon himself to do a little hypothetical polling: If Alicia were to run, would she stand a chance against the incumbent, James Castro? Yup. In fact, the polls show that she'd probably kick his ass. Chicago voters absolutely love Alicia. At first, Peter isn't on board with the idea, but Eli is eventually able to change his mind. Now all they have to do is convince Alicia!
I said it back in May, and I'll say it again: I just don't think I'm that interested in watching Alicia run for state's attorney. I'd much rather see Diane Lockhart join Florrick/Agos. I want to see Alicia and Diane working side by side again! The cackling, the cocktails — it would be fabulous! But if Alicia isn't eventually going to run, why would the show's writers have even bothered posing the question in the first place? Yes, I think it's pretty safe to assume that Alicia is going to end up running for state's attorney during Season 6, and I have to say, I'm not too thrilled about it.
On the bright side, if Alicia wins the election, she'll probably get to spend a lot more time with assistant state's attorney Finn Polmar. Could there finally be love in the air for those two? Gosh, I hope so.
Images: CBS