Can We Get A Castellano Spin-Off?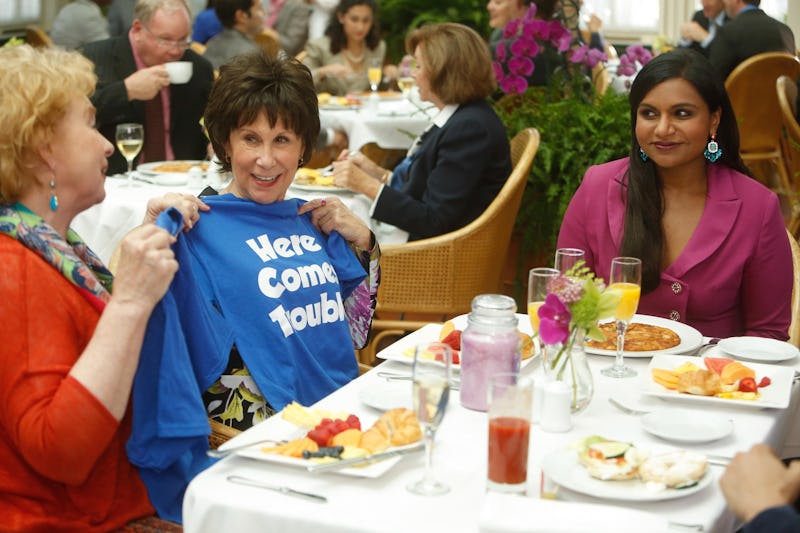 When the third season of The Mindy Project began, I already knew that I loved Danny Castellano. I even knew that I loved Ritchie Castellano, his younger brother who lives in Miami and teaches tennis lessons. So when I learned that that Rhea Perlman would be joining The Mindy Project as Mrs. "Ma" Castellano, I knew I was ready to be adopted by this fictional family. And Tuesday night's episode did not change my mind.
When Danny's mom is introduced in the very beginning of the episode, it is almost instantaneously obvious as to where Danny gets his Castellano... well, let's call it charm. Her relationship with Mindy seems to start off entirely too smooth for any "meet Ma" moment the show is going to have, which is all but confirmed when Mrs. Castellano slyly asks Mindy what her "rate is" if she were to come out to Staten Island. Mindy doesn't think much of it, but Danny, and soon the viewers realize, she thinks Mindy is the cleaning lady.
So with a bumpy start to their relationship, it seems like the two driving female forces in Danny's life are just not meant to be friends, right? Wrong, of course, because Mindy has never met a mom that hasn't liked her. Enter her four point plan to make Mrs. Castellano fall in love with her. Of course the first step in the battle is for Danny to actually tell his mom that Mindy is his girlfriend and not his cleaning lady — which she quickly forgives saying it happens all the time and was once confused for the Dora The Explorer balloon on Thanksgiving.
So even though Mrs. Castellano seems like a tough cookie, you can't help but love her just like you do Brother Castellano. Here's why:
She Supports Her Sons
So maybe she doesn't support them financially, but emotionally she is their number one fan. She boasts about Ritchie's web series "How To Be Gay On A Budget" — of which there has only been one episode in eight months — and she brings Danny old issues of TV Guide magazine.
She Has An Amazing Friend Named Dot
Ike Barinholtz, who plays the "I pee when I sit down and have 40 dogs" Morgan Tookers — also a writer on the show —shared this insight about Mrs. Castellano's BFF Dot, who attended the her birthday brunch and was very vocal on stove installation in the home.
She Only Watches Castle
In a quirky character trait that only The Mindy Project writers could think up, Mrs. Castellano doesn't watch any television show other than Castle.
She spends thousands on a phone app "Coffee Crunch"
And just like that she became the most relatable person on television. "Coffee Crunch" is obviously a hat tip to "Candy Crush", and who hasn't paid a little extra to move ahead, am I right? I also like to think she pays big bucks to be on the A-List of Kim Kardashian's iPhone game, as well.
Images: Jordin Althaus/FOX