Tom Hiddleston Stands Up for Emma Watson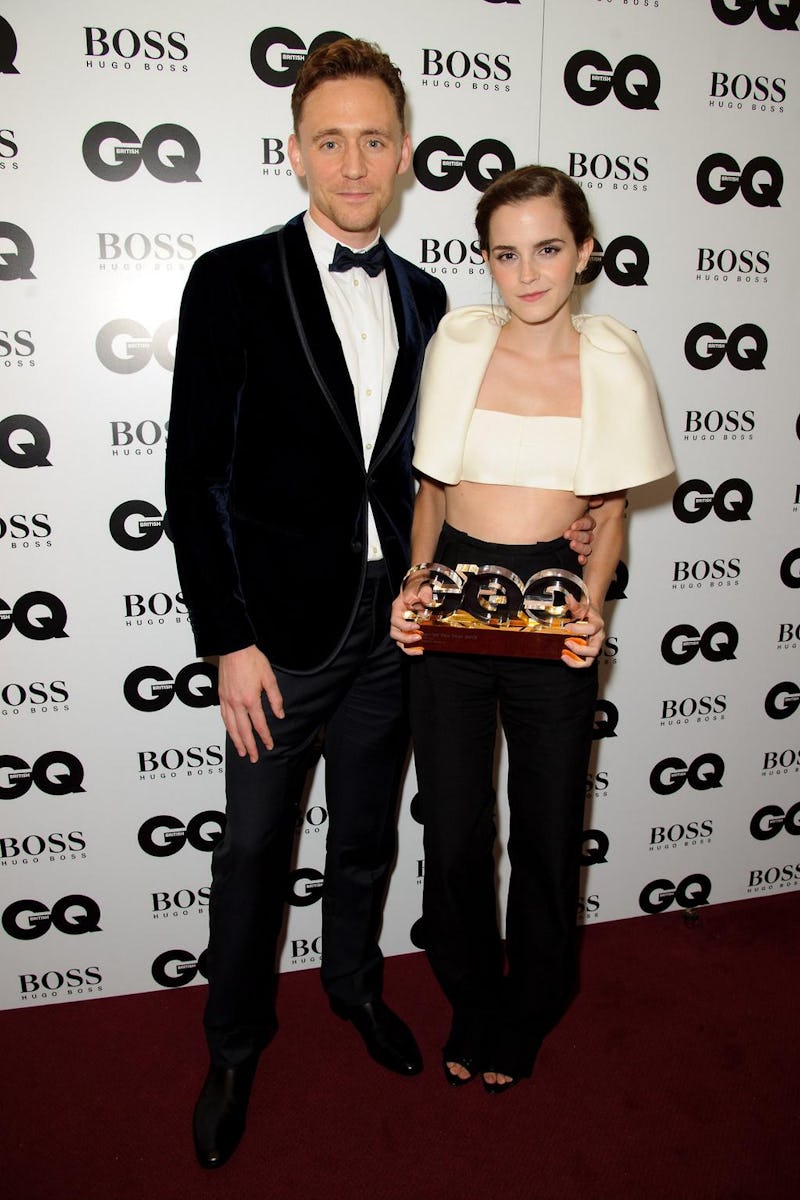 Something magical happens when two beloved celebrities become friends, and when those two celebrities in turn stand up for each other it makes you feel all warm inside. But when those two stars are none other than Emma Watson and Tom Hiddleston, the Internet threatens to explode — especially after what Hiddles just did. Earlier this week, Watson captivated our hearts and brains with her smart, eloquent speech on feminism and gender equality. Inspired, Tom Hiddleston took to Twitter to declare his support for the HeForShe campaign, and for Watson herself.
That support is exactly what Watson's campaign is about: having men stand with women during this equality movement. It's nice to see that her message is being disseminated the way she intended, and that she has someone like Hiddleston on her side. This is especially poignant in the wake of misogynist threats to leak nude photos of her because she dared to speak up for women.
Hiddleston was having none of that and instead told the world exactly how much he cares about Watson tweeting "@EmWatson you are impeccable & extraordinary. I stand with you. I believe in gender equality." He accompanied the tweet with a photo os himself holding up a #HeForShe sign.
But this isn't the first time the actor has had Watson's back. Over the years, he's always been there to support his fellow Brit and close friend.
HE NAMED HER WOMAN OF THE YEAR
It's true that Watson was already slated to get the award from GQ, but knowing she was also Hiddleston's pick must be nice.
HE'S HER PROFESSIONAL MIC ADJUSTER
So thoughtful.
HE HAS NOTHING BUT KIND WORDS FOR HER
Choice quote:
Shakespeare said that some are born great, some achieve greatness, and some have greatness thrust upon them. Well this woman, certainly from a very young age, had greatness thrust upon her and she may have indeed been born great. But this year she has definitively achieved greatness.
Swoon.
HE IS ALL TWITTER FLATTERY
Hiddleston very rarely tweets, and even more rarely responds to what people tweet to him. The fact that he took the time to acknowledge Watson's words and respond with a compliment shows exactly the kind of relationship these two have. Hiddleston clearly adores her, and in an older brother fashion, will always have her back.
Between thoughtful speeches and declarations of feminism, these two have the kind of celebrity friendship dreams are made of and I love it.
Images: jennifershraderlaw; mishasteaparty/Tumblr