Get Homecoming Inspiration From Fashion Week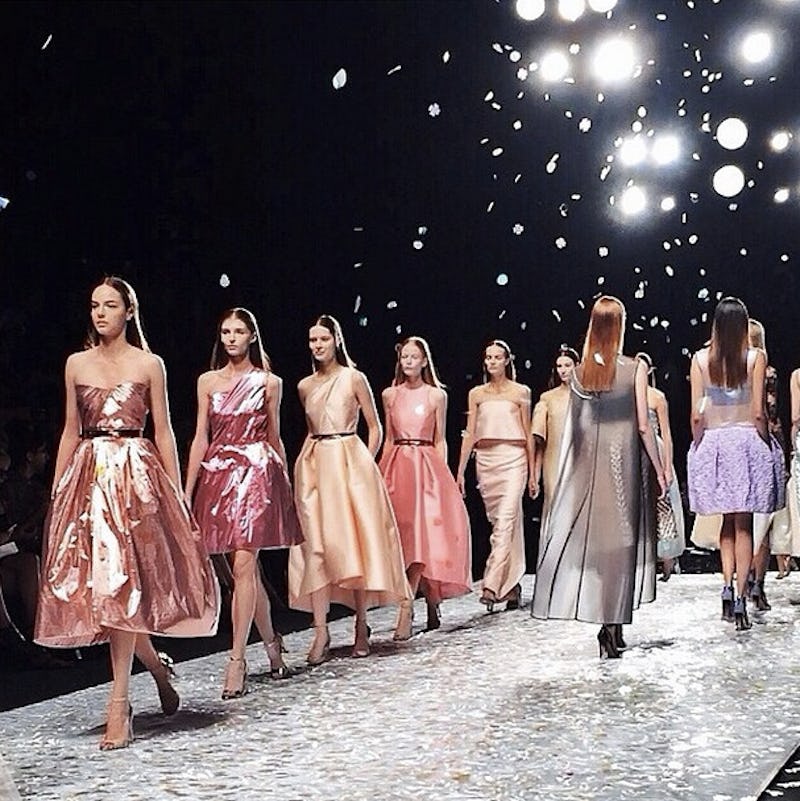 Can you believe it's Homecoming season already? Well, luckily it happens to coincide pretty handily with all the fashion weeks — New York, London, Milan and Paris — so where better to take inspiration from? All of the above happen to be a great place to look to see what the next big thing will be, and it'll definitely help you to find a fresh spin on your personal style, if that's something looking to do.
So what are the hottest trends of the moment, anyway? Nature-inspired prints were a big hit at London Fashion Week, while sheer florals ruled the runway at Milan Fashion Week, and the color pink was also a big deal overall (a huge win for the Elle Woods of the world): Heck, it all sounds good to me!
Daydreaming of jetting off to Paris is all fine and well, though unfortunately, unless you're Chloe Grace Moretz or Hailee Steinfeld, it's kind of unlikely that you'll be donning gowns straight off the runway for the big day — so we'll just have to settle for the next best thing: Designer-inspired pieces. Keep reading for runway-inspired Homecoming looks that run the gamut from dreamy romantic to Old Hollywood classic to flirty-edgy!
Satin-y Prints at Monique Lhuillier
Is there any brand more suited for homecoming inspiration from than Monique Lhuillier? Methinks not — after all, it doesn't get any more romantic than Lhuillier's muted color palettes, feminine silhouettes, and gorgeously-luxe materials. Luckily, you can get the look with this retro-sweet Ted Baker number:
Edgy at Christopher Kane
There's just something undeniably cool about Christopher Kane, isn't there? If you're a fan, you can emulate his look with this laser-cut dress from Urban Outfitters!
Tea Time Romantic at Oscar de la Renta
You can't beat Oscar de la Renta for Old Hollywood charm — I'm getting serious Audrey Hepburn/Grace Kelly vibes here. If you're looking to go retro glam for Homecoming, try out this floral wrap dress from ModCloth:
Ombre at Burberry
Ombré's been on trend for a while now, and Burberry's tulle take on it was nothing short of gorgeous. If you're a fan of the look, check out Erin Fetherston's collection for Nordstrom:
Oh, and speaking of Burberry...
Tulle at Burberry
Sure, lots of girls are going to show up to the dance in frothy tulle numbers, but it's all in the styling! Why not take a gorgeous tulle dress, like this one from ModCloth...
... And punch it up with a tough moto jacket?
Retro-metallic at Jenny Packham
Jenny Packham took inspiration from Marilyn Monroe, and added a futuristic metallic twist — and you can do the same with a full-skirted metallic mini!
Images: albertaferretti, burberry, jennypackham, evachen212, fashiontomax, moniquelhuillier (2)/Instagram; Courtesy Dress Brands