This 16-Year-Old Won't Stand For Bullying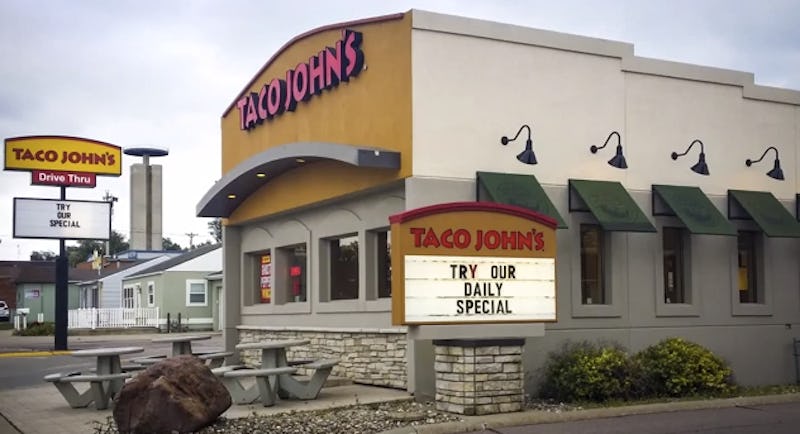 There's something to be said about those who don't tolerate bullying — especially when it comes to bullying/discrimination in the workplace. Take 16-year-old Tyler Brandt, for example: after his manager at Taco John's made him wear a name tag labeled "GAYTARD," he decided to fight back with his petition, "Taco John's Called Me a Gaytard." The best part: not only is Brandt is being represented by the American Civil Liberties Union (ACLU), but he has filed an EEOC case against the chain.
According to a post Brandt — who has been out to his friends and family since the fifth grade — wrote for ACLU's Blog of Rights, he started working at a Yankton, South Dakota Taco John's in June. Not long after getting the job, one of his managers started bullying him, called him names and using homophobic slurs. One night, he called Brandt into his office and told him to wear name tag that read "GAYTARD" with hearts on either side of the word. Brant recalls the event in a video for the ACLU:
"Throughout the night whenever a customer came in I would stand behind the counter where they couldn't read the name tag, but even still my manager was yelling at me calling me a "gaytard" in front of my coworker and the customers that came in."
Brandt decided to quit the following day.
From there, the ACLU helped Brandt file charges of discrimination against with the U.S. Equal Employment Opportunity Commission. He also started a petition requesting that Taco John's apologize and "publicly speak out against discrimination and bullying in the workplace." So far, it's been signed by over 17,000 people.
But there's more! People across the globe are joining Brandt by submitting photos of themselves wearing offensive name tags/labels, along with their own stories of bullying and discrimination. Take a look a look at a few supporters, whose photos and responses have been posted on Brandt's website:
Tyler, I put up with vicious verbal and sometimes physical abuse until I eventually dropped out of high school. I applaud you for standing up to your bullies. You are clearly a strong person with a lot of character so please persevere with pride. - Terry
As a Muslim daughter of immigrants who grew up in the South, I have experienced discrimination both directed at myself and at members of my family. I have been called a terrorist at various points in my life—most recently, oddly enough, the trend seems to be that people call me a terrorist "jokingly." These racialized and dehumanizing insults are never okay, no matter what the context, tone, or relationship. Tyler, thank you for standing up and bringing attention to this issue. - Samia
"I moved to the US when I was a teen - and high school was hard because of the names I was called. It's not right, not in the classrooms, not at work. - Sabelo, Brooklyn"
To sign Tyler Brandt's petition, visit the ACLU's website.
Images: acluvideos/Youtube, Taco John's Called Me a "GAYTARD" (1-3)