Chapel Is Going Through a Very Difficult Time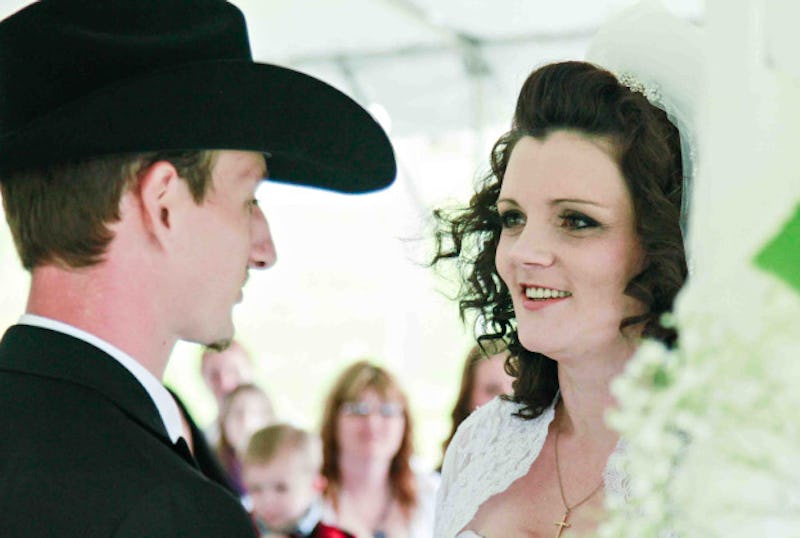 Getting your family and community to accept non-Amish choices has always been a looming theme in TLC's shows Breaking Amish and Return to Amish , especially when that choice is an English partner. Even though they have had their ups and downs, Andrew Schmucker and Chapel Peace finally tied the knot, despite her cancer struggles. But now that a few months have passed, how has Chapel's cancer battle been going? Her cancer was in remission for about a year after a diagnosis in 2011, though it later resurfaced and prompted a fundraising campaign in late 2013.
Starcasm reports that late this summer the couple announced via Facebook that Chapel wanted to try a new treatment called The Gerson Therapy, because chemotherapy was just too terrible the first time around. Gerson Therapy is a little bit controversial; Cancer.org describes it as a form of alternative therapy where cancer is treated through diet. It includes things like juicing and coffee enemas, but has also been noted to lead to things like infections, and even death. Essentially though, the idea is to fix your metabolism and then everything else will fall into place, including your cancer cells.
Chapel ran a second fundraising effort via GoFundMe to support her flying out to Mexico to receive this alternative treatment, eventually raising thousands of dollars. While that is how she spent her summer, Chapel seems to have a taken a different treatment route this fall. Her and Andrew's Facebook once again made mention of being weakened from chemo treatments as late as this month. Chapel explained financial hardship as the reason for starting up with the more traditional treatment. Despite raising $4,000, the expensive alternative therapy and Mexico trip was still impossible. Chapel discusses needing more assistance, Andrew losing his job, and hardship from her mother as well.
Cancer is a terrible thing to face and coupled with all of those other issues, it's clear that Chapel is going through an extremely difficult time. Now that Chapel has begun treatment again, I can only hope that there are bluer skies ahead.
Image: TLC