7 Fall TV Crossovers We'd Love to Watch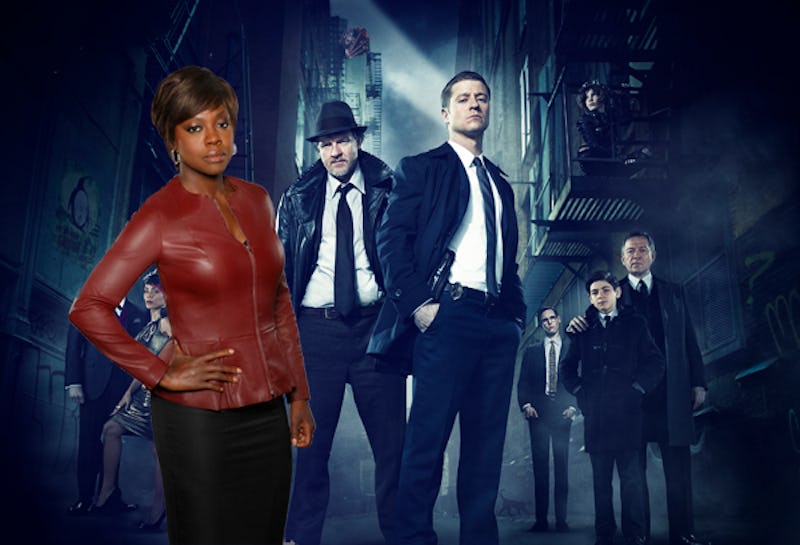 It's fall again and you know what that means, don't you? It means that all of our favorite television shows are either premiering or launching another great season. Some of the fall 2014 TV shows might not be feminist-friendly, but overall we've got some solid shows coming out or coming back to give us something to do when we don't feel like leaving our houses. However, as the first week of premieres starts to come to a close, I begin to find myself a little... well, bored. Don't get me wrong. Gotham's pilot episode blew me away, as did Sleepy Hollow's Season 2 premiere and How to Get Away with Murder. I'm just in need of a little bit more.
That's why I took it upon myself to start imagining what would happen if all of the great characters from all these fantastic fall shows began to overlap. Sure, most of them come on different networks, making the chance of any kind of crossover impossible. I mean, aside from the ones that are set in the same universe. (I'm looking at you, Arrow and The Flash.) However, that can't stop a girl from dreaming. There are just some fall television shows that were practically born to do a crossover or that just lend themselves to crossover elements so well. Hey, networks, if you're out there and listening, please consider working together to bring these seven crossovers to life. Pretty please. For me?
How to Get Away with Murder Meets Gotham
Who killed Thomas and Martha Wayne on Gotham? Well, they'll never see a second of jail time once they call in defense attorney Annalise Keating from Philadelphia. Just when Jim Gordon and Harvey Bullock thought framing Mario Pepper would never come back to haunt them... On a more serious note, Gotham and How to Get Away with Murder both feature two dead bodies and the mystery of who exactly killed them and why. A cross-over between the two would be epic because if anyone could survive in Gotham, it would be Annalise Keating.
Scorpion Meets Scandal
Let's see. Two highly-intelligent leads who both worked for the United States government before an event that still haunts them spurred them to quit their jobs and open a private practice until they're seduced back into the government's arms by a current crisis? Where have Walter O'Brien and Olivia Pope been all each other's lives? Besides, if anyone is going to need a crisis management expert, it's a group of geniuses who work for the government but don't know how to interact with actual people except with the help of a friendly local waitress.
New Girl Meets Faking It
Jess needs a fresh start, so she takes a temporary job in Texas as the new high school teacher at Hester. There, she meets two girls named Amy and Karma, whose friendship reminds her a lot of her friendship with Cece. Except they never pretended to be lesbians to be popular. Because who does that? Basically, New Girl doesn't try to take itself too seriously and neither does Faking It. Plus Hester High is the kind of alternative place where someone as quirky as Jessica Day would just fit right in. Just make it happen, MTV and FOX.
Grey's Anatomy Meets A to Z
All right, so technically just watching Grey's Anatomy from the pilot episode to the Season 11 premiere was watching Meredith and Derek's relationship develop from A to Z. But, come on. Meredith and Derek met under the same kind of unusual and memorable circumstances as Andrew and Zelda and Grey's Anatomy would totally benefit from having a romantic comedy episode to lighten up all that, you know, medical drama stuff.
Sleepy Hollow Meets Stalker
Well, I mean, if you count Andy, then Abbie Mills already has a stalker on Sleepy Hollow. He just also happens to be dead. You can't tell me that Lieutenant Beth Davis and "Leftenant" Abbie Mills wouldn't get along, even if Abbie might not really consider Andy so much a stalker as he is a — yeah, no, Andy's a stalker. Besides, I bet Detective Jack Larsen and Ichabod Crane would become awesome friends. I'm calling it now.
American Horror Story: Freak Show Meets The Flash
If there is anyone who belongs in a freak show, it's The Flash, who is introducing superpowers into the otherwise superpower-less Arrow universe. The two headed lady, the bearded woman, and the boy who can run at the speed of light? Sign me up for that.
Elementary Meets Jane the Virgin
Elementary's Sherlock Holmes and Joan Watson roll into Miami to investigate the serious mystery of how Jane the Virgin managed to get pregnant. When Sherlock discovers that this is less of a mystery as it is a case of severe medical screw-ups, Joan forces him to stay and see this through while they help Jane sue the hell out of her doctor and the hospital and the whole world because they got her pregnant without her consent.