The 7 Best '90s Halloween Movies of All Time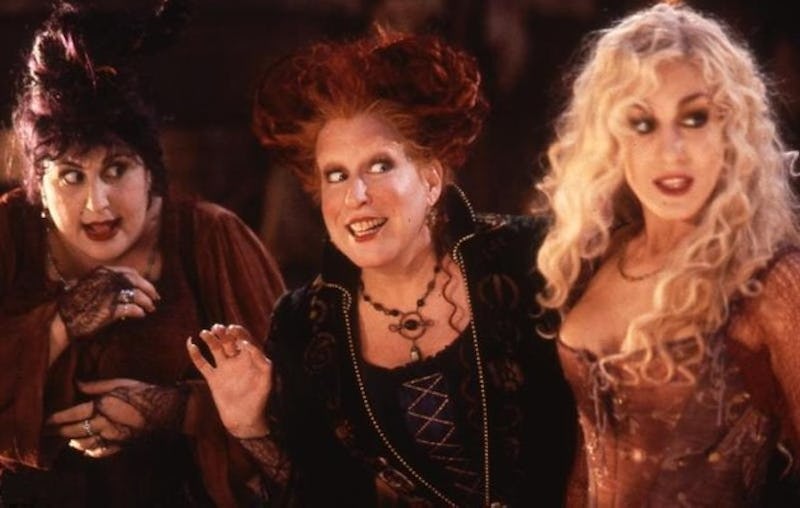 Halloween is by far the best holiday ever. While I understand that fall is considered by some to be basic bitch season (whatever that means), summer is highly overrated, especially the ones, like last summer, that just seem to drag on and never end until it's mid-September and I'm still sweating just from peeling a banana. The family-centered holidays like Christmas and Thanksgiving can be stressful and awkward, and the summer and springtime holidays are kind of underwhelming. Halloween is the holiday of institutionally sanctioned candy-bingeing, which makes it the best holiday of all by default. Another reason Halloween is the best: HALLOWEEN MOVIES. '90s HALLOWEEN MOVIES.
Christmas movies will never compare to the beauty of the classic '90s Halloween movies like Hocus Pocus. The diva-level of this movie is through the roof, and it will never get old. Also, I only realized like three days ago that the blonde one is Sarah Jessica Parker, and my mind is still kind of blown. Hocus Pocus is the quintessential '90s Halloween movie, but there are so many more that deserve to be revisited while you candy-binge.
Here is a list of the best '90s Halloween movies ranked by overall Olsen twins presence, CGI ghost usage, and level of Christina Ricci.
#7 Double, Double, Toil and Trouble
A classic from the Mary Kate and Ashley Golden Era to get you way pumped for Halloween.
#6 Tower of Terror
The story behind the Disneyland ride, plus a young Kirsten Dunst.
#5 Casper
This movie made me wish I had an adorable ghost BFF, even though Casper's backstory, and that scene where the spirit of the mom comes back wearing that amazing red dress makes me way sad.
#4 The Nightmare Before Christmas
I've seen this movie way too many times, and I'm still not sure if it's a Halloween movie or a Christmas movie for people that don't really like Christmas. Either way, The Nightmare Before Christmas totally rules.
#3 The Addams Family
Can we please talk about how hot Gomez and Morticia are together and how badly they want each other's bodies throughout the entire movie? Also, Christina Ricci is a gift to humanity.
#2 Beetlejuice
Technically an '80s movie, but still a Halloween classic and one of the weirdest movies ever made. Seen it more times than I can remember, still don't really know what it's about, but all I really care about are Winona Ryder's outfits and everything she says in the movie.
#1 Hocus Pocus
The definitive '90s classic. Even though that zombie is actually kind of horrifying, this movie is a treasure. Looking like Sarah Jessica Parker as Sarah Sanderson is still a life goal.
Image: Walt Disney Pictures