This School Is Mandating Co-Ed Frats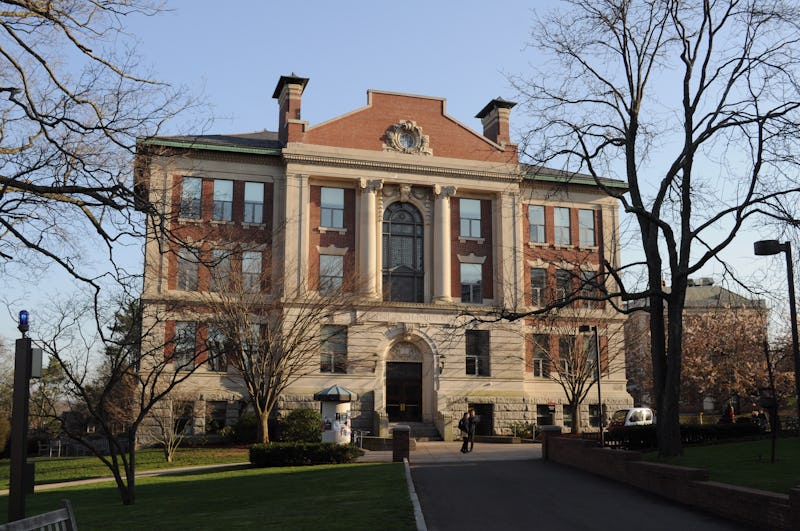 Like many universities in America today, Wesleyan University in Connecticut is grappling with the issue of sexual assault on campus, which means dealing with the fraternities on campus that are at the center of the conversation. Part of the administration's solution, it seems, is requiring Wesleyan fraternities to admit female members. It's an interesting and thought-provoking solution, one that the fraternity members themselves are not particularly happy about. Shocking.
Though it may seem like a somewhat drastic option to force historically all-male frats to go co-ed, this decision comes following a long string of issues with Wesleyan fraternities. In October of 2012, a female Wesleyan student sued the Beta Theta Pi fraternity after allegedly being assaulted by a guest at party held at the frat house. Earlier this year, another female student sued a fraternity — this time Psi Upsilon and 11 of its members — alleging she had been raped in front of numerous on lookers at a party she described as "wildly out of control." And a recent poll of Wesleyan students found that 47 percent felt fraternity houses were less safe compared to other party spaces on campus.
The same poll found that a majority of students also felt that the fraternities had a negative effect of gender relations and gender equality on campus, and that making the frats co-ed would also make them safer. In light of all of this, it's not surprising that the administration would require fraternities to admit women. It's also completely not shocking that plenty of people would be upset.
As Mic.com discovered, plenty of frat brothers, along with other students, took to the Wesleyan Anonymous Confession Board to share their anger. And the results are about what you would expect. One self-identified frat brother, whose post is pictured above, compares the advocates of co-ed frats to Nazis, because clearly wanting women to be included and maybe be safe or something is exactly like invading sovereign nations and committing genocide.
Another post criticizes these anti-rape activists for not recognizing how awesome and well-attended frat parties are (since I guess that makes the sexual assault of some guests just a fair price we must pay?) and saying they clearly "despise the culture of fun" that fraternities participate in. But he says he's not a rape apologist, so it must be so!
And then there's this "lovely" gentleman who wants us all to lighten up because "White male patriarchy is not changing" and frats will be all-male "until the end of time," and somehow that should make us all happy, I guess, since we can give up and go home?
Hysterical frat boys aside, though, this new requirement for gender diversity in fraternities is an interesting one. Wesleyan is doing other things related to sexual assault on campus — the Monument Quilt came to campus in September, for instance, and an alumnus of Wesleyan has launched a nonprofit called Consent is So Frat to change frat brothers' attitude towards consent — this new edict for fraternities seems to be the administration's boldest gesture. So will it work? In theory, simply having more women around could do a lot to break down the aggressive masculinity that members of all-male organizations often feel pressured to buy into. Additionally, forming friendships with female members on equal footing could shift the way frat brothers view women — you know, seeing us as people instead of conquests, for instance.
Still, entrenched attitudes and long-standing culture don't change overnight. Plus, given the reputation of some of these fraternities, coupled with the reaction of many members, I'm not sure how many women would actually want to pledge. Even if we set possible safety concerns aside, it doesn't sound like an enjoyable experience.
It'll also be interesting to see how the national organization reacts to those chapters who comply with Wesleyans co-ed requirements.
Overall, though, it's always nice to see a university taking the problem of sexual assault and violence against women seriously. So from that perspective, go Wesleyan!
Image: Wikipedia Commons; giphy.com