Who Does that Familiar 'OUAT' Hat Belong To?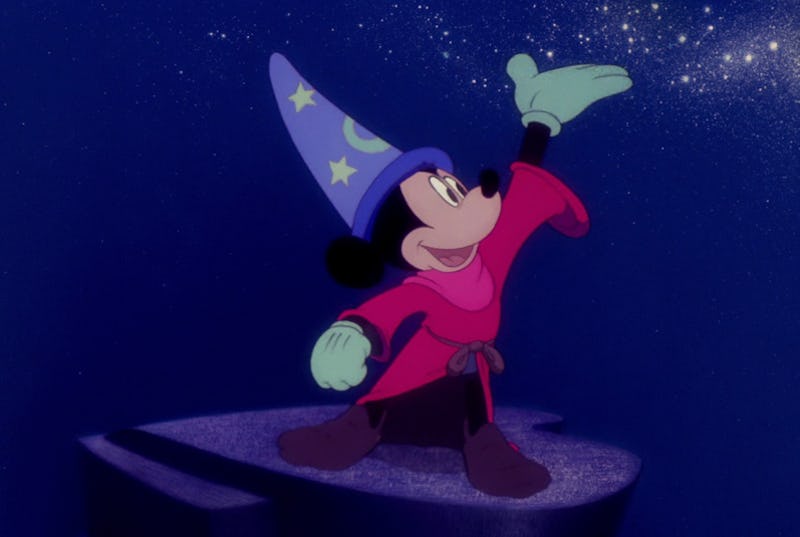 Get your dancing broomsticks ready, people. We were all expecting Once Upon A Time 's Season 4 premiere to be entirely about the series' overly hyped Frozen arc. And, well, the majority of it was, but thankfully, the series set up other big questions in the first episode of Season 4 and perhaps a crossover we never saw coming. Aside from Frozen, OUAT checked in with Rumpelstiltskin and Belle's marriage and the fact that he lied to her about the dagger (which he feels really terrible about, by the way, or at least that's what he told Neal's grave) and yes, they're still married and currently staying in a mansion for their honeymoon. A mansion that came with a curious little box that revealed a hologram of a wizard's hat that Disney fans should immediately recognize, because it looks extremely similar to the sorcerer's hat from Fantasia . Could OUAT go Sorcerer 's Apprentice on us in Season 4? That's what it seems like.
Basically, the question of who exactly this hat belongs to is just one of the big questions the OUAT Season 4 premiere posed for fans to theorize about until the end of time. (Well, at least until the midseason break.) But the answer seems pretty straightforward — it belongs to the sorcerer. I mean, that's what it appears to be. While the holographic hat that seemed to send a shiver up Rumpel's spine in the premiere bore a striking resemblance to Mickey's hat, pictured above, there's another explanation for who it could belong to — Merlin.
Early in Season 3, OUAT addressed Merlin's existence in Camelot and revealed that he had a hand in helping Snow White realize that she had the strength to take on Regina and claim her rightful place on the throne. By, naturally, urging her to take a crack at pulling Excalibur out of the stone — which we saw King Arthur do in Disney's animated film The Sword in the Stone. So we do know that Merlin existed in the realms before Regina's curse was released, and with all of the fairy tale characters joining OUAT Season 4, it's possible that Merlin could be among them. Even if the series got a little crazy with the hot-glue gun and added some embellishments to the wizard's hat.
If it's not Merlin, which is equally possible considering where Rumpel found the hat, it would have to be a Fantasia crossover. Which would mean that there's a very powerful, possibly evil sorcerer somewhere in the mix for OUAT's new season. Could Rumpel, who's stood in for the Beast from Beauty and the Beast, also stand in for Mickey's apprentice in Fantasia? OUAT has made a big deal of showing that Rumpel's role as The Dark One also makes him the most powerful magical being in all of the realms. But what if he isn't and he can only became so by defeating the owner of that hat?
Image: Disney