Elsa & Anna Aren't the Only Ones Coming To 'OUAT'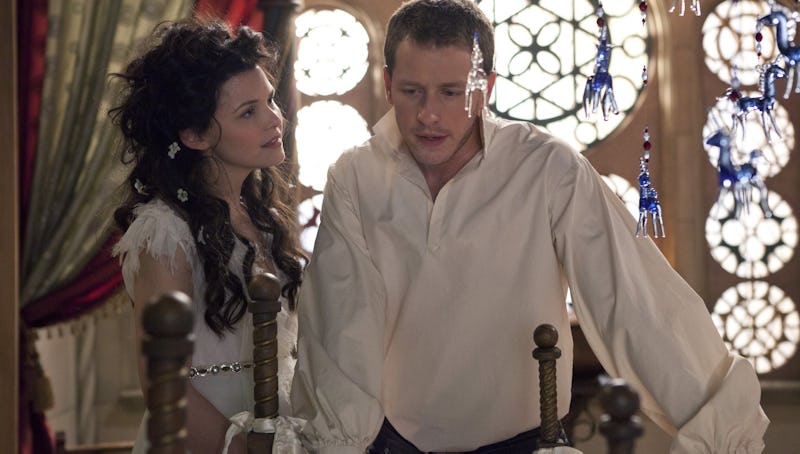 The highly anticipated fourth season of Once Upon a Time premieres on Sept. 28, and the buzz around the new season has fans excited for one thing: The arrival of the beloved characters from Disney's 2013 animated musical Frozen . Anna and her ice queen sister, Elsa, will come to Storybrooke, as will Anna's now-husband Kristoff and Frozen's not-so-charming prince, Hans. The first big season arc will focus on the Frozen characters and how their arrival affects the people in Storybrooke, and I can't wait to see Once Upon a Time's take on the characters we already love.
As excited as I am to see how the show uses Anna, Elsa, and the rest of the Frozen gang, we shouldn't worry that the Frozen storyline will take over the entirety of Season 4. There are plenty of non-Frozen characters making their way to Storybrooke, and they're sure to drum up enough drama to last us all season long.
So what characters will be making their way to the ABC fantasy drama this fall? Here are four people we know will be making an appearance (and, in some cases, a long-awaited reappearance) in the magical town.
Henry's New Friend
According to this spoiler from E!, Henry will be getting a new pal (and possible love interest?) in new character Lily. It's unclear as to whom Lily will be in the fairytale world, but my speculation is that she may be the princess Tiger Lily from Peter Pan . Either way, it doesn't seem that she will be related to the Frozen drama.
Belle's Mother
Season 4 will give the beauty from Beauty and the Beast a true back story — and it's about time. Frances O'Connor will play Belle's mother in the new season of Once Upon a Time, and will help fill in the details on what Belle's life was really like before she met Rumple.
Maleficent
Former True Blood star Kristin Bauer van Straten is reprising her role as Maleficent in Season 4. We haven't seen Maleficent in her original form in a while, and given the success of the film Maleficent, it's only natural for Once Upon a Time to want to bring around a newly popular fairytale character once again. Let's hope she isn't brought back as a dragon.
A New Prince
According to TVLine, Once Upon a Time has a new prince coming our way in the seventh episode of Season 4. According to the report, the prince will be a "pompous" man who underneath his confident exterior has the heart of a "coward." Could it be Prince Naveen from The Princess and the Frog? Only time will tell...
Images: ABC; Giphy (4)