Ariana Got Animated on 'SNL'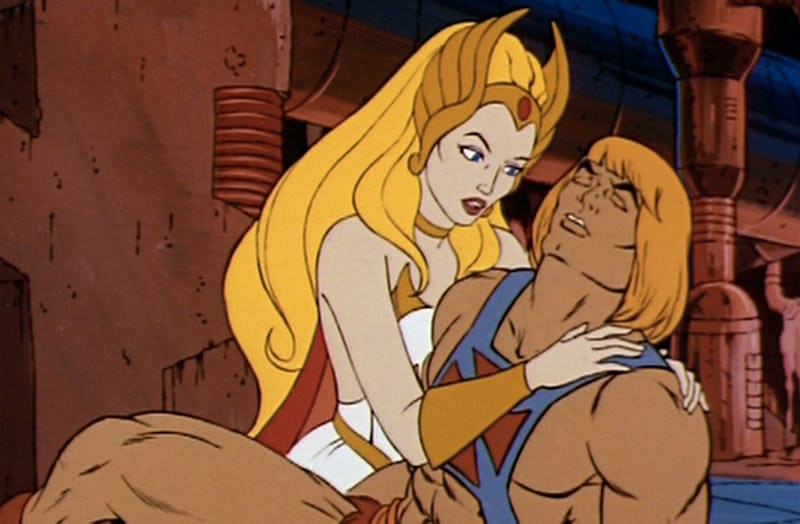 If there was ever a human more perfect to play a He-Man action figure come to life, it's Chris Pratt. And while I can't say the same for Ariana Grande playing She-Ra on SNL (Princess of Power, duh), the controversial pop star did a pretty darn good job. In the SNL season premiere, a seemingly meh sketch about ThunderCats action figures come to life, the host and his musical guest made it come to life.
It was a simple enough concept: little Danny wishes his toys would come to life, they do, and they start discovering some serious things about themselves, namely that cake is freaking delicious and that masturbating is fun (though, they're still at the patting stage, but what can you do?). It was a joy to see Chris Pratt in all his Guardians of the Galaxy glory donning a teeny tiny costume (Aidy Bryant's mom character was sure enjoying it), and when Grande showed up as She-Ra, I winced. I was sure this young (supposedly diva-esque) singer was going to ruin everything.
Thank God I was wrong and if anything, Grande's attitude rumors almost added to the sketch. She-Ra came in, discovered that she, too, enjoyed a little game of below-the-belt "patty cake" and proceeded to destroy the kitchen with her fellow ThunderCats. I don't know how true all these claims of Adriana's attitude are, but it's a display like this that really makes me wish she's as fun-loving as she seemed for a wee moment on the nation's biggest sketch comedy series.
Image: Warner Bros TV