Taye Goes Well With 'The Good Wife'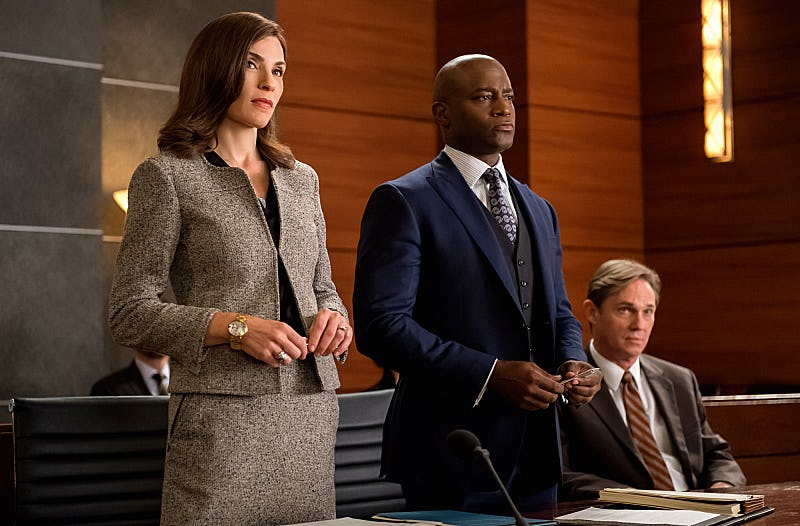 We've been looking forward to Taye Diggs joining the cast of The Good Wife ever since his involvement was announced last July — and now the day has finally come. Diggs made his debut in Season 6's second episode "Trust Issues" and it wasn't just good... it was great.
Diggs plays Dean Levine-Wilkins, a member of Lockhart/Gardner who we've never met in the past five seasons, because apparently he's been in New York that whole time. Despite not having seen him for such an extended period, Diane throws caution to the wind and not only informs him of her impending move to Florrick/Agos, but invites him to join her.
If The Good Wife has taught me anything over the past five years, it's not take anything at face value — ditzy Elsbeth Tascioni may actually be the smartest person in the room, feeble Louis Canning is without a doubt the most bloodthirsty man alive — so hopefully the devilishly charming Diggs will forgive me for initially being mistrustful of Dean. And his first trip to check out the Florrick/Agos offices certainly didn't help matters, when his disdain for their loud renovations and the amicable homeless man using their bathroom was more than apparent.
But Dean proved himself to Diane when he agreed to make the move with her. Not only that, but he had somehow coerced six different department heads (two of whom were alleged David Lee proteges) to mutiny with them. At 5 p.m. sharp, Diane, Dean, and their six allies strutted classily throughout the Lockhart/Gardner offices one final time. Diane had just enough time to utter one last "Goodbye" before the elevator doors closed on the firm she founded. And so, in the course of one hour, Taye Diggs went from being Lockhart/Gardner's newest addition to being Florrick/Agos's... which is a good thing for the startup, since they'll need all the help they can get once David Lee and Louis Canning find out about the eight LG lawyers they poached.
We didn't actually learn all that much about Dean as a character during the episode. We only saw him interact with Diane and then only concerning Florrick/Agos. But in next week's episode, "Dear God," we'll get our first glimpse of how the new addition operates in a courtroom. Hopefully more details about his character will be forthcoming.
Of course, it's still technically possible that my worst fears will be realized and Dean will turn out to be a spy for Lee and Canning giving them the inside scoop on Florrick/Agos, but Diggs is so damn charismatic with that easy smile and confident energy that I'm willing to give him the benefit of the doubt... for now.
Images: Jeff Neumann/CBS (3)