Who Will Be Nominated for the 2013 Emmys?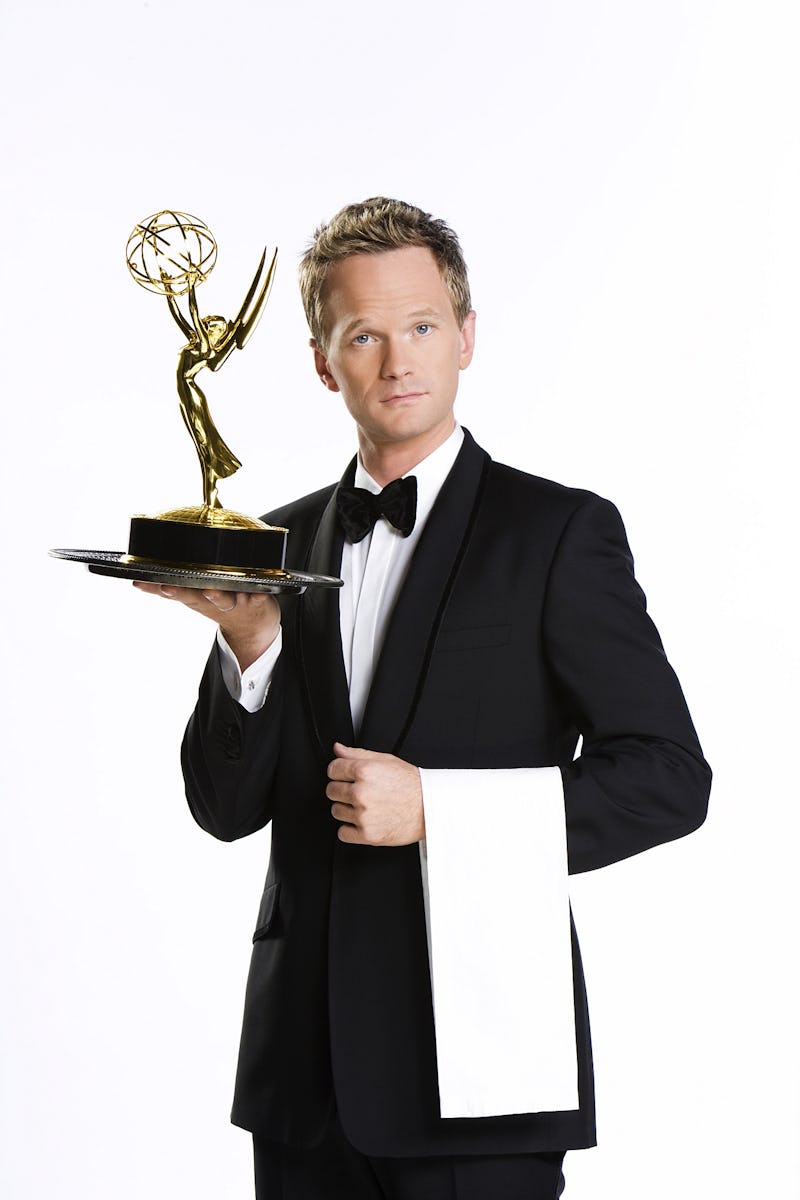 Is there anything more grossly disappointing than seeing your favorite TV show come so close to winning all of the awards and recognition it deserves, only to see the honors ripped away? Prepare yourself for the heartbreak, for the Emmys are almost upon us. The first round of ballots have been drawn up, and on July 18, the Academy of Television Arts & Sciences will reveal who has made it to the final nominations. Though it's hard to know for sure who we'll be cheering for during the Emmy ceremony on Sept. 22 (hosted by the Tonys' scene-stealer Neil Patrick Harris), we've compiled a list of who we think will be nominated this year, plus one longshot that we're rooting for. From Emmy darlings to brand new candidates, these are our picks!
Outstanding Comedy Series
Veep (HBO)Girls (HBO)Modern Family (ABC)The Big Bang Theory (CBS)New Girl (Fox)30 Rock (NBC)
Most of these are a given: Everyone talks about Girls, Veep is amazing and includes Emmy favorite Julia Louis-Dreyfus, 30 Rock had its farewell season, and Emmy voters just can't get enough of The Big Bang Theory. The only real question is New Girl, which received acting nominations last year for Zooey Deschanel and Max Greenfield, but not the series itself. Still, its second season was even better than its first and it might land a spot.
Fingers Crossed For: Parks and Recreation (NBC)
As deserving as Parks and Recreation is, it was overlooked last year after a nearly flawless fourth season. If that wasn't enough for a series nomination, this past season probably wasn't either. Still, we can hope.
Outstanding Lead Actor in a Comedy Series
Louis C.K. (Louie)Jim Parsons (The Big Bang Theory)Jon Cryer (Two and a Half Men)Alec Baldwin (30 Rock)Matt LeBlanc (Episodes)
How Jon Cryer is nominated for an Emmy each year is one of life's great mysteries, but after a completely undeserved win last year, he's basically a lock for this year. Alec Baldwin should also be nominated for his last season as Jack Donaghy, while the rest of the actors are all Emmy favorites.
Fingers Crossed For: Jake Johnson (New Girl)
Do all of the Parks and Recreation actors (especially Adam Scott) deserve nominations? Absolutely, and Emmy voters should fear Ron Swanson's wrath. But it's disappointing to even hope for such a thing. Parks and Rec is always overlooked, so we're giving our hopeful slot to Jake Johnson, who stole every scene on New Girl this season.
Outstanding Lead Actress in a Comedy Series
Julia Louis-Dreyfus (Veep)Tina Fey (30 Rock)Amy Poehler (Parks & Recreation)Lena Dunham (Girls)Zooey Deschanel (New Girl)Edie Falco (Nurse Jackie)
No surprising nominations here. After having seven nominees instead of the usual six last year, the only change is dropping McCarthy from the list. After her shocking win two years ago, her Emmy career should be done, especially since Mike & Molly has never been awards-worthy and hasn't exactly improved.
Fingers Crossed For: Martha Plimpton (Raising Hope)
It was nice to see Plimpton recognized two years ago for her role as the young Chance family matriarch on Fox's underrated Raising Hope. Maybe she'll find a way back this year.
Outstanding Supporting Actor in a Comedy Series
Ty Burell (Modern Family)Ed O'Neill (Modern Family)Eric Stonestreet (Modern Family)Jesse Tyler Ferguson (Modern Family)Max Greenfield (New Girl)Bill Hader (Saturday Night Live)
Yes, this is the exact same list of nominees as last year, but there's not much room for variation. Emmy voters absolutely love all four Modern Family men, and seem to just be rotating the award between them. The two remaining spots should go to the most deserving men, who happen to be the same two actors as last year. Max Greenfield is still hilarious as Schmidt, and while this season certainly wasn't the best for SNL, it was Bill Hader's last.
Fingers Crossed For: Will Arnett (Arrested Development)
While the new season of Arrested Development was largely disappointing, Gob, everyone's favorite illusionist, was definitely a highlight. Will Arnett slipped back into character effortlessly, and Gob in 2013 is as slimy as ever.
Outstanding Supporting Actress in a Comedy Series
Julie Bowen (Modern Family)Sofia Vergara (Modern Family)Kaley Cuoco (The Big Bang Theory)Jane Krakowski (30 Rock)Anna Chlumsky (Veep)Jenna Fischer (The Office)
Again, both Modern Family women are guaranteed (even if Vergara's acting secret is just yelling). After a Critics' Choice win, Cuoco may replace Mayim Bialik as the female Big Bang nominee. And while 30 Rock has had its share of Emmys, Krakowski has been largely overlooked and may earn a nom for her least season as Jenna Maroney. NBC's other departing show, The Office, doesn't deserve any nominations for its last season, but if the voters feel obligated to give one, it'll probably go to Fischer, since Pam had the most to work with this year. The unrequited crewman romance? That gave Pam plenty of emotional screen time.
Fingers Crossed For: Zosia Mamet (Girls)
Of the supporting Girls, we'd most like to see Mamet recognized for her role as Shoshanna, who developed from comic relief to full-fledged character this season — and is a lot easier to root for than Marnie or Jessa.
Outstanding Guest Actor in a Comedy Series
Patton Oswalt (Parks and Recreation)David Lynch (Louie)Bob Newhart (The Big Bang Theory)Will Arnett (30 Rock)Louis C.K. (Saturday Night Live)Justin Timberlake (Saturday Night Live)
There's always at least one SNL host in the mix for this category, and this year's Louis C.K. episode was the standout. Of course, Timberlake is everyone's favorite host (regardless of actual sketch quality) so he should earn a nom for hosting too. The last season of 30 Rock had an array of guest stars, but the last appearance of Arnett's recurring Devon Banks was definitely a standout. Lynch, Newhart, and Oswalt were all nominated for Critics' Choice Awards, with Oswalt winning the category. He should at least be nominated for an Emmy, especially after that amazing Star Wars filibuster.
Fingers Crossed For: John Slattery (Arrested Development)
Apparently, the only thing better than Roger Sterling on LSD is Slattery playing a constantly high, disgraced anesthesiologist. It was worth watching the entire fourth season of Arrested Development just for that.
Outstanding Guest Actress in a Comedy Series
Chloe Sevigny (Louie)Melissa Leo (Louie)Kristen Wiig (Arrested Development)Shiri Appleby (Girls)Melissa McCarthy (Saturday Night Live)Dot-Marie Jones (Glee)
Guest stars are always used well on Louie, and that's especially true for Leo and Sevigny (however, one could be replaced by Parker Posey, who also made a memorable appearance). Wiig completely nailed her role as a young Lucille Bluth and should be given some recognition. Emmy voters love McCarthy and she should earn a nomination despite this year's SNL hosting gig being much less impressive than last year's. Voters also seem to be fans of Jones, who had plenty of drama on Glee this year, especially in the school shooting episode. Appleby, meanwhile, was at the center of one of Girls' most controversial moments, a sex scene that launched plenty of debate about rape.
Fingers Crossed For: Lucy Lawless (Parks and Recreation)
Finally, a woman not named Tammy was able to win Ron Swanson's heart. Lawless was a great addition to the already perfect cast of Parks and Rec this year.
Outstanding Writing for a Comedy Series
"Bad Friend," Girls"Daddy's Girlfriend: Part 1," Louie"Fulgencio," Modern Family"Leslie and Ben," Parks & Recreation"Last Lunch," 30 Rock
Usually the writing category includes some Louie and 30 Rock. This year should prove to be no exception. 30 Rock will most likely get credit for the second half of its finale, while only one episode of Louie was submitted for consideration. Also expect at least one episode each from Emmy darlings Modern Family and Girls. If Parks and Recreation is replaced by anyone this year, it will most likely be Veep, but for now our money is on Ben and Leslie's beautiful wedding.
Fingers Crossed for: "Finale," The Office
The last season — okay, the last few seasons — of The Office haven't been very good. But the writers should get some credit for getting it together in time for the series finale. After nine years, the show deserved the perfect goodbye and it got pretty close.
Outstanding Drama Series
Mad MenBreaking BadGame of ThronesHomelandDownton AbbeyThe Americans
The Americans is the only newcomer here, with the other five series giving been nominated last year, and many in previous years as well. The only thing that could stand in its way is a lack of buzz, as there aren't nearly as many people are talking about The Americans as there should be. Then again, not many people are talking about The Good Wife or Boardwalk Empire anymore. Hopefully, The Americans will beat them for a spot.
Fingers Crossed For: Scandal
Last year, no major network dramas were represented in this category, but if one is this year, it should be Scandal. It has surpassed The Good Wife as network TV's most buzzed-about drama, but it's soapiness is likely to hold it back from actually making the cut.
Outstanding Lead Actor in a Drama Series
Jon Hamm (Mad Men)Bryan Cranston (Breaking Bad)Damian Lewis (Homeland)Michael C. Hall (Dexter)Matthew Rhys (The Americans)Steve Buscemi (Boardwalk Empire)
Based on merit, Rhys should replace Downton Abbey's Hugh Bonneville as this year's sixth drama actor. The other five men are essentially locked in, as Hamm, Cranston, Hall, and Buscemi have all been nominated multiple times, and Lewis won with his first nomination last year. But, Rhys shouldn't be too confident, as there is a chance Bonneville or even Justified's Timothy Olyphant could edge him out in this competitive category.
Fingers Crossed For: Kevin Spacey (House of Cards)
We'd like to see Spacey nominated not just because he was great in House of Cards, but so that the Emmys show they are taking online shows seriously. Netflix and Amazon are really stepping up their original programming and Emmy voters should take notice.
Outstanding Lead Actress in a Drama Series
Claire Danes (Homeland)Elisabeth Moss (Mad Men)Vera Farmiga (Bates Motel)Keri Russell (The Americans)Julianna Margulies (The Good Wife)Michelle Dockery (Downton Abbey)
Last year's nominees included Glenn Close for Damages, which might fall a little too under the radar to be nominated again, and Kathy Bates for Harry's Law, which doesn't exist anymore. They'll most likely be replaced by Russell and Farmiga, who are both excellent on their freshman dramas. The other four women should easily make it on to the list, with Moss having plenty to do on Mad Men, Danes bringing the crazy chin more than ever, Margulies representing network dramas, and Dockery... well, her character had en eventful year, to say the least.
Fingers Crossed For: Kerry Washington (Scandal)
Scandal came out of nowhere and became everyone's favorite show, and it's largely due to Washington's mesmerizing performance as the equally sexy and powerful Olivia Pope. She definitely deserves some recognition and could possibly replace Russell or Farmiga if voters haven't been watching their shows. Plus, it would be great to see an African-American woman included for once. Only four minorities have ever been nominated in this category, and none have ever won.
Outstanding Supporting Actor in a Drama Series
Jonathan Banks (Breaking Bad)Aaron Paul (Breaking Bad)Brendan Coyle (Downton Abbey)Nikolaj Coster-Waldau (Game of Thrones)Peter Dinklage (Game of Thrones)Larry Hagman (Dallas)
Not surprisingly, Breaking Bad and Game of Thrones fill the Supporting Actor category, as they both have some of the best supporting characters on TV. Downton Abbey is likely to be represented once again by Coyle — who can resist Carson? (Especially a mourning Carson.) Finally, there's Hagman, who will likely get a posthumous nod for his iconic role of J.R. Ewing.
Fingers Crossed For: Jay R. Ferguson (Mad Men)
Who is your favorite character on Mad Men this season? With what all of the leads are up to, Stan has become both comic relief and an interesting to watch develop. With so much competition in this category it'll be hard, but we're hoping he can edge someone out.
Outstanding Supporting Actress in a Drama Series
Christina Hendricks (Mad Men)Jennifer Carpenter (Dexter)Hayden Panettiere (Nashville)Maggie Smith (Downton Abbey)Archie Panjabi (The Good Wife)Emilia Clarke (Game of Thrones)
The only true newcomer here is Panettiere, who scored a Screen Actor's Guild nom earlier this year and only improved throughout the rest of Nashville's first season. Carpenter has never been nominated for her role as Deb on Dexter, but definitely deserves one for helping to pull the show out of its slump this season. The same goes for Emilia Clarke — Emmy voters should beware if they don't add her to the ballot.
Fingers Crossed For: Monica Potter (Parenthood)
Parenthood has gone completely overlooked every single year, and there have been countless cast members who warrant nominations. Hopefully, Potter can be the first and earn a very, very deserved nomination after portaying Kristina Braverman's struggle with breast cancer and making viewers cry in every episode. She won the Critic's Choice award and though it's doubtful the Emmys would give it to her, should win here too.
Outstanding Guest Actor in a Drama Series
Michael J. Fox (The Good Wife)Rupert Friend (Homeland)Matt Lauria (Parenthood)Scott Foley (Scandal)Jimmy Smits (Sons of Anarchy)Patton Oswalt (Justified)
Fox is going to be nominated, and then win. Sorry, fellow nominees, it's basically a given. Still, his competition is likely to include Friend, who kept viewers guessing about Peter Quinn's real intentions on Homeland and Lauria, for his turn as a troubled Iraq war veteran. There's also Oswalt, who delivered great guest performances on many shows this year, Smits, who was nominated for a Critic's Choice Award, and Foley, who brought even more intrigue to Scandal.
Fingers Crossed For: Lennie James (The Walking Dead)
The return of James as Rick's first savior Morgan was easily a season highlight for The Walking Dead. His combination of paranoia and devastation following the death of his son was powerful and lead to one of the series' best episodes.
Outstanding Guest Actress in a Drama Series
Martha Plimpton (The Good Wife)Jane Fonda (The Newsroom)Alison Brie (Mad Men)Marin Ireland (Homeland)Debra Mooney (Scandal)Diana Rigg (Game of Thrones)
As last year's winner, Plimpton should definitely be recognized again for her work on The Good Wife. As should Mooney and Rigg for their performances on two of TV's most talked-about shows. Even though The Newsroom is awful, Emmy voters will probably nominate Fonda for her role as a cutthroat executive. Ireland brought some emotional poignancy to a season of Homeland that needed some to balance out the action, and Brie had her Mad Men series highlight when Trudy Campbell finally stood up to her jerk of a husband.
Fingers Crossed For: Sylvia Jefferies (Nashville)
Much of Nashville focused on the city's glitzy celebrities and political elite, but Jefferies brought it down to earth as Juliette's mother, Jolene. The character had an emotional struggle with drug and alcohol addiction, and brought out excellent performances from both Jefferies and Panettiere.
Outstanding Writing for a Drama Series
"The Rains Of Castamere," Game of Thrones"Q&A," Homeland"The Flood," Mad Men"For Immediate Release," Mad Men
Mad Men always fills the writing category — it's more of a question as to which episodes will be nominated. The season isn't over yet, but based on what we've seen so far, "The Flood" and "For Immediate Release" are the most likely candidates. Then, of course, there's the infamous Red Wedding on Game of Thrones and Carrie coming face-to-face with Brody in the interrogation room on Homeland.
Fingers Crossed For: Any episode of Breaking Bad
They submitted a lot of episodes and shockingly, the show has never been nominated for a writing Emmy. It's long overdue.
Outstanding Miniseries or Movie
American Horror Story: AsylumThe GirlBehind the CandelabraPhil SpectorThe BibleMary and Martha
The movie or miniseries categories are always tough, because there is a relatively small pool for voters to choose from. Usually, you can count on anything with big-name stars attached, like The Girl, Behind the Candelabra, Phil Spector, and Mary and Martha. Last year, American Horror Story was nominated in multiple categories, and after another intense season, is set for more recognition. The Bible could be edged out, like we're hoping, by The Hour, but all of its hype and enormous ratings may give it the nomination.
Fingers Crossed For: The Hour
Last year, The Hour was only nominated for writing, but now that its second season will definitely be its last, the series needs something a little more significant.
Outstanding Lead Actor in a Miniseries or Movie
Michael Douglas (Behind the Candelabra)Zachary Quinto (American Horror Story: Asylum)Matt Damon (Behind the Candelabra)Al Pacino (Phil Spector)Toby Jones (The Girl)Benedict Cumberbatch (Parade's End)
Very similar to the Outstanding Movie or Miniseries category, count on big names to fill the Lead Actor nominations. Then there's the lesser-known Quinto, who was completely (literally) insane on American Horror Story: Asylum. Last year, Cumberbatch scored a nomination for his BBC series Sherlock, but since its third season was delayed to later this year, we'll probably see him recognized for his work in the HBO miniseries Parade's End.
Fingers Crossed For: Dominic West (The Hour)
Even though they're both big names, Pacino's Phil Spector and Jones' The Girl didn't receive the best reviews. Either could be replaced by West, who was also nominated for a Critics' Choice Award
Outstanding Lead Actress in a Miniseries or Movie
Jessica Lange (American Horror Story: Asylum)Sienna Miller (The Girl)Laura Linney (The Big C: Hereafter)Elisabeth Moss (Top of the Lake)Helen Mirren (Phil Spector)Hilary Swank (Mary and Martha)
Does it really matter who besides Lange is nominated? Last year, she won in the best supporting actress category, but she was definitely the lead in American Horror Story: Asylum. Her performance as the damaged, deranged Sister Jude isn't just a guaranteed nomination; it's a guaranteed win.
Fingers Crossed For: Angela Bassett (Betty & Coretta)
Unfortunately, the Emmys don't seem to take Lifetime movies seriously. If they did, we might predict a nomination for Bassett's portrayal Coretta Scott King in Betty & Coretta, which takes place the night before Martin Luther King Jr.'s assassination.
How close will we be? Tune in to the Emmy nominations on July 18 to find out!