Who Wore That Stella McCartney Mask Print Best?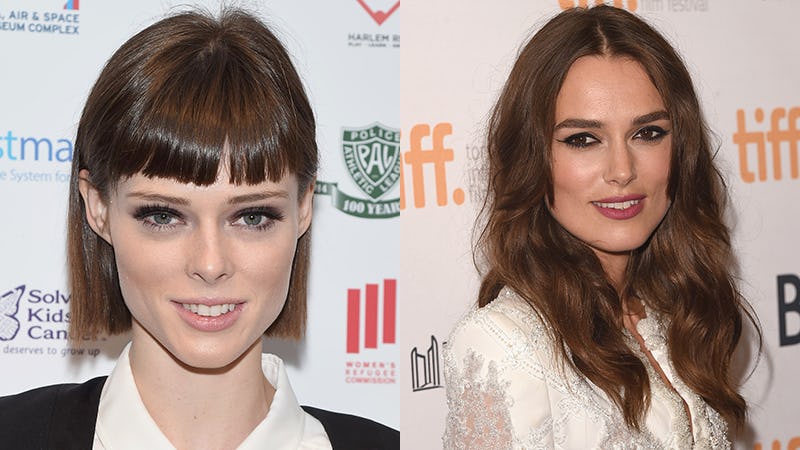 Keira Knightley vs. Coco Rocha? It's like the battle of the amazing cheekbones up in here, amirite? Jokes aside, both of the top-of-their-respective field, capital S Superstars recently wore a very distinctive Stella McCartney print — it features quirkily-detailed, almost cartoon-like masks in just about every color of the rainbow set off against a black background.
Anyway, the print in question comes from McCartney's Resort 2015 — remember the crazy-fabulous party Stella threw in Elizabeth Street Garden to celebrate the collection? Everyone from Cara Delevingne to Emmy Rossum was there, and that party had everything: a giant life-sized Harry Potter-esque chess set, super models armed with bubble guns, a Great Pyrenese dog that could have passed for Jon Snow's direwolf — I'm starting to feel like SNL's Stefon here... suffice it to say, it was quite a party.
But let's get back to the outfits — Knightley wore the print in summery dress form as part of her Lagging -promoting at the Toronto International Film Festival, and Coco wore hers in daring jumpsuit form to the Stella McCartney Spring/Summer 2015 front row as a part of Paris Fashion Week: So who wore it better? Let's take a look:
Keira Knightley
Knightley kept things relatively simple, with low-key hair and makeup, and basically no accessories outside of the belt that came with the dress. She let the dress speak for itself (and that's pretty much okay, since it's admittedly quite loud).
Coco Rocha
Coco, on the other hand, played it up with the styling: her futuristic bob/ear cuff were the perfect accompaniment to this almost other-worldly jumpsuit, and the hot-off-the-runway purse and shoes somehow just worked.
It's a tough choice, no? As a supermodel, Coco has a bit of an advantage here, but I think I have to give the win to her, out of respect for her considerable chutzpah... what do you think?
Images: Getty Images; Twitter; cocorocha/Instagram