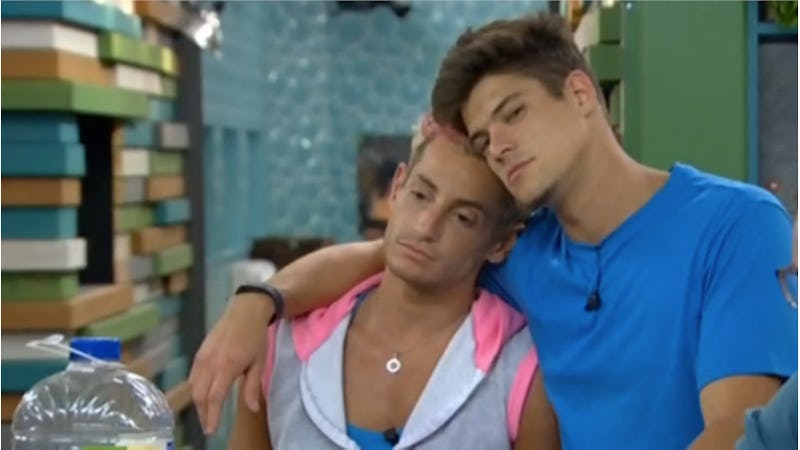 The "summer lovin', had me a blast" lyrics have never rang more true than being applied to Zankie on Big Brother. But now that the summer is over and school is starting again — erm, sorry — Zach Rance and Frankie Grande are getting back to their normal lives, we can't help but wonder if Zankie is still a thing. Zach and Frankie's friendship weathered many storms in the Big Brother house, but it was all a game, and now that everything is said and done, can we expect more Zankie?
Well, if the few days since the finale are any indication, I think we can expect a lot more from Zankie. Maybe even a television show more. Zach and Frankie started off as all Big Brother relationships do, too perfect. They were like a honeymooning couple, nothing could bring them down from their Zankie high. That was until Frankie and the house tried to evict Zach during the first double eviction, only to not evict him, but face the wrath of Zach Attach for his remaining time on the show. Then Frankie finally made it clear to Zach that he was too much of a liability to him in the house, and used Zach as a replacement nominee next to Cody, sending Zach home, and tearing apart the hearts of Zankie shippers everywhere.
But fear not, because now that the two are out of the house, it seems that they are over both of the other's shortcomings. Just take this in.
Perfection. Frankie, who spoke with People, said that he "loves Zach so much." He even said that, "I am just now seeing some of the footage and there is no doubt that we love each other." Frankie has even been promoting the Zankie relationship on his Twitter and Instagram accounts with pictures of him and his better half. Frankie's the one with the hair, FYI.
But what does Zach think about Frankie now? After all, Zach was betrayed by Frankie, right? In an interview with Jeff Schroeder, Zach cleared the air and said that he and Frankie patched things up and are all good. But what about all of that cuddling and Zankie PDA that we got? Well, Zach also cleared that up with Buzzfeed News saying, "It was all strategy. I never cuddle with men [in the outside world], but I'm playing a game for $500,000 — if someone wants to cuddle with me, why not?" OK, so maybe they won't be a couple, but the Zankie friendship is good enough.
The two have also seemed eager to make it onto The Amazing Race , so CBS if you're listening, let's make that happen.
Images: CBS; Frankie Grande/Instagram (2)