Your Guide to an Ice Bucket Halloween Costume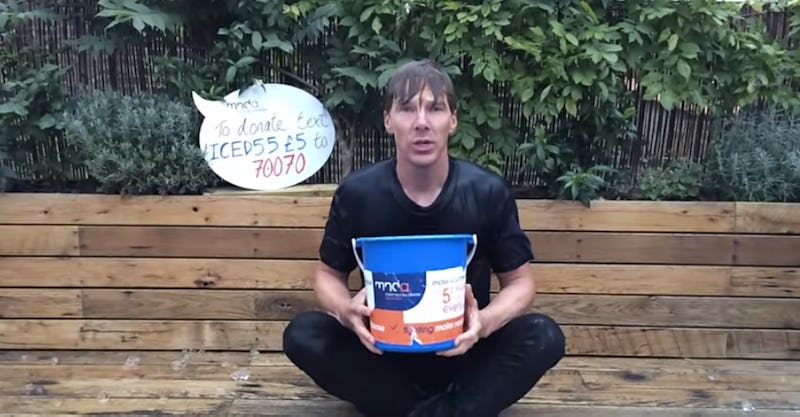 If you're going to a Halloween party without the aim of winning the costume contest, then what exactly are you doing with your crafty self? Halloween is the one time of year everyone gets to let their inner Theater Kid out and sew and hot glue in a way that would terrify and delight Martha Stewart. So get out those stencils and rolls of duct tape, Halloween is upon us and it's time to get creative. For a sure-fire blue ribbon winner look, dress up like the most popular thing on the Internet. This year's biggest buzz was without a doubt when people dumped cold water on their heads in the name of charity, and an ALS Ice Bucket Challenge Halloween costume would make quite the splash.
The ALS Ice Bucket Challenge has raised more than $115 million to increase awareness and help those who suffer. Dozens of celebrities all around the world from Brits like Tom Hiddleston and Eddie Redmayne to selfie-loving megastars like Kim Kardashian took part in the Ice Bucket Challenge. It was a viral sensation that provided plenty of entertainment, and more importantly, it provided support for a very worthy cause.
If you want to have the catchiest costume that also doubles as a mode for charity, here's how you can make your ALS Ice Bucket Challenge Costume.
Step one: the bucket
Make sure to get a bucket with rope handles so that they can be easily turned into arm holes. If the rope is too short for your arms, simply use the handles as bases to which you can tie a longer chord. Cut out the bottom for your legs and voilà! You have a wearable bucket. This hot pink number only costs $14.99 at Party City.
Step Two: Fill it with ice!
Obviously I wouldn't encourage actually walking around in a bucket of ice water all night, so might I suggest...
If you've got some old scrap paper lying around and time to kill, why not fill your bucket with paper "ice cubes" instead? Or...
Fill 'er up with a crafty costume classic!
Step Three: Get Wet
Again, I'm not expecting you to be soaking wet all night. However, wet-look hair is totally a thing, so do that thing.
Step Four: Accessorize
This glittery headband is the perfect way to have ice all over your head without actually having ice all over your head. It's also only $8.99 at Target.
OK, it wouldn't REALLY be an Ice Bucket Challenge unless people got a little bit wet. Fill 'er up with water and have fun.
Step Five: Celebritize!
Print out screen-grabs of your favorite celeb challenges, like Britney Spears, and hot glue those bad boys all over your bucket.
Step Six: Make Sure to Donate
Behold the power of the Sharpie. Take a marker and in big bold letters, be sure to write on your bucket, "Donate to ALS (888) 949-2577, alsa.org." Or if you want to go the extra mile, carry a donation bucket with you all night and donate every penny to The ALS Association.
Here's why your Ice Bucket Challenge costume will not only get you plenty of props, but will also make you feel really good about putting it all together:
Images: MND Association/YouTube; Party City; thegloryof/Tumblr; Target; Target