This 'Gotham' Trailer Isn't Pulling Any Punches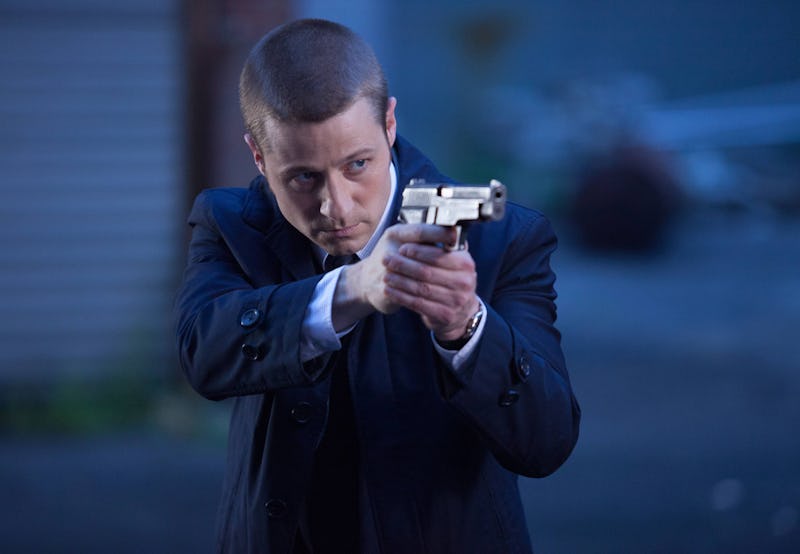 If any of you thought that Gotham 's series premiere was chock-full of dark and menacing characters, then you'd better brace yourself for what's to come. Because what we've seen so far is nothing compared to the bevy of villains this FOX hit intends to unleash upon its viewers. What makes me say that? Well, for starters, the latest Gotham trailer is packed with clues, indicating what fans can expect, not just from the next episode, but from the entire first season in general. As Jim Gordon continues in his struggle to save the city (along with his morals) from the crime-infested cesspool that it's become, new faces emerge — hellbent on claiming Gotham City as their own. Fans of the DC comics will recognize the distinguishing characteristics of Victor Zsasz, a future foe of Batman's, known for carving tally marks into his skin for every victim he's killed. (Umm, ever heard of a notepad, dude?) And he's already locked onto his next target: Gordon himself. Because of course he has.
Other highlights include the introduction of Dexter alum David Zayas in his role as the legendary mobster Sal Maroni, who constantly finds himself pitted against Carmine Falcone in a back-and-forth power struggle for Gotham's soul. The infamous Arkham Asylum also makes an appearance, as does a sinister-looking masked man who looks very, very similar to Batman Begins' Scarecrow. Right now, it's unclear as to who the character actually is — some are even guessing it could be the Dollmaker, who is already rumored to make an appearance at some point during the show's first season. Either way, Gordon's job is about to get a whole lot harder because, from the looks of things, Gotham is headed down a very dark and twisted path — one that we can't wait to journey down.
Check out the trailer below and see what Season 1 hints you can detect:
Images: Jessica Miglio/FOX