'AHS: Freak Show's Full Trailer Is Finally Here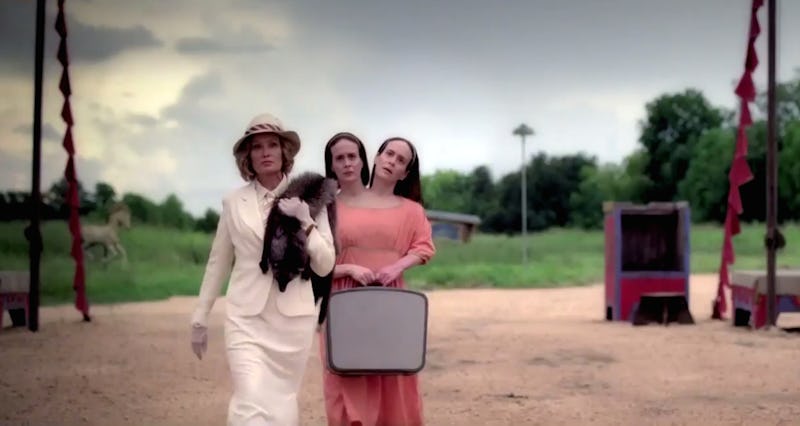 While a lot of the teasers for American Horror Story: Freak Show have promised a season that may be the show's most creepiest yet (I'm personally still not over that terrifying clown), oddly, the same can't be said about the first clip featuring actual footage from season 4. AHS: Freak Show 's first full trailer has been released exclusively through Buzzfeed, and though it is creepy in that subtle, uneasy sort of way, it's mostly not as frightening as, say, a freaky clown smiling at you, or a real foot contorted to look like a high heel pump.
That said, the last second of this trailer will most definitely give you nightmares.
The trailer, which clocks in at a minute in length, introduces us to Bette and Dot as they're hired to a freak show run by Jessica Lange's character, German ex-pat Elsa Mars. We see the creepy details of the traveling show, along with the other freaks, including returning cast members Kathy Bates and Evan Peters.
However, it's not until the very end that we get a glimpse of what may be AHS's most frightening character yet, Twisty the clown: In a previous interview with Buzzfeed , creator Ryan Murphy has said that Twisty even gives people working on set nightmares, so you know they're not playing around with this guy — and it shows.
Check the trailer below. Freak Show will premiere on FX on Oct. 8.
Image: FX/YouTube