Don't Go Looking For Elsa Mars In Florida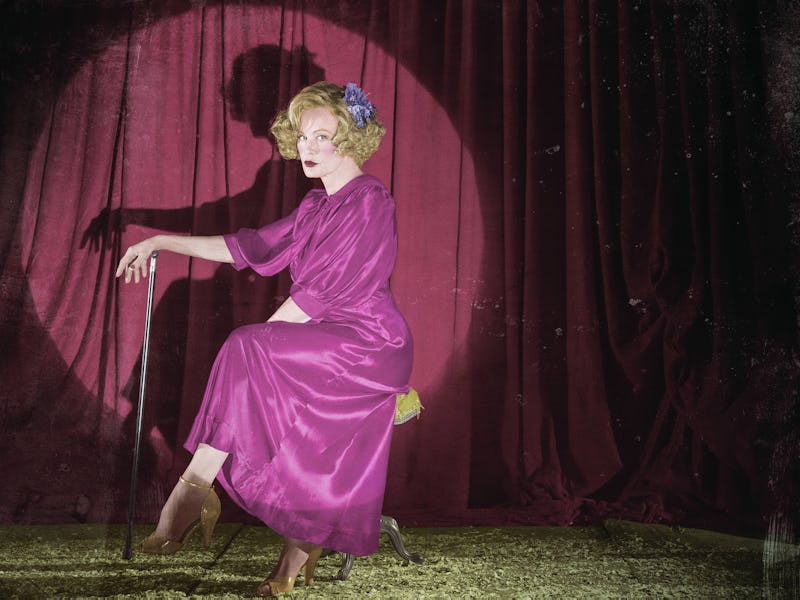 American Horror Story regular Jessica Lange went the extra mile for herfourth and potentially final turn on the Ryan Murphy series. Lange's AHS: Freak Show character Elsa Mars is actually inspired by Lange and her fascination with the beautiful and unique carnival world, according to EW. Elsa is a glammed-up expatriate from Germany, whose look seems to be inspired by World War II frontline entertainer Marlene Dietrich. Sadly, Elsa isn't directly based on anyone in reality, but in the sad, romantic, carnival-inspired world of Freak Show, I'm sure Lange's side show manager will feel all too real.
In the same EW interview, Murphy said he worked with Lange on some carnival research and came up with the characters that would make up Season 4, AHS: Freak Show. When Murphy explained the miniseries' premise, he described Lange's carnival inspiration and how the invention of television essentially ended the need for these freak shows in the 1950s. In a way, AHS' freak show is paying homage to the real-life bearded ladies and three-breasted women that once entertained so many — except it will be much eerier as AHS tends to be. And, as usual, Lange's mother-hen character is going to be at the heart of it all.
How Scary Will Elsa Be?
Since Lange only signed on for four seasons of the creepiest show on television, it's hard to say whether she'll return after Freak Show closes its curtains. It's no wonder the Emmy-winner wanted to go all out with this one. According to fellow regular Emma Roberts in a chat with E!, Freak Show is going to be way scarier than Coven, which is hard to believe. Still, if it's truly to be Lange's final go-around on AHS, I'm thinking she and Murphy were more than determined to make it into something extraordinary.
So Isn't Elsa Just Marlene Deitrich?
Freak Show is going to be a period piece, so the small, sad town of Jupiter, Florida is likely to hint at the American 1950s — minus the troupe of freaks that Elsa has gathered there. The character that Lange helped create is a glamorous and talented has-been frontline entertainer, but she's just a little more exaggerated. Instead, she is the troupe leader — collecting and supporting the oddities she rescues from around the world. One thing's for sure: Lange's new character is much less villainous than her Coven one. Creepy or not, Elsa seems poised to actually care about her freaks, unlike her Coven-leaders disdain for young witches.
The one true-life inspiration about Elsa's character is the hardships she goes through with her performers. According to the EW interview with Murphy, the performers will have to go through abuse, like they would have in our own 1950s world. Elsa's people aren't going to take it anymore, though. She rescued them before they were shipped away to asylums, and as their guardian, Murphy says she feels that it's her duty to save them too.
Could we handle a kinder, gentler Lange?
Images: Frank Okenfels/FX; guardianofthemarveluniverse, keepcalmandwatchahs/Tumblr