What Carine Roitfeld's Party Guests Were Thinking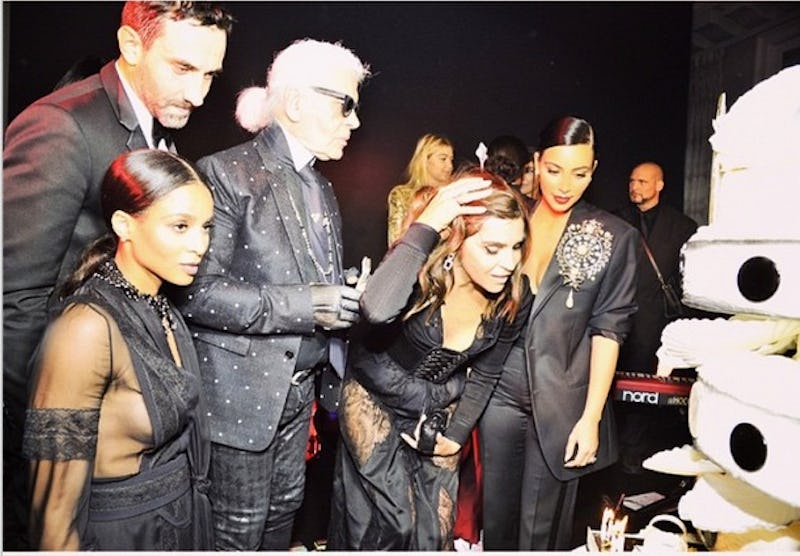 In case you haven't heard, Carine Roitfeld and Stephen Gan hosted the party of Paris Fashion Week last night to celebrate CR Fashion Book's fifth issue and Carine's 60th birthday. A slew of stars showed up for the fete, including Miranda Kerr, Selena Gomez, Olivia Palermo, Justin Bieber, Gigi Hadid, Kim Kardashian and Kendall and Kris Jenner. And as you can imagine, not only did the champagne flow -- the Instagrams flowed, too.
It's these moments when I'm grateful that social media is so prevalent. Even though the pics they make me even more jealous that I couldn't be there (I guess my invitation got lost in the mail?) I can at least live vicariously through the photos of my favorite It Girls (and guys.)
And while I'm fantasizing about what it would be like to jam out to Paris Hilton's deejaying skills or ham it up with Karl Lagerfeld, I can't help but also imagine the inner monologues of the A-listers posing in these fabulous snaps. (An Instagram paints a thousand words, right?)
Olivia Palermo and Johannes Huebl
"We are mildly excited to be here."
Even a Carine Roitfeld event doesn't rile up this socialite and her new hubster. (Olivia, you are too fabulous. Literally.)
Justin Bieber
"I don't know who this is. But people seem to be in awe of him. They tell me his name is Karl Lagerfeld."
At least he noticed that people were excited about someone else at the party. Making strides, JB!
Paris and Nicki Hilton
"We are still relevant, bitches."
If you say so.
Paris: "And yes, I am still a deejay."
Again, if you say so.
Kim Kardashian, Kylie Jenner and Kris Jenner
Kris: "God bless my incredibly famous and well-connected daughters for this life."
Mom, if you're reading this, I promise I'll take you to all the cool parties if I miraculously become famous.
Ciara, Riccardo Tisci, Karl Lagerfeld, Carine Roitfeld and Kim Kardashian
Ciara: "I bet it'd be a big hit if I broke into 'One, Two Step' right now."
Hey, I would dance.
Miranda Kerr and Selena Gomez
"Yes, we are fully aware of our perfectly symmetrical faces."
Think there were any awkward moments between the Biebs' and Orlando Bloom's exes?
Cara Delevingne
"Wearing pseudo-pants has apparently lost it's shock value."
I never cease to be stunned by Cara D's eyebrow game. So strong.
Gigi Hadid
"Does anyone else think I should only wear gold from now on?"
I do. Gigi Hadid is for sure my new fave model -- she literally glows, especially in this metallic number.
Images: Instagram/@carineroitfeld