We Need More of the 'Witches' in Our Lives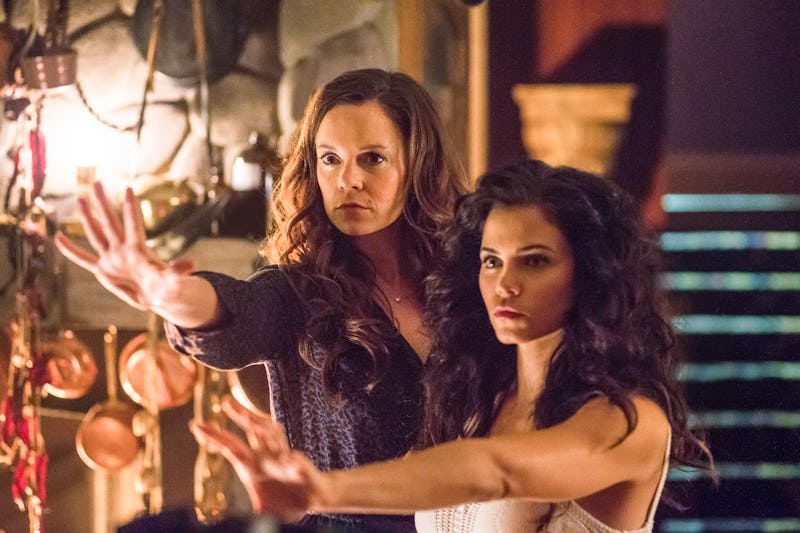 We've reached the end of the line, Witches of East End fans. And some wicked things are coming for our favorite Lifetime witches. Only Witches of East End 's two-hour Season 2 finale remains of the current season and, I know, you're still upset that Frillian hasn't really gotten back together. But that's what Season 3 is for, right? As of Friday, Lifetime hasn't renewed Witches of East End for Season 3 — yet. But that's not to say that the announcement isn't coming.
At the very least, WoEE executive producer Maggie Friedman wants Season 3 so the series can tackle some unresolved storylines, like Frillian, for example. There have been slight whispers that WoEE might be getting a third season for awhile, even if series star Madchen Amik, aka Aunt Wendy, has been playing coy about it. I mean, first of all, the demand is there — Witches has a pretty large fanbase that's anxiously awaiting the moment when supernatural soulmates Freya and Killian can be together and live happily ever after. OK, just kidding about that last part, we actually love them more when they're scheming and proving their love for one another against all the supernatural odds that are stacked against them. Right, people?
Aside from Frillian, though, there are plenty of other stories for WoEE to explore and histories to delve into in Season 3. Amick told TVLine that IF the series gets a third season, she'd "like to see Wendy's darker side" — and there's always Wendy and Joanna's mysterious sister that was introduced in a deleted scene earlier this season. There's also the possibility of many more past-life flashbacks, including this one where Dash was apparently a Nazi:
Basically WoEE needs Season 3 because fans are totally not done with it and it's got so much potential. So if Lifetime does renew the series, when will it air? The series' first season premiered on Oct. 6, 2013 and the second premiered on July 6, 2014, with its finale set to air this Sunday, Oct. 5. The switch to a summer premiere from a fall premiere seemed to work well for Witches of East End with Season 2, so it's probably safe to assume that if we get to return to the East End, it will be in July 2015.
It might sound like a while to wait, but if Lifetime gives us a third season, I'm sure all fans will be there — no matter how long it takes.
Image: James Dittiger/Lifetime