10 Amazing Moments in 'Not That Kind of Girl'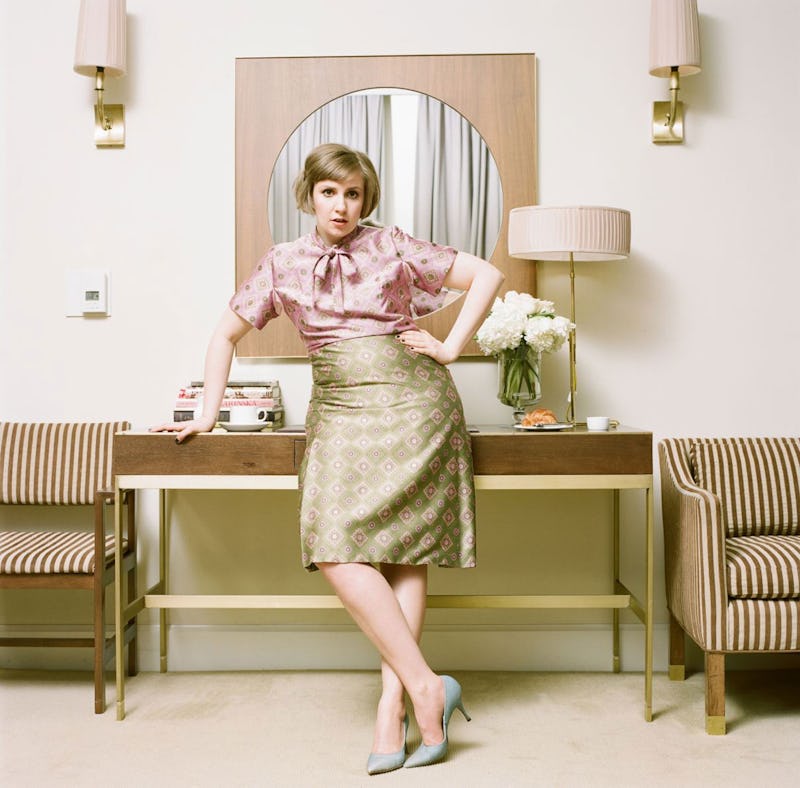 You may have heard that Lena Dunham's first book, Not That Kind of Girl, was just released. Her collection of essays (and a few lists) touch on the kind of things you'd expect the Girls creator to write about: therapy, internet crushes during the AIM era, pervy elementary school teachers, endometriosis, and sex. She includes elements that you might remember seeing recreated in Girls and Tiny Furniture — post-college malaise, aloof boyfriends, mental illness, bohemian friends — and gives readers insight into her family dynamics, current relationship, and attitude towards work.
The book has already started many discussions about her responsibility (or lack thereof) as a voice for all women, how assault survivors process what has happened to them (she reveals that she was date raped in college), and the sexism surrounding her courageous decision to be comfortable in her own skin (the horror!). These are all important conversations to have, sure, but we should also be talking about what a seriously amazing writer Dunham is. Although "honest" is a word that will be included in almost every review of Not That Kind of Girl, Dunham digs into places so deep and scary (and mortifying!) that saying she's "honest" feels almost wrong. She just is. Her writing is funny and smart, nuanced and insightful, and at times startlingly poignant.
Here are some of her thoughts:
On being victim-blamed...
"One of the officers implies I shouldn't have been so nice to him if I didn't like him 'that way'…They say I should be more careful in the future. I am ashamed."
On getting naked at work…
"It's hard to imagine that anything you do in a room full of lights, old Italian dudes, and bad tuna sandwiches is going to be seen on TV by multitudes, so I don't really think about the audience during my sex scenes. Getting naked feels better some days than others. (Good: when you are vaguely tan. Bad: when you have diarrhea.)"
On her sister's coming out…
"I began to sob. Not because I didn't want her to be gay…I was crying because I was suddenly flooded with an understanding of how little I really knew: about her pains, her secrets, the fantasies that played in her head when she lay in bed at night. Her inner life."
On her kind of guy…
"Fellows: If you are rude to me in a health-food store? I will be intrigued by you. If you ignore me in a group conversation? I'll take note of that, too. I especially like it when a guy starts out rude, explains that it's a defense mechanism, and then turns even ruder once I get to know him."
On her dad…
"To this day, the truest feeling of joy I have ever known is the door opening at a friend's house to reveal my father — in his tweed overcoat — there to rescue me from a bad play date."
On her gynecologist…
"Randy…is an older Jewish man who, before deciding to inspect ladies down there for a living, played for the Mets. He still has the can-do determination of a pitcher on an underdog team and, to my mind, that is exactly the kind of man you want delivering your babies or rooting around in your vagina. "
On advice from her mother…
"It's okay to ignore the dress code if you're an 'artist.' People will think you're operating on a higher plane and feel suddenly self-conscious."
On her boyfriend, musician Jack Antonoff…
"I have written sentences about how the first time we made love it felt like dropping my keys on the table after a long trip."
On her future children…
"I name them in my head, picture picking them up in the park, hauling them through Gristedes when we all have colds, stopping by a picnic 'just for five minutes because he's really sleepy.' Reading Eloise to my three-year-old daughter for the first time."
On her fear of death...
"But occasionally the feeling stays with me, and it reminds me of being a child — feeling full of fear but lacking the language to calm yourself down. I guess, when it comes to death, none of us really have the words. "
images: Autumn de Wilde; Getty Images (3)