Will 'HTGAWM' Be Around For a While?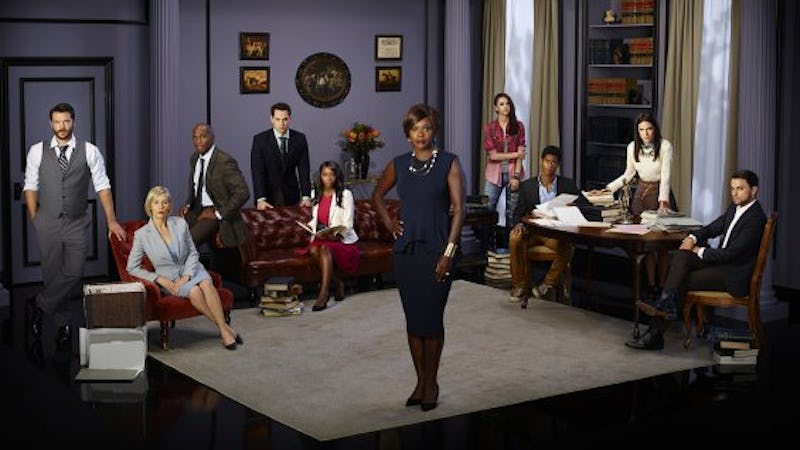 Good news for Shonda Rhimes fans: ABC's How To Get Away With Murder , the newest show from the hit-making executive producer, is garnering killer ratings, which means the network's Thursday lineup (which I like to affectionately call "Shonday") will likely remain intact for quite a while. The Grey's Anatomy/Scandal/HTGAWM trifecta has proven a powerful combination for ABC, and the network would be crazy to mess with such a potent recipe for success. Update: Not only is HTGAWM renewed, but ABC announced its midseason return date.
When ABC unveiled its Shonday lineup three weeks ago, all three shows premiered above a 3.0 rating (with Grey's at 3.1 and Scandal and HTGAWM both at 3.9); that means the network handily won every time slot that night. And that impressive 3.9 is still the highest-rated new show premiere so far for Fall 2014, besting such highly anticipated shows as Gotham and the newest NCIS spinoff, New Orleans (although that latter show boasts the highest number of total viewers, with 17.22 million tuning in to its premiere, compared to 14.34 for HTGAWM's.)
While I don't want to jinx anything by saying it's a "sure thing" (as hardly anything in the fickle business of television ever is), there's practically no chance on earth that the highest-rated new show of the season is in any danger of being cancelled.
Ratings aggregation site TVByTheNumbers keeps a Renew/Cancel Index of every show on network television that tracks the likelihood of whether or not each show will live to see another season. It has proven very accurate in the past, and the Index is looking very, very good for HTGAWM. The way the number is calculated is by dividing the most recent ratings of a new episode of a show by its network's average rating that week. With HTGAWM's most recent rating of 3.3 and ABC's average rating of 2.23, that gives Shondaland's newest show an Index score of 1.48 — which is the third-highest for the network, behind only Scandal (1.50) and Modern Family (1.56), and above such surefire hits as Once Upon A Time (1.44) and Grey's Anatomy (1.19).
You can rest easy. How To Get Away With Murder isn't going anywhere... Although the same can't necessarily be said for its cast, if the show truly lives up to its killer title.
Images: ABC; tvhousehusband/tumblr