He's Finally Met His Match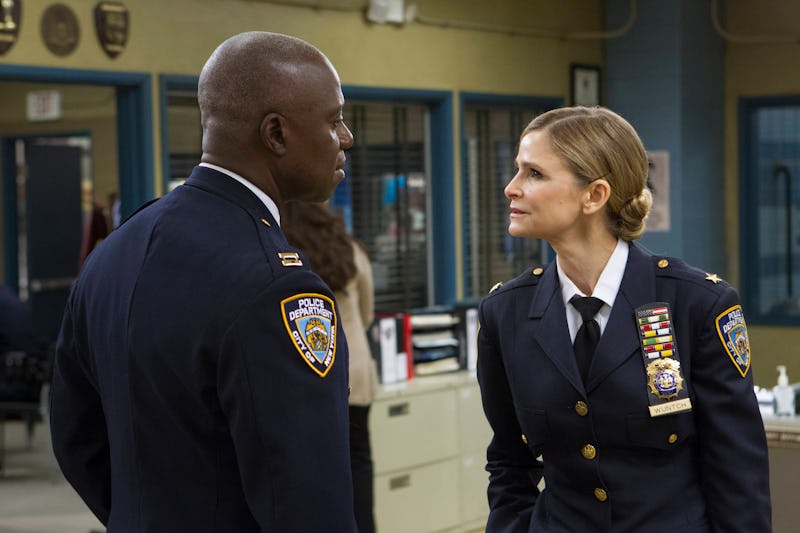 It's not often that we get to see Captain Ray Holt squirm on Brooklyn Nine-Nine . Never one to show any emotion, Captain Holt is the fearless leader of Brooklyn's 99th police precinct. He never loses his cool when a case is going awry. He stands by his team no matter what. He doesn't even crack a smile during Jake Peralta's never-ending antics. But the one thing that can throw him off his game is a blast from the past from his former colleague Captain Madeline Wuntch, played by guest star Kyra Sedgwick.
At the top of the episode, the 99th precinct was expecting Captain Holt's former lovable, old captain, his grand-captain as Charles refers to him, to perform an inspection on the precinct. But what was once excitement over the potential reunion turned to sheer terror as Captain Holt's mortal enemy Captain Wuntch walks through the door to conduct the inspection instead, to which Captain Holt wonders who's guarding Hades if she's there.
Captain Holt and Captain Wuntch go way back. They worked in the same precinct back in the '70s and bonded over normal friend things, like sharing a stapler. Yes, that means we once again got to see Captain Holt in his groovy get-up with his hair, leisure suit, and mustache. One of the highlights of the episode, obviously.
However, once Captain Holt was up for a promotion by the end of the '80s and asked Captain Wuntch to write a recommendation letter for him, things went sour. He didn't get the promotion, which led him to believe she had sabotaged him. Captain Holt also thought Captain Wuntch felt that way because he rejected her sexual advances, telling her that he's gay.
So naturally, Amy Santiago, who's always eager to ace anything that she's involved in, was terrified of failing here. Plus, she really didn't want a failing inspection grade to cause Captain Holt to get fired, because she and everyone else at the precinct loves the guy.
As the tenacious and people-pleasing person that she is, Amy tracked down Captain Wuntch's recommendation letter and proved that her letter actually revered Captain Holt. The real bad blood between the two was caused by a whole host of other incidents through the years, such as Captain Holt embarrassing Captain Wuntch in front of Derek Jeter. You know, the important things.
Now we all know how stubborn Captain Holt can be. The dude usually doesn't bend on rules or policies, be it allowing Jake not to wear a tie or letting the precinct get off of drills easily. And as someone who has overcome a lot of adversity as an openly gay police officer during an extremely difficult, intolerant time, he never compromises his morals.
The same was about to happen here. Captain Holt would rather leave the precinct than let Captain Wuntch win. He's "not a man of unlimited cajoling," as he tells Amy. But Amy never takes no for an answer, and she inspired Captain Holt to "cajole up" and resolve his issues with Captain Wuntch before he lost his job.
Captain Holt admitted to Captain Wuntch that he really messed up her meeting with Jeter, and the two made up, so much so that the precinct got a passing grade on its inspection. And for saving the precinct and his job, Captain Holt gave Amy an A, to which she of course asked if an A+ was possible.
Though Sedgwick proved to be a hilarious and formidable adversary for Captain Holt, this plotline of Sunday night's Brooklyn Nine-Nine was actually more about the relationship between Captain Holt and Amy. There is clearly a Liz Lemon-Jack Donaghy relationship going on between them, and the screen just lights up whenever they're on it. Amy so desperately wants Captain Holt's approval, and little by little, she's getting it. However, it's especially awesome when there are episodes like this when she teaches him as much as he teaches her.
Image: John Fleenor/FOX