These Two Might Be One Another's Only Ally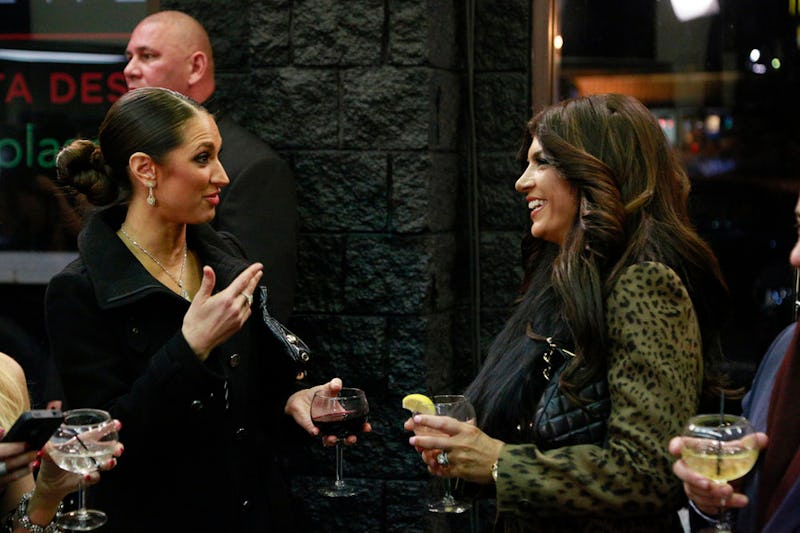 After the explosive, drunken fight that carried over from last week's The Real Housewives of New Jersey , the rest of this episode simmered down as soon as the Marcheses were kicked out of Florida. Everyone retreated and things remained pretty calm until the trailer for next week's episode… where it sounds like we'll be seeing a lot of alliances shake up as Nicole and Teresa seem determined to cut off Teresa Giudice after she met with Victoria Gotti and discussed Rino Aprea's alleged affairs.
There was a lot of talk about relationships on this episode of RHONJ. Amber bemoaned having to stick up for Jim just because they're married. Teresa bailed out on the yacht trip to be with Rino, giving them an off-camera opportunity to regroup and retreat from all of the rumors about his infidelity. Melissa and Joe Gorga were their typical sweet-but-too-much-PDA selves. Nicole left Bobby suffering from a hangover as some kind of payback for locking himself in the bathroom. Dina rolled solo, because she's awesome and can do whatever she wants. The Giudices had an awkward, forced date night with the specter of their impending jail time hanging over every scene. And Jacqueline and Chris Laurita also had a date night, even though that relationship was hijacked by a long discussion of Jacqueline and Teresa Giudice's friendship. Ultimately, they decided to let their attachment to the Giudices go.
And they may have decided that at just the right time, because when the twins show up in the following episode bearing wine and opening up over their worry about whether or not Teresa is a loyal friend, it sounds like Jacqueline doesn't exactly stand up for her. Could this become a full blown feud? There were hints of this in Teresa Aprea's blog posts, back from the episode where the rumor was introduced. Teresa calls out Tre repeatedly for participating in the discussion with Victoria Gotti.
I have been totally disgusted with what Victoria, Teresa Giudice, and Amber have brought to this show. That repulsive episode of lies brought my parents, my son, and my nephews a lot of pain.
She also goes on to say that she believes Teresa and Amber were conspiring together to hurt her and her family.
I would expect something like this from the Marcheses, not from Teresa Giudice, because I did nothing to hurt her or her family. She was my friend and I considered her a good one. My entire family has done nothing but love and pray for the Giudices. […] But now I sadly see that there was an agenda to hurt my family with all these disgusting lies.
This made no sense at the time — Tre and Amber had barely talked! But if they wind up as the two pariahs among the group of Housewives, maybe they do become closer, and while Teresa does have more important things going on at the moment, maybe they did do something that justifies Teresa Aprea's suspicions. We could be seeing a total cast shakeup that puts Amber and Teresa G. on one side, the twins, Jacqueline, Melissa, and Kathy on the other, with Dina stretched out between them.
Image: Heidi Gutman/Bravo