'Twin Peaks' Is... Back! Officially!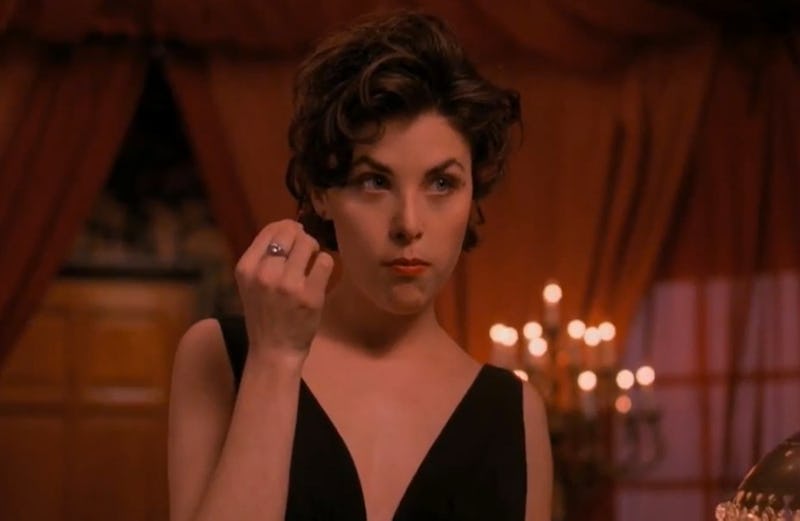 Whoa. Whoa. So this is actually happening now: Twin Peaks is officially coming back, in the form of a Showtime series, as brought to us by the people who created it in the first place, David Lynch and Mark Frost. We truly are living in the era of resurrected television.
I wrote back in January about the persistent rumors that Lynch was back at the Twin Peaks game and filming more material involving the series' characters. The evidence was there and ripe for conspiracy: The show's 25th anniversary was rapidly approaching, and there is that moment in the show's finale where Laura Palmer tells Special Agent Dale Cooper that she'll see him again in 25 years' time.
Those rumors were pretty strictly squashed by Frost himself not long after, but 10 months later and we've actually got something real. Twin Peaks is officially returning, folks, if only for a little while.
The cult classic show will be treated to a new, limited run on Showtime. "Limited run" here means nine episodes, and Lynch will direct every single one, with he and Frost writing and producing them all.
More of the nitty-gritty of what this will all look like, via Deadline's Nellie Andreeva:
I hear the new Twin Peaks will be set in the present day, more than two decades after the events in the first two seasons. It is expected to continue the lore and story of the original series, with Lynch and Frost committed to providing long-awaited answers and, hopefully, a satisfying conclusion to the series. It is unclear which actors from the original series will be featured in the followup. Rumor is that star Kyle MacLachlan would be back, likely reprising his role as FBI Agent Dale Cooper who was at the center of the show. The ABC series also featured some of Lynch's favorite character actors, and it is likely that at least some of them will return.
This is real. This is happening. That #damngoodcoffee actually meant something.
Watch the Twin Peaks announcement:
Image: ABC