What is Owen's Deal on 'Awkward'?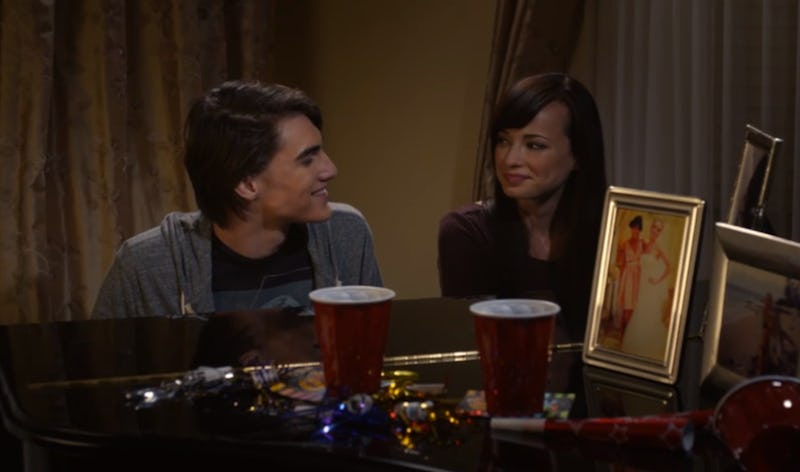 If you missed last week's new episode of Awkward, then you missed Owen. Owen & Jenna may be Awkward's new plan, as Owen is the new high school boy and potential love interest whose sole purpose to ruin Matty and Jenna sharing a beautiful New Years Eve kiss. So basically, he is already annoying.
Here's what we know about Owen thus far (until Tuesday's new episode, obviously): Jenna thought she had a kiss with a random guy who she would never see again because someone told her Matty was off with another girl (Matty was with his mother by the way). So of course, because it's Awkward and Palos Hills High School is the only high school around, Jenna is shocked when she realizes that Owen is a sophomore at her school when she awkwardly runs into him on Monday. It's safe to assume at this point that Owen and Jenna are not a one-night thing, to her dismay.
Like I've said before, it's not Jenna and Matty's time to get back together yet. That being said, I'm not sure if Owen has the ability to get in between them all that well. He may cause a bump this season, but it's not Jenna and Matty's relationship you have to worry about with Owen; it's Jenna and Tamara. Before the Season 4 started the new showrunners Chris Alberghini and Mike Chessler hinted at many upcoming events in the second half of the season. They told E!:
There are also going to be other things that go on that really does test their friendship ... Owen is somebody that both Jenna and Tamara become entangled with and it causes a lot of conflict on many fronts.
First of all, I kind of wanted to like someone new on the show, but if he somehow becomes entangled with both of them, that must mean he's a huge douchebag of sorts and we really don't need another Colin, amirite? He was the worst. Jillian Rose Reed, who plays Tamara, confirmed that there would be trouble in paradise for the BFFs. She told E! Online:
There is also some boy drama coming up with Jenna and a new boy coming down the line that will cause some major conflict.
For the record, no high school senior girls in the history of forever got super bent out of shape about a sophomore boy.
Even though we can expect a falling out over this kid, this won't be the end of Jenna and Tamara. According to Reed, their friendship can survive anything. In that same interview, she said:
At this point, I think Tamara and Jenna can get through anything. They've been friends for so many years and have gone through so much drama ... I don't think there is anything that can break them up, especially not a high school boy.
So there you have it. You can expect lots of drama coming up, but a happy ending eventually.
Images: MTV (3); Awkward-gifs/Tumblr