New Years Eve Came Early on 'Awkward'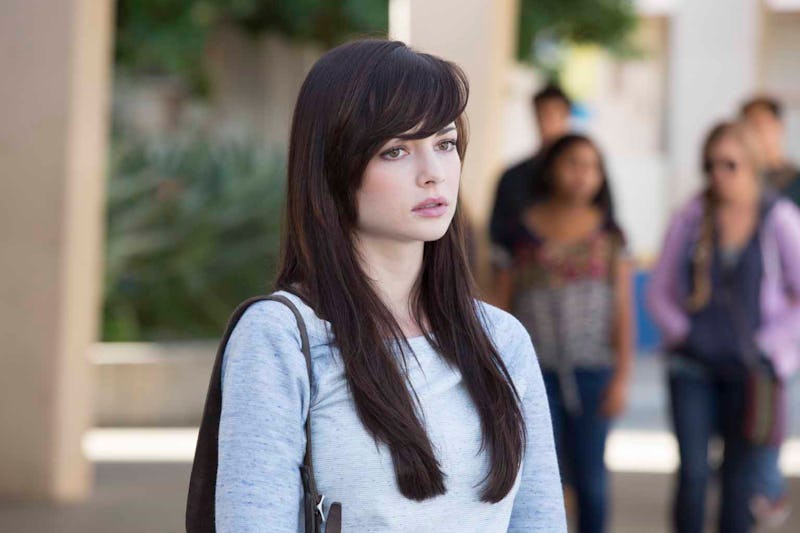 New Years Eve is synonymous with broken resolutions. While many people resort to promised efforts of losing weight and keeping a daily diary of their lives, the gang on Awkward also made some resolutions that wouldn't even make it through the night. It begs the question, "Why does anyone attempt to make resolutions?" I'm pretty sure no one in the history of forever has followed through, and for those of us who attend the gym on a weekly basis the added crowd for two weeks is not appreciated. The beginning of this week's episode of Awkward "Auld Lang Party" got our hopes up of a new beginning for Matty and Jenna, a chance to wipe the slate clean and start fresh in the new year. We were promised a night of celibacy between the two of them, which only meant that they were saving their new years kisses for each other. Spoiler alert, nothing ever goes as planned and I am pretty bitter about it.
What started out as a quiet date night for Matty and Jenna who are "just friends" quickly turned into the couple plus Jake and Tamara heading off to a New Years Eve rager at Sadie's aunts house. Of course the entire school is also attending the party as well as Lacey, Valerie and surprisingly Matty's mom. I don't know what it is about women and alcohol, but even arch nemesis are BFFs with the help of high alcohol proofs. So, Matty's mom and Lacey become besties (P.S. Valerie was not impressed).
The party became a cat and mouse chase between Jenna and Matty. Constantly trying to find each other to make sure that the other one was not hooking up with someone else (really though? Love is not this difficult people). Bring on the cock-blocking, and not-so-subtle jealously. Jenna encourages Matty to talk to his mom and forgive her for that whole Matty was really adopted situation. He was off having a drunken heart-to-heart with Mrs. Mckibben, when Owen entered.
Owen was the sexy emo stranger playing the piano at the party (because at every high school party, someone has to be the annoying instrument-playing person). Jenna was told that Matty was off with an "older woman" so she decided that if Matty was going to break their pact then she was too. Classic Jenna. Matty ended up kissing his mother on the cheek, while Jenna was getting to second base with Owen.
Turns out Owen is a Sophomore at Palos Hills High School. Jenna begins her fresh start with Matty with a major lie, thus perpetuating the tradition of false promises on New Years Eve. Hey girl, it happens to the best of us. Except if we had a Matty McKibben, we'd be all up on that.
Also important news, Lissa's dad is super gay, super religious and super in the closet. Stay tuned for more of that ah-mazing storyline.
Images: MTV (4)