The 17 Escape Fantasies Everyone Has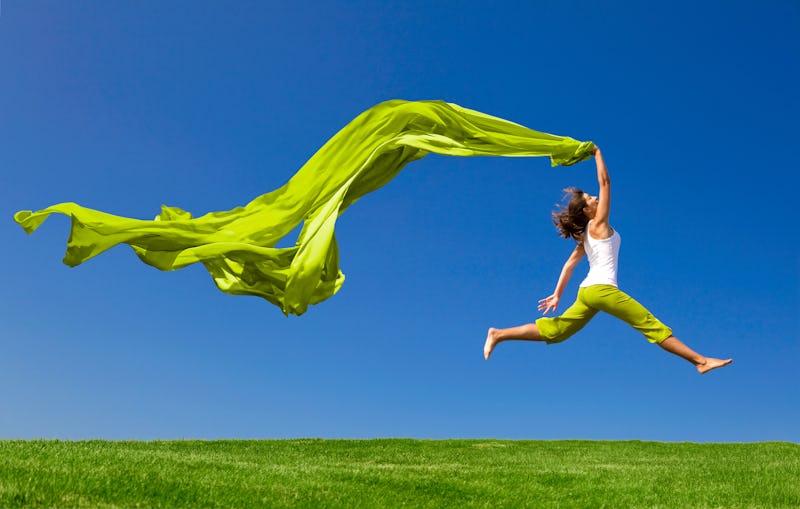 There are two different kinds of life goals: goals that you've focused on and worked hard to achieve, and goals that you ... haven't. You know what I mean — that idea you had about suddenly moving to another continent, or that time you thought you might have bright future as a professional wine taster. The kind of goals that are less goals than they are fantasies about escaping your regular life.
See, there comes a time in almost every woman's life — usually when stuff with your real goal isn't going so well, and you start question every decision you've made since graduating — when these escapist fantasies start to seem like real options, possibly even better options than your actual goals.
Was pursuing my dream career a mistake? Should I have been fighting for the rights of the people, like Erin Brockovich? Should I have been running all over the globe, eating, praying, and loving? Should I have been…doing some other glamorous thing that Julia Roberts once did in a movie once?
But having these impractical dreams is an important part of figuring out what you actually want — and realizing that everything, from being a yoga teacher to being Lena Dunham, is as hard and exhausting and as full of road bumps as whatever path you actually chose.
So the next time you get lost imagining how great life would be as a professional chocolatier, take heart — it's a healthy, normal thing to do (and also, somewhere out there, a professional chocolatier is probably fantasizing about having your job, too).
MOVing TO SOME GLAMOROUS EUROPEAN CITY ON A WHIM
THE FANTASY: It won't matter that you don't know how to say anything in Spanish/French/Portuguese besides "Where is the library?" after you meet ... Roberto.
REALITY STEPS IN WHEN: You realize that not being able to speak the language will probably keep you from getting a job, which you will need to stay there after your travel visa runs out.
WRITing A BOOK THAT WILL MAKE ALL YOUR EXES SORRY
THE FANTASY: You're not praying, but you're definitely eating and loving! You'll take part in the tradition of great American writers living abroad, like Hemingway, Fitzgerald, and, uh, I'm sure some other people. And won't Bill be sorry once your book becomes a bestseller!
REALITY STEPS IN WHEN: You realize that taking two semesters of short story writing classes in college has not prepared you to even write a book proposal, let alone an actual full-length book.
moving to an ashram and BECOMing A YOGA TEACHER
THE FANTASY: You'll feel healthier, more spiritual, and more in touch with the earth when you're able to devote all day every day to helping people discover their own inner peace through half-wheel pose.
REALITY STEPS IN WHEN: You realize that annoying assholes do yoga, too (like that lady in your evening class who's always texting through child's pose), and that having people in Lycra complain about the room being too hot is not necessarily the easiest path to serenity. Also, those yoga trainings are expensive.
MOVing TO A BRITISH COUNTRY MANOR
THE FANTASY: You'll become a maid or a cook for a year in an old-timey British country manor, and witness all the inter-personal flare-ups and class conflicts. It will be so peaceful out there in the country.
REALITY STEPS IN WHEN: You remember that Downton Abbey isn't real.
OPENing up A CUPCAKE BAKERY
THE FANTASY: Your hip, adorable bakery with the cute name will become a local sensation for its lovingly crafted, beautifully designed cupcakes.
REALITY STEPS IN WHEN: You realize that you probably can't get people to fork over $4.50 a pop for some Funfetti cupcakes with a few neon sprinkles on top.
BECOMing A THERAPIST
THE FANTASY: You'd get paid handsomely for doing what you already do all day — listening to your friends complain about their lives, and nodding sympathetically.
REALITY STEPS IN WHEN: You realize that there's a difference between listening to people complain "all day long," and actually listening to people complain all day long. Also, turns out you'd have to go to about eight years of grad school.
BECOMing A professional TRAVEler
THE FANTASY: You'll get paid to fly around the world, seeing exotic sights and eating exotic foods (and getting put up in first class hotels to boot). What? You have excellent taste.
REALITY STEPS IN WHEN: You talk to an actual travel writer and find out how exhausting it is to have to take three round-trips to Gibraltar in a single month to report on the opening of a new ferry dock.
OPENing up A quaint VINTAGE STORE
THE FANTASY: Your lifelong fashion obsession will finally pay off when your vintage dress shop becomes internationally famous after Zooey Deschanel is spotted shopping there.
REALITY STEPS IN WHEN: You talk to your friend who attended fashion design college and has been putting in 80-hour work weeks trying to get her online vintage store off the ground for two years.
BECOMing A ROCK STAR, duh
THE FANTASY: Expel all your emotional demons through song, and get paid in big bucks and the adoration of strangers for your trouble.
REALITY STEPS IN WHEN: You talk to any of your friends who are trying to make it as a musician, even for five minutes. Any of them.
HANGing AROUND A ROCK STAR
THE FANTASY: Well, if you missed the boat on being a rock star, the next best thing is getting flown around the world to be the muse of one, right?
REALITY STEPS IN WHEN: You find out all positions have already been filled by 18-year-old Romanian supermodels.
launching A lucrative LIFESTYLE BLOG
THE FANTASY: Achieve fame, fortune, and lucrative book deals, simply by photographing your tacos with the right Instagram filter.
REALITY STEPS IN WHEN: The holiday wreath you make from Pinterest instructions ends up looking like a scrotum ... and then somehow catches fire.
becoming A FASHION MAGAZINE EDITOR
THE FANTASY: You'll take three-hour, three-martini lunches with brilliant writers, then head back to your luxurious office, where you'll be showered in free designer clothes.
REALITY STEPS IN WHEN: You find out that all positions for "old school magazine editors" were filled approximately 20 years ago by people who are only leaving in a black box. If you even manage to snag an entry-level job at one of these places, the salary will be so low that you'll be expected to somehow pay your rent in complimentary high-end mascara samples.
BECOMing AN ACTOR
THE FANTASY: Maybe you could get discovered while just sitting on your front steps, the way Rosario Dawson go did! And wasn't Jon Hamm, like, 35 when he started acting, anyway?
REALITY STEPS IN WHEN: You realize you're not nearly that good-looking. Plus, Jon Hamm started acting in his 20s; he just wasn't successful at it until much, much later.
BECOMing A MORNING TV PRODUCER
THE FANTASY: You'll be just like that Rachel McAdams movie, Morning Glory! (What? Oh, fine, are we just going to pretend that I'm the only person who's seen Morning Glory?) Anyway: you'll meet celebrities, come up with brilliant ideas for show segments, and then head home to throw a glamorous cocktail party in your cute loft apartment.
REALITY STEPS IN WHEN: You realize that even if you had a cute loft apartment, you would probably never see it, because TV producers work insane hours, including a few years as on-set gofers.
STARTing A DOG WALKING BUSINESS
THE FANTASY: You'll finally be happy when you're spending all day getting fresh air, tons of exercise, and hanging around furry little bundles of happiness.
REALITY STEPS IN WHEN: You discover that several hundred thousand under-employed writers/singer-songwriters/freelance tightrope walkers in town have beaten you to the punch and started their own dog-walking businesses before you had the chance.
BECOMing AN INTERIOR DESIGNER
THE FANTASY: Rich people will throw money at you to decorate for their parties and tell them that their taste in couches is terrible.
REALITY STEPS IN WHEN: You realize you need a lot of training before you can decorate for rich people's parties/tell them their taste in couches is terrible.
BEcoming the next LENA DUNHAM
THE FANTASY: You really feel like you could be the voice of a generation.
REALITY STEPS IN WHEN: You hear that they are not accepting applications for this position at this time.
Images: Be-Younger.com/Flickr, Giphy (18 )