Meet The Man Who Tried To Run On Water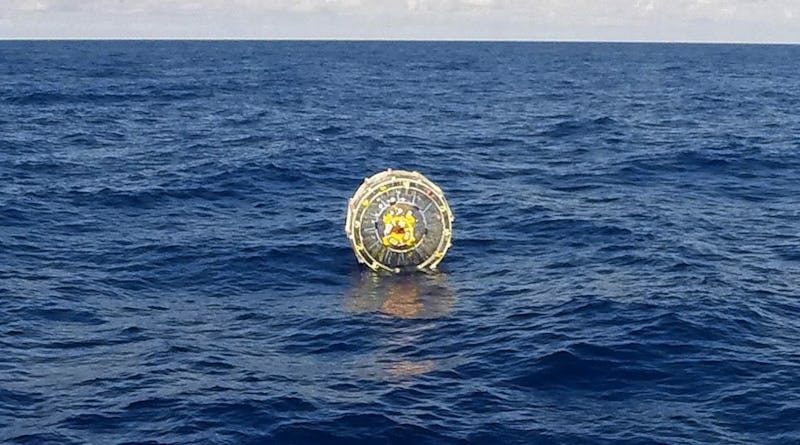 No mortal man, they say, has ever walked on water. But no one's ever said anything about running on it. But that is precisely what one man was doing when the coast guard rescued Reza Baluchi from his inflatable bubble on his "run" from Florida to Bermuda. Baluchi embarked on his impressive quest in an attempt to raise money and awareness for his nonprofit, Plant Unity, which seeks to "create educational opportunities for children around the world." The trip, which would've been an unbelievable 1,033 miles long, was intended to "inspire those that have lost hope for a better future." Frankly, success or not, I think Baluchi is pretty inspiring.
So how did he run across water, you ask? Aside from being a famous marathon runner and endurance guru, Baluchi is also an inventor — a regular Leonardo da Vinci, if you ask me. His "Hydro Pod" is his own creation and, according to his website, is constructed of a 3-millimeter-thick plastic hamster ball-like frame and soccer balls. It stays afloat with the help of inflatable devices, which Baluchi would have to spend an hour each morning inflating to prevent himself and the Hydro Pod from sinking into the deep oceanic abyss.
Having braved the harsh conditions of Death Valley between 2010 and 2012, Baluchi was confident that he had both the experience and the strategic planning he needed to make the challenging journey across the ocean in his Hydro Pod. Though his website reports that the Hydro Pod could reach temperatures of up to 120 degrees, Baluchi believed himself to be well-prepared to handle both the physical and mental elements that would make the journey difficult.
His plan, according to his website, was to sleep every day from 6 to 9 a.m. on a hammock inside the bubble, then begin running until he became too hot. Once he began to overheat, he would take advantage of his environment and take a quick dip in the ocean, but would stay near the hydro pod by way of a leash attached to his leg that would keep his bubble contraption safe and sound. As for food, his bubble was stocked with bottled water and protein bars, and being an "excellent fisherman," Baluchi planned to supplement his meals with fresh fish caught from the ocean.
As for safety measures, Baluchi ensured that his pod would have a light for night travel, as well as a GPS monitor so that a team would know his location at all times. He also had a satellite phone that could be used to contact help.
Surprisingly, Baluchi has actually made a successful trip in the Hydro Pod before. In 2013, he tested the contraption on a journey from Newport Beach to Catalina Island, a 33-mile journey that took him approximately 12 hours. Had Baluchi maintained this pace for his trip from Florida to Bermuda, it would have taken him 376 hours to complete the 1,000-mile journey, or just over two weeks.
Unfortunately, the stars did not align for Baluchi on this particular trip. After beginning his adventure on September 30, the coast guard responded to "a report of a man aboard an inflatable hydro bubble who was disoriented asking for directions to Bermuda" just a day later on October 1. At this point, the coast guard urged Baluchi to abandon his quest — ABC News reports that a dispatcher told the daredevil, "If you run into trouble, there's no guarantee that we'll be able to get to you in time or even find you."
But that certainly didn't stop Baluchi, who had been preparing for the journey for two years, and simply responded, "Okay, I'm continuing to go." The coast guard, however, made sure to keep tabs on the runner, who finally activated his emergency beacon on October 4, five days after his starting date. He was recovered 70 miles off the coast of St. Augustine, and is reportedly not suffering from any serious injuries. When he was rescued, he was still asking for directions to Bermuda.
Coast guard public affairs specialist Mark Barney told CNN,
Part of his effort was to make world peace but he got caught up in the Gulf Stream. The chances of muscling out of the Gulf Stream were pretty low.
But you certainly can't blame a man for trying. Baluchi has also met with considerable fame and success when it comes to seemingly impossible missions. In 2007, he ran around the borders of the United States for 202 days in a row to raise money for the Children's Hospital Colorado in Denver. In total, he has run more than 11,000 miles around the country, and also spent seven years biking across 55 different countries.
On his website, Baluchi says, "I believe my heart is love, and I simply follow my heart where it takes me, in peace around the world. I believe that anything is possible." Godspeed, Reza Baluchi.
Images: BBC World NEWS/YouTube