This 'Shark Tank' Toy Is So Simple, Yet So Cute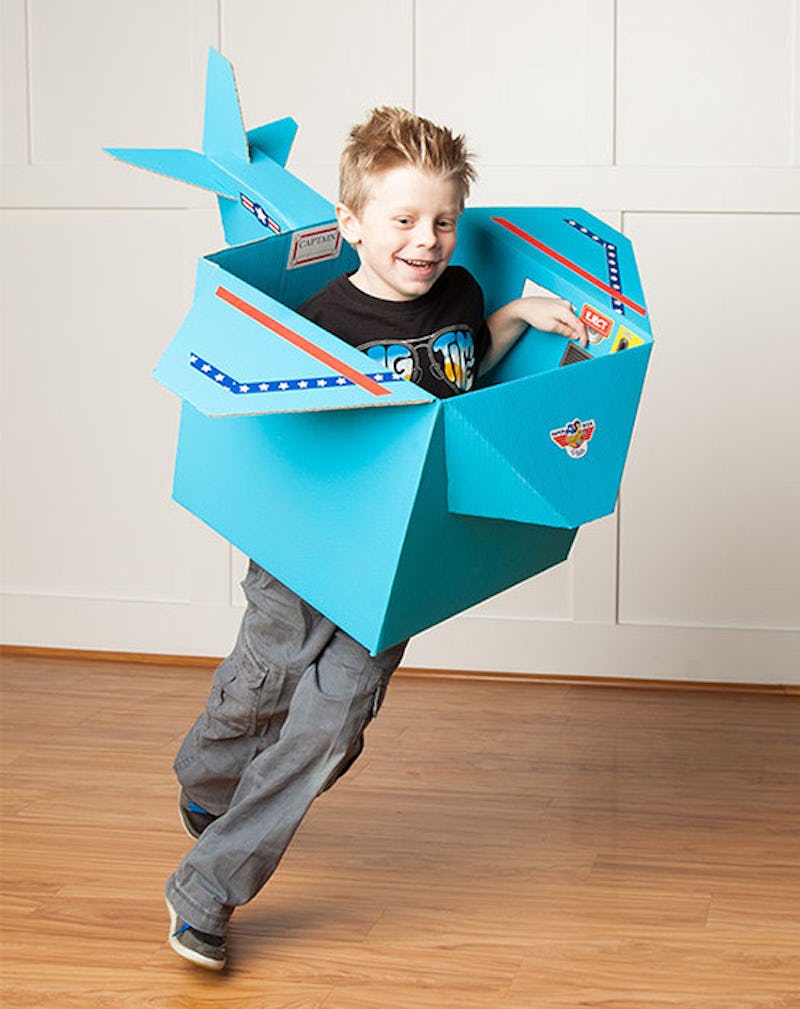 When you step into the Shark Tank , you've got to be prepared for some intense, rapid-fire questioning about the past success of your product and its future viability. The millionaire investors are ruthless, and they'll stop at nothing to find out how your product will make them money, and they'll cut loose from the deal immediately if they find out it can't. The Shark Tank is a scary place to be for adults, let alone those who haven't hit puberty yet. Still, the show often welcomes child and teenage entrepreneurs who think they're ready to take their product to the next level, even if they aren't legally allowed to vote, drink, or drive yet. Once the Sharks get past the initial cuteness factor of the entrepreneur, they're quick to get down to business. At 14 years old, Noah Cahoon is the latest tweenage CEO to try his hand at inspiring the Sharks to invest in his company, Paper Box Pilots.
Perhaps Cahoon's product will help him seem a bit older than he really is. Paper Box Pilots is an activity kit for children that includes detailed instructions on how to cut and fold a cardboard box to transform it into a toy airplane and decorative stickers that help kids imagine that they're really soaring through the air.
This all sounds just too adorable for words, but here are a few more things to know about Paper Box Pilots that will just make you want to support the company even more.
It's a family affair
Paper Box Pilots took flight in the summer of 2013, but the idea for it was born about a decade ago. When he was younger, Cahoon used to make cardboard box airplanes with his dad Brian, who would draw little dials on the box and later stick on images of airplane controls printed from the Internet. The father-son team decided to turn playtime into a business about 10 years later. Cahoon's younger brother Milo is also involved in the business, listed in the very important role of CFO, or Chief Fun Officer. This company is already melting my heart.
You can buy it now
If you're ready to get your Paper Box Pilots license, you can buy one of these kits right now. The airplane stickers set is available through Paper Box Pilots' official online store, which also includes instructions on how to make a cardboard airplane and an educational guide that teaches kids about the instruments and gauges in a real cockpit. Kits are also available to create a race car and fire truck. Each kit is priced at $7.99, and you can get all three sticker sets for the special price of $20 in honor of the company's appearance on Shark Tank. That is special.
Cahoon was an Eagle Scout
In case Cahoon didn't seem All-American enough for you yet, he's also an Eagle Scout, you know, those guys in uniform that do service projects and earn merit badges? Cahoon actually used Paper Box Pilots to help him become an Eagle Scout by participating in The Global Cardboard Challenge, which encourages communities to use cardboard to foster creativity. Cahoon organized and hosted the event, which invited the surrounding community of Hill Air Force Base in Roy, Utah to come together and make all sorts of wacky things out of cardboard. No fingers were harmed with paper cuts in getting Cahoon's merit badge.
Now we just have to see if Cahoon will get his badge for convincing a Shark to invest in his company or if he'll have to go home empty-handed.
Images: Paper Box Pilots; foxadhd/Tumblr