How to Decorate Like a True Basic This Fall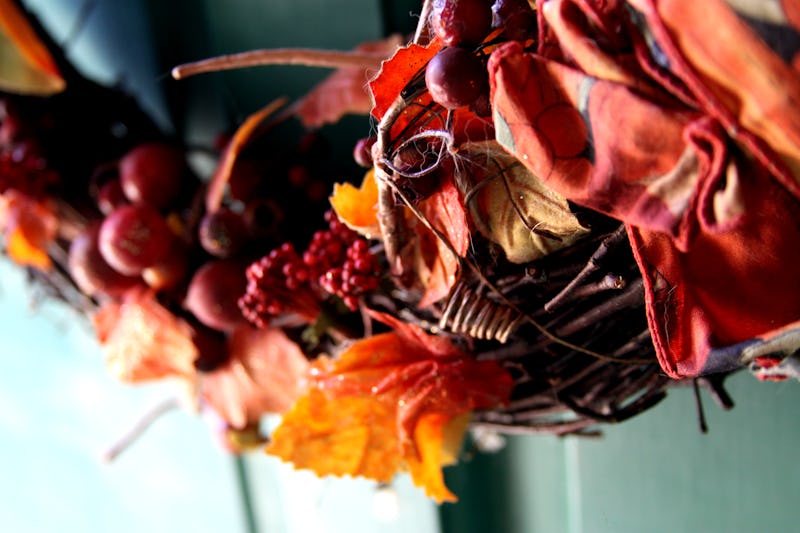 For some reason, 2014 has been the year of the Basics, with fall, of course, being the most basic season of them all. It's the one time of year the Basic Bitch — what with her love for scarves and Uggs and anything pumpkin — can really shine. And while not everyone may revel at this title, I'd argue that a little bit of basic-ness runs deep inside all of us, creeping up to the surface every time we get the urge to post an Instagram photo of our sparkly new mint-colored manis, or order a pumpkin spice latte, or splurge on cookie butter at Trader Joe's. There's nothing wrong with this — it's just a fact. Sometimes, the best things in life are also the most basic.
So joke all you want about how fall is the most basic thing ever (sweater weather!!!), but let's face it — deep down inside, we are all a little basic, especially this time of year. It's in our blood; our basic blood. We just can't help it. And if there's one thing basics love more than overalls and the Valencia filter on a warm summer night, it's decorating for fall. Why? Because Basics understand that you can't fully celebrate the glorious autumnal season without indulging in spiced and cider-scented candles, decorative burlap sacks, and a tablescape of gourds, pumpkins, and seasonal squashes.
So to my fellow Basics B's and all you lowly non-basics out there, you're welcome, because without this breathtaking spread, your home would look just like every other raised ranch on the block.
And let's face it: We'd rather be Basic than boring.
1. Buy a seasonal wreath
"Hi, welcome to my Basic home. Full of basic-ness. Where basic-ness abounds. And this wreath is a symbol of my commitment to my Basic peoples. All ye who enter this hearth shall be Basic."
2. Celebrate the season with decorative pillows
Because how will people remember the upcoming holidays if there isn't an abundance of written reminders on every comfortable surface in the house? I mean, they're just being helpful.
3. Upgrade dinner parties with extravagant tabletop garland
Hey, if you're not able to spend all your time outside crunching every single leaf in sight, the least you can do for your guests is put the pretty shades of autumnal nature right in front of their faces.
4. Bring the outdoor scents inside
Um, can you even imagine the season without this? No. No, you cannot.
5. Cuddling up under rich-colored sayings and phrases
There's just something so cozy and comfortable about having a sign hanging over the couch while you and your boo thang cuddle up to a rom com underneath a coven of blankets. Sure, it's basic, but that doesn't make us love it any less.
6. Tempt guests with faux apples and pumpkins
'Tis the season for apples and pumpkins, but what's the point of even having these around if people can't see them sitting center stage on your dinner table?
7. Armies of blankets
Um… how else are we expected to spend our Sunday mornings?
8. Make things magical with starry string lights
How are we ever going to get the Pinterest-worthy home of our dreams without starry lights?
Images: Lindsey Turner/Flickr; Pier 1 Imports, Pottery Barn; Williams-Sonoma; Bath and Body Works; Wayfair; Pottery Barn' Anthropologie; Restoration Hardware;