The Man Behind The Makeup Isn't As Terrifying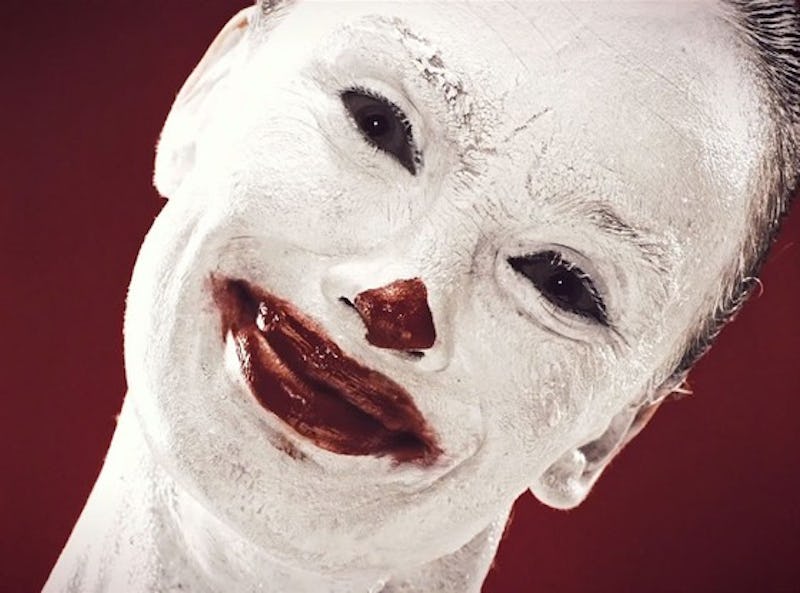 I have something to admit. Ever since the new American Horror Story: Freak Show full trailer came out, I haven't stopped thinking about the terrifying clown at the end, as I am now convinced he is going to jump out at me everywhere I turn. Then, Ryan Murphy — TV creator extraordinaire — said that even he was scared of Twisty the Clown, played by John Carroll Lynch, calling the clown's introduction in the first episode "brutal." So I came to terms with the fact that I can either not watch AHS: Freak Show this season and miss out on all of the pop culture references, or I can live in constant fear of Twisty the Clown. I choose the latter.
So to neutralize my fear of Twisty — the name sounds so innocent enough — I thought it would be worth learning more about the man who plays him. And as it turns out, Lynch (who has had a very successful acting career) has actually played more parts on the good side of the law than he has on the wrong side of the law — oh, if you didn't know, Twisty is a killer clown... it just keeps getting better, right? So while we should all bond together to get over the nightmares we'll all be having of Twisty, we can rest assured that Lynch is one of the good guys.
Let's take a look at a few good guy roles that might make Lynch seem familiar to you — because you wouldn't know it was him underneath all that clown make-up.
Body of Proof
Lynch played Detective Bud Morris in the 2011 to 2013 television show Body of Proof on ABC. Point one for the good guys!
Shutter Island
Lynch also played a deputy warden in Martin Scorsese's Shutter Island, which I think makes him a good guy. Four years later, and I am still not entirely sure as to what happened at the end of the movie... was Leo crazy after all?
Crazy, Stupid, Love
He might not have been a cop in this movie, but he did have the cops called on him when he attacked Steve Carrell's character in the movie, so... same thing.
Zodiac
Ahhh. OK, so I lied. He hasn't always been a good guy. Lynch played Arthur Leigh Allen in the 2007 film Zodiac and in case you don't follow influential serial killer cases, Allen was a lead suspect in the Zodiac killer case. I'm so sorry I lied.
Images: FX; Michael Desmond/ABC; Paramount Pictures; Warner Bros.; Merrick Morton/Paramount Pictures