Romantic Same Sex Proposal On Ellen Will Melt You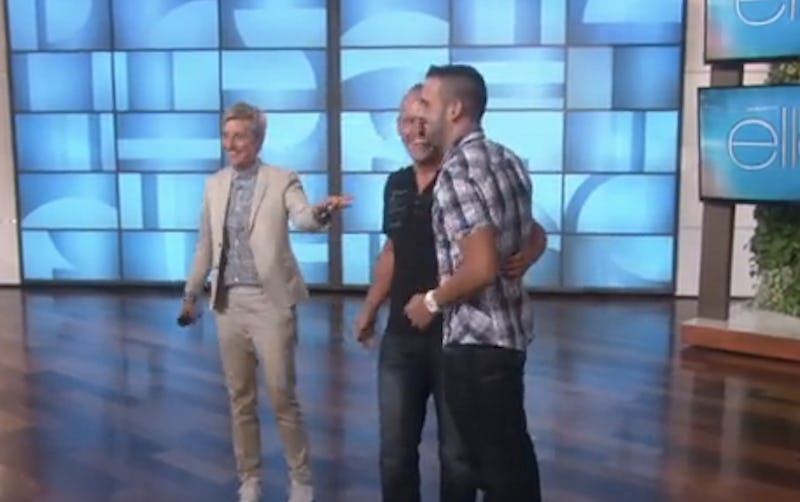 In a touching moment for The Ellen Show, host Ellen Degeneres stood by as a same-sex marriage proposal between two audience members, Benjamin and Justin, took place. Ellen set the stage for the romantic proposal by taking a rare change of pace to the show, and eschewing jokes for a more sincere speech. She thanked the audience for being there, and recognized that many travelled to be there, and that she was (#)blessed to be surrounded by such joy on a daily basis. There was a heartfelt sincerity in Ellen's short but sweet speech, which made way for her to ask audience members Benjamin and Justin to join her on stage.
Benjamin and Justin took to the stage, at which point Ben almost snatched the microphone from Ellen's hands, leading the audience to erupt into applause and Justin to almost poop himself with glee as Ben fell to one knee. I'm not always the biggest fan of televised personal moments, but no matter how much I hate these shared intimacies, they almost always bring a tear to my eye, and Benjamin's proposal to Justin was really no exception.
The pair had attended a taping of The Ellen Show back in February at which time Ben had given a Justin a promise ring, a promise which he claimed to now be making good on. That was when I started welling up. But it wasn't until the end when a giddy Justin, about to burst out of his own skin with happiness, told Ellen "He's the one!" That kind of overwhelming, there's a little bit of wee coming out, excited happiness is really infectious, and no matter how much of a grinch you might be about TMI culture, it's impossible not to share in Ben and Justin's joy. Watch the video below, and prepare to feel your heart grow three sizes.
Images: TheEllenShow/YouTube