Welcome Back, Ryan, Here's a Baby Bombshell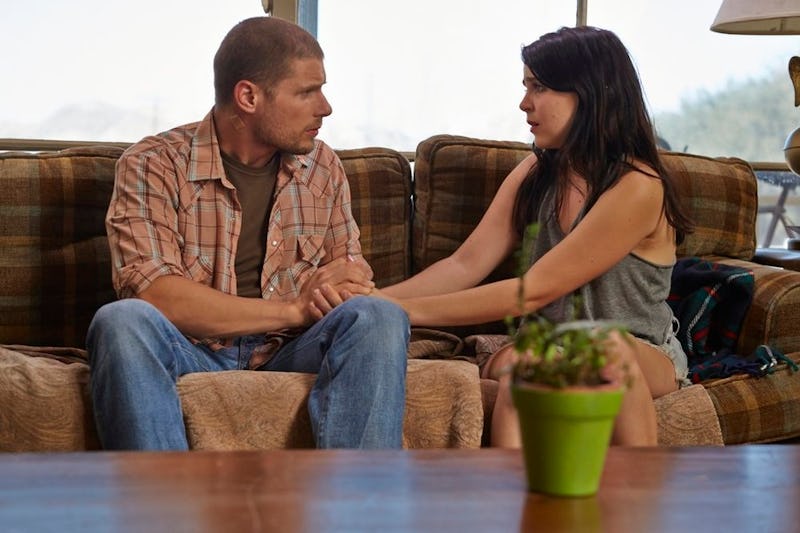 Oh, Ryan, you beautiful, damaged young man, how we've missed you. Thankfully, he returned during Thursday night's new episode of Parenthood called "The Waiting Room" and was on the receiving end of a baby bombshell courtesy of Amber. After getting encouragement from her grandfather Zeek (all before he went into surgery, mind you) and a lift from her brother Drew (who made some valid points about calling ahead before you change the course of someone's life), Amber told Ryan she was pregnant after making her way to Wyoming.
Ryan, who still seems to be struggling with his PTSD and his demanding mother (a trauma in and of itself), looked like a new man when Amber told him the news . A smiling, teary-eyed Ryan simply gasped, "We're having a baby... oh my God."
The papa-to-be said he was "about to explode I'm so happy" and quickly told Amber that she could count on him and he was going to be the most, present amazing dad there is. But that reaction came as something of a surprise to Amber, who looked more confused than hopeful at the prospect of raising her baby with someone as unstable as Ryan.
Things got even more complicated when Amber told Drew she was going to stay back in Wyoming with Ryan and our darling lil' poppyseed Drew was all, "OH HELL NAW, AMBER." (I might be paraphrasing here.) Because as much as Amber wants to believe that Ryan can change and will be the man she's always needed him to be, her baby brother was right: Ryan is a mess and can't be saved and Amber is just keeping the cycle of her own father going. Drew straight-up told Amber that he wasn't leaving her in Wyoming and that she had an hour to figure her stuff out. Drew was not messing around.
A rattled Amber went back in and talked to Ryan about his pills, and she could tell right away he was the same person she had to break up with last season. While Ryan will, no doubt, be a presence in their child's life, Amber knew that he had far too much work to do on himself. "I have to start taking care of myself and this baby and you're not ready yet," she told him honestly.
While I don't think this will be the last we see of Ryan (at least I hope not), this whole thing made for a pretty bittersweet Rymber reunion. Thankfully, actor Matt Lauria live-tweeted the episode and left us with some of these gems guaranteed to make any fan smile:
Wyoming forever!
Image: Ben Cohen/NBC