Will Teresa & Jacqueline Be Seen Together Again?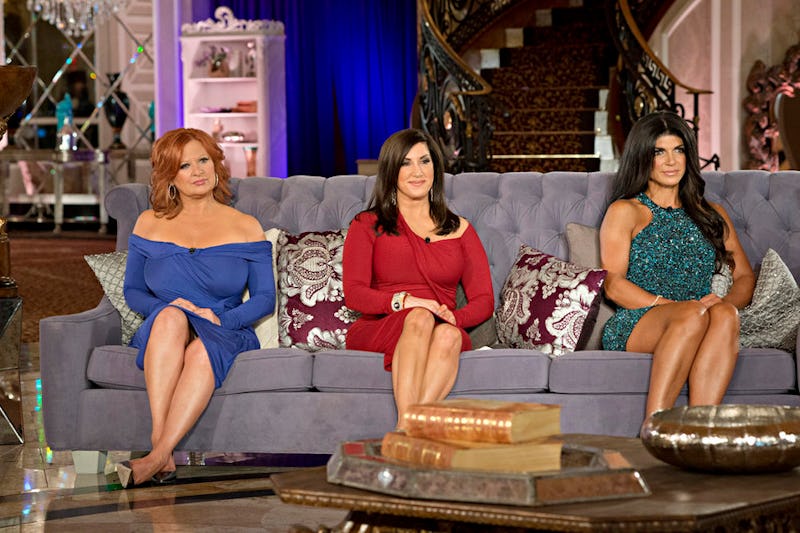 Reality TV shows love their awkward reunions, and we've been waiting all season for one between Teresa Giudice and Jacqueline Laurita on The Real Housewives of New Jersey . Ever since it was revealed that Jacqueline, who was not supposed to return as a cast member for Season 6, would be returning to the show in more of a "featured player" type of role, I was happy to know that one of the more delightful Housewives to watch would be back to lighten it up. But I, like you, really only had one thing on my mind, and that was what would happen when Jacqueline and Teresa came face to face again.
Jacqueline and Teresa famously parted ways in Season 4 when Jacqueline decided she couldn't handle all of Teresa's family drama with her sister-in-law Melissa Gorga and the lack of answers coming from Teresa regarding the tabloid rumors about her financial problems. If only Jacqueline knew then what we all know now.
Since then, Jacqueline and Teresa were never really the same when they were on camera together, and they definitely cut back their joint screen time. Their appearances together usually consisted of arguments that went in circles, icy stares, and resolutions that couldn't repair their friendship.
We're 12 episodes into Season 6, and Jacqueline and Teresa still have not shared the screen. Although Jacqueline returned in Episode 10 of this season, there have been plenty of opportunities for the two to interact on screen already. Aside from some long and emotional text messages exchanged between the two and an invitation to pop open a bottle of wine, Jacqueline hasn't really spoken about Teresa and vice versa. Kathy's prodding that Jacqueline give up hope isn't helping either. Neither Jacqueline nor Teresa went on the Florida trip, for pete's sake. They could have had a good heart-to-heart without being distracted by the twins.
Still, this season is far from over, so there are plenty of opportunities for Jacqueline and Teresa to have their fateful meeting. Aside from her husband and son, Jacqueline has only filmed with Kathy. However, the preview for Sunday night's episode teased a meeting with the twins Nicole and Teresa, so maybe Jacqueline will be filming with the rest of the Housewives, i.e. Teresa Giudice, soon too? Jacqueline probably won't film with Dina though since their relationship is still pretty strained.
There are rumors that Jacqueline will be attending the launch of Kathy's dessert line on the show, which apparently inspires Teresa to call Kathy a bitch. Maybe the encounter between Teresa and Kathy is actually the one to watch?
I figured that if nothing else, Jacqueline and Teresa would at least have to sit face-to-face during the Season 6 reunion. Even though Jacqueline isn't a full-fledged cast member this season, the show often invites spouses and others who have had supporting roles. However, any hope that I had of that happening has been crushed because Jacqueline apparently did not attend the Season 6 reunion taping, which took place on Oct. 5. How convenient.
All signs point to Jacqueline and Teresa being in the same place at the same time only once this season and in a large group gathering, if they come together at all. Now with Teresa about to serve time in prison, we may never see the two on TV together again. Or at least until Teresa's sentence is over, and she's back on RHONJ.
Images: Andrei Jackamets/Bravo; realitytvgifs/Tumblr