Dina & Jacqueline Are Keeping Their Feud Quiet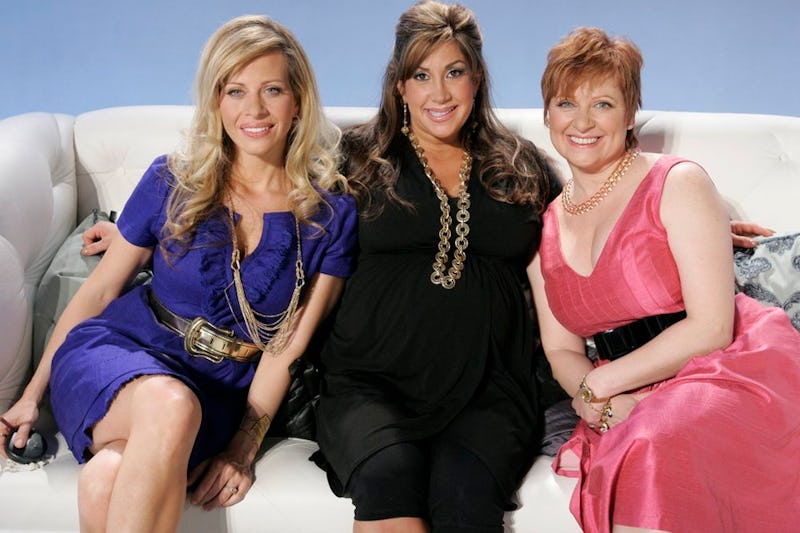 There was an exciting addition to the most recent episode of The Real Housewives of New Jersey Season 6: Jacqueline Laurita! Jacq's back, and while she hasn't shared scenes with many of her costars yet (so far, only Kathy Wakile), she seems to be ready to kiss and make up. There were rumors that Jacqueline was cut from the show because of her strained relationship with Dina. In Touch claims that Caroline and Dina actually fought over Jacqueline being on the show, with Dina allegedly requesting she be fired. Whatever the reason for her departure, Jacqueline is back on RHONJ for a little while and will be appearing on Manzo'd when it premieres on Oct. 5 as well. But there's no onscreen word as to whether Dina and her sister-in-law are getting along.
So far, Jacqueline has mostly focused on fixing her relationship with Teresa Giudice, but she's done so from a distance, choosing to text and call Teresa rather than film a scene with her or show up at a party to surprise her. Everyone's treating Teresa delicately now that her legal situation is so dicey, but still, that's pretty considerate behavior from a RHONJ cast member. Jaqueline seems to have mellowed out considerably since she was last on the show. She's more like fellow recurring Housewife Kathy; a somewhat relaxed commentator about all of the crazy events happening around her. She would do well to practice her magnificent side eye.
Online, there are no better Dina/Jacq clues. Jacqueline's first Bravo blog is again, mostly about her relationship to Teresa — they're civil, but haven't repaired their friendship much at all — and talks briefly about moving. Her house is on the market, but so far, no takers.
Dina, meanwhile, is firmly entrenched in the Florida trip, and the business between Teresa Arepa, Nicole, and Amber. She hasn't even shared a scene with Jacqueline yet, and doesn't comment on Jacqueline's appearance on her blog, either.
On Twitter, Dina is known to talk a lot about whatever's going on in her life, with almost no filter. But she hasn't mentioned Jacqueline at all lately. Jacqueline spends most of her Twitter time talking to fans and answering the important questions, like this:
Usually completely ignoring a family member doesn't say something great about the relationship, but over the summer, these two were throwing barbs over Instagram and never missing a chance to make a mean comment about the other. So maybe the silent treatment is actually a big step forward for them. It remains to be seen if they'll be fighting as the season goes on — right now everything is wrapped up in Teresa's court case and the twins fighting with Amber Marchese. Jacqueline and Dina's issues will just have to wait.
Image: Virginia Sherwood/Bravo; Giphy