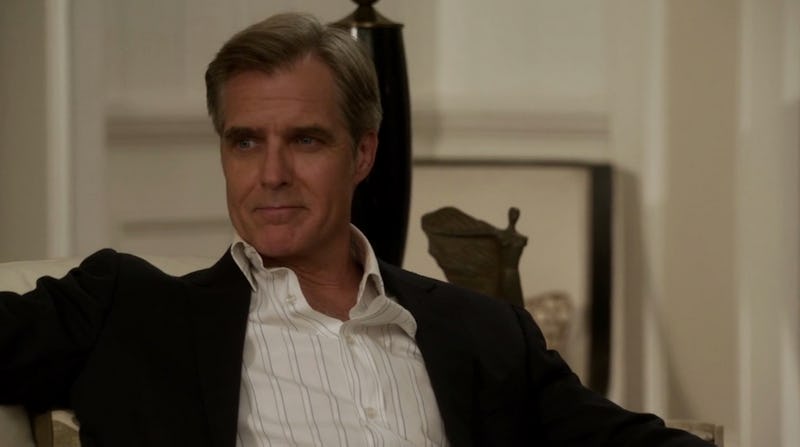 He's been missing from the first two episodes of Revenge Season 4, but that doesn't necessarily mean that we're rid of him for good. In the final moments of the Revenge Season 3 finale, we saw David Clarke stab Conrad and leave him for dead in the middle of the road. And on last Sunday's episode, while David held Victoria captive, he told her that he'd killed him. But could Henry Czerny's Conrad Grayson actually be dead? Think of it this way — if David Clarke is alive, there's a good chance Conrad is also. Especially because he's linked to one of Revenge Season 4's biggest death.
We learned back in September that a man close to Conrad would die in Revenge Season 4. E! Online revealed that an important Hamptons figure, who also happens to be close with Conrad Grayson, would die in Season 4 and put the community on guard. Everything on Revenge happens for a reason, which I'm sure any fan that's stuck by it through season two and three knows well, so I can't see a reason why ABC would attach Conrad's name to this man if Conrad wasn't going to play a part in Season 4. And, considering Conrad's fate was left up in the air at the end of the Season 3 finale, this is the opportunity Revenge will probably take to check back in with him.
And while we're considering Conrad's fate, if he actually died after the Season 3 finale — it'd be unacceptable by Revenge's standards. This is a show that's based entirely on people answering for their sins in a sufficient way. Emily wouldn't be cool with Conrad dying before he suffered for a good long time as Public Enemy #1 or at least as long as David Clarke suffered in prison. He confessed and became the most-hated man in America, but he didn't have to live through that for very long and on Revenge that's definitely not acceptable.
Aside from the obvious that Conrad hasn't suffered sufficiently for his crimes, fans of Revenge will recall that Conrad's been on his deathbed before. And he lived. Even if David Clarke left him for dead in the middle of the road, if the Grayson patriarch's history on the show repeats itself, someone will have found him. And who would know? Daniel and Charlotte are so sick of their parents that they wouldn't take any calls regarding their wellbeing and Victoria's been in an insane asylum, so it's entirely possible that Conrad's been on the mend somewhere and no one knows about it. Possibly with that aforementioned Hamptons figure that's on the fast track to death in Season 4.
But, the most obvious reason why Conrad might actually be alive is the fact that Revenge led us to believe for THREE SEASONS that David Clarke was dead and gone. And, as it turns out, he's very much alive and ready to wreak havoc on his enemies. The series might have killed the fake Amanda and Declan and let them stay dead, but I'm not taking any deaths for granted on Revenge anymore and neither should any of its other fans.
Even if we don't see Conrad for a long time in Season 4 so the series can develop Victoria poisoning David Clarke, unknowingly, about his real daughter, he's poised for a return. David Clarke might think he's killed Conrad and finally gotten his vengeance and the fresh start he's been waiting for, but there's a pretty big chance that Conrad's out there somewhere and Revenge is waiting for the perfect moment to reintroduce him back into the Hamptons turmoil.
Images: ABC (screengrab)