It's Time To Take a Trip Back To 'Halloweentown'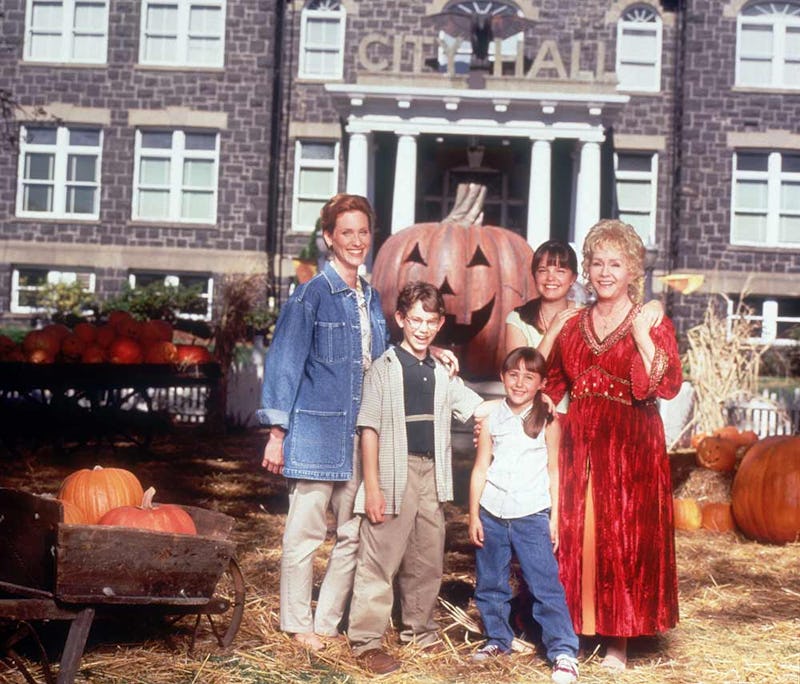 Aside from going to Party City to pick out my costume and planning my trick-or-treating route, one of my main Halloween traditions when I was a kid was finding out when Halloweentown was going to be on TV. I'm being completely serious here. Once it hit Oct. 1, I would ask my mom on a regular basis to let me know when she saw a TV listing for Halloweentown for that night in the newspaper or have her help me find it in our cable guide. If there was a Halloweentown viewing to be had, I needed to know about it.
As the years went on and I grew older, I stopped including the 1999 Disney Channel Original Movie in my Halloween festivities. Now it's sadly been a few years since I've seen Halloweentown, which starred Kimberly J. Brown as a pre-teen who finds out she's a witch and Debbie Reynolds as her magical grandmother. But thankfully, I wasn't the only kid who fell in love with the fictional Halloween-themed metropolis, so Disney Channel brings back this Halloween classic every year to appease all of us looking for a nostalgic trip and to also inspire a whole new generation of kids hoping they came from a long line of witches too.
So far, there are two opportunities for you to catch Halloweentown on Disney Channel, which is the only network that airs the movie. Halloweentown will air on Disney Channel on Wednesday, Oct. 15 at 6:25 p.m. and Friday, Oct. 24 at 2 p.m. Disney Channel's current TV listings only go as far as Sunday, Oct. 26, so it's possible that the network could squeeze in one more viewing of the movie before Halloween, and I certainly hope it does. We'll just have to check back in about a week when the schedule is updated again with later dates.
So if you've seen Halloweentown before, you know why it's one of the best Halloween movies ever, not just the made-for-TV kind either. It's also, dare I say it, one of the best Disney Channel Original Movies ever. Yeah, it's that good.
In Halloweentown, the Piper siblings learn that their family has magical powers and, hoping to harness those abilities, they sneak away from their over-protective mom to follow their quirky grandma back home to Halloweentown. As one might expect, there are lots of Halloween-type hijinks going on in this city, like talking skeleton cabbies, werewolves, and ghouls of all kinds. But really, it's a nice, peaceful town to live in. Or at least it was until some pretty sinister stuff started happening. It's basically up to Marnie and her siblings to figure out how to use their powers and stop whatever evil is afoot in Halloweentown.
It sounds delightful, I know. Halloweentown was so amazing that Disney Channel decided to make three sequels to it, Halloweentown II: Kalabar's Revenge in 2001, Halloweentown High in 2004, and Return to Halloweentown in 2006. That last sequel is the only one out of the Halloweentown franchise that I've never seen, but it had Sara Paxton replace Brown as Marnie, so how good could it be?
All three of these Halloweentown sequels are also airing on Disney Channel this month, but don't you dare think of watching them before you've seen the original. Otherwise, it'll be bubble, bubble, toil, and trouble for you.
Images: Disney Channel; nataliedormres/Tumblr (2)