What Does She Want With The Graysons?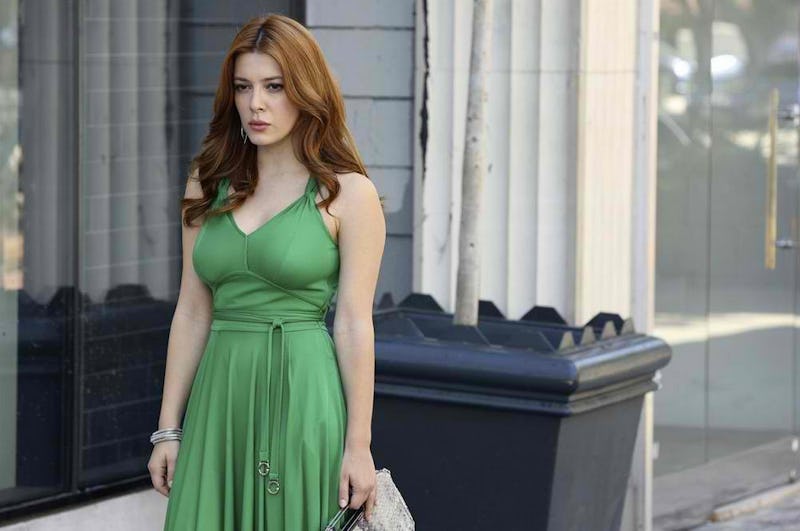 With new territory, comes a whole new batch of problems. ABC's Revenge Season 4 has been splitting its time between the Hamptons and NYC and it's been a breath of fresh air for the series. Sure, its NYC storylines have only consisted of Daniel's decline, Margaux's business woes, and Charlotte doing drugs, but things just got a lot more interesting. On Sunday night, Revenge re-introduced Louise Ellis, Victoria's asylum roommate, to the series' NYC location and it's very possible that she's working for Emily or, dare I say it, Conrad Grayson.
We first met Louise in the Revenge Season 4 premiere when she became Victoria's wealthy Southern roommate who was committed by her mother for, like, a millisecond before Victoria busted herself out of the joint. But, nonetheless, Louise was an interesting character who played a major part in breaking the Grayson matriarch out of her padded cell. Frankly, I thought Revenge fans had seen the last of Louise after that episode — Victoria left her behind in the asylum even though her trunk aided in Victoria's escape, after all — but, apparently, that's not the case.
On Sunday night's episode, "Ashes," Louise turned up in NYC where she'd obviously followed Victoria over to Daniel's hotel where she overheard the mother and son's discussion about being broke. And the sinister look on her face when the camera panned to her sitting, concealed, in a plush chair clearly stated that Louise is in on something. And later on in the episode, she turned up again at the hotel bar where she offered Daniel, who was hard-pressed to find work, a job. Obviously none of this is a coincidence, but it brings up an important question: Who is Louise working for?
At this point, it could be anyone, but my bets are on Emily or Conrad (if he's still alive, of course). Both of these people have reason to continue targeting Victoria and Daniel, but it seems more likely that Louise might be working for Emily because she knew to go to the asylum. Either Emily had planned from the get-go to let Victoria break out of there (I mean, she hasn't called the police now that she knows Victoria is out) and/or Conrad wanted to check up on his wife. Either way, Louise isn't just doing all of this on her own — even if she doesn't know it yet, one of these two will come to recruit her for their team. Especially now that she's forged a relationship with Daniel.
But if that's not the case, what exactly could this woman want? The Grayson's aren't exactly considered high society anymore and they sure as hell don't have any money. What does Louise have to gain from connecting with them unless she's working for the aforementioned evil geniuses? Nothing, because the Graysons have nothing to give and Louise is already independently wealthy. So this isn't a money situation. Is Victoria looking at another vengeful enemy after leaving Louise to rot in the asylum after she'd helped her escape? It's possible — especially now that it seems like Victoria's ground is already starting to crumble beneath her.
Image: ABC