'Revenge' Season 4 is gonna be crazy — literally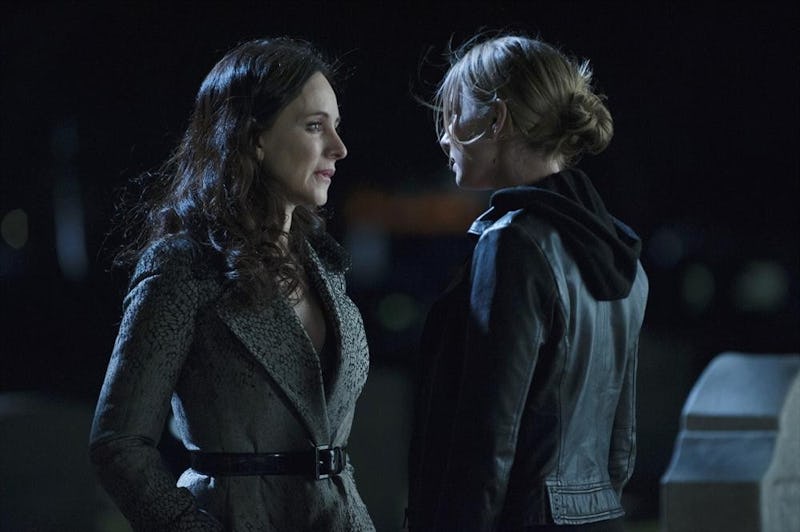 ABC's soapy Hamptons drama Revenge returns for season four later this September with one major change: Lead character Emily Thorne is no longer the one seeking the titular vengeance. This time around, the tables are turned, and it's her arch-nemesis Victoria Grayson who will be pursuing a vendetta against Emily.
Season three closed with a doozy of a finale — an hour packed with a plethora of cliffhangers that left fans reeling all summer long. Jack was hauled in for questioning after Charlotte turned him in as her kidnapper and Daniel woke up to find himself in bed with a corpse (an OD arranged by Gideon for blackmail purposes), and those were the two least shocking twists of the episode. In retaliation for Pascal's death (and three seasons' worth of meddling), Victoria pays Emily back by smothering Aiden to death and then parking his corpse in Emily's living room. Then in retaliation for Aiden's death (the cycle never ends), Emily lures Victoria to a graveyard where she's digging up Amanda's grave. She knocks Victoria out with a shovel, and when the ice queen wakes up... she's been committed to an insane asylum! Emily told the doctors Victoria had gone crazy and was trying to prove that Emily was actually Amanda (which, as it so happens, is true).
In the penultimate episode, Emily finally succeeded in getting Conrad imprisoned for the crash of Flight 197 and her father's name cleared. Unfortunately, Conrad's trip to the pokey didn't last very long, as a guard helped break him out in the finale. Fortunately, someone was waiting to intercept him on the outside: a very much alive David Clarke, who stabbed Conrad and left him for dead in the middle of the road.
Here's what we can look forward to in season four:
Papa Clarke is here to stay
Actor James Tupper, who for three seasons has played Emily/Amanda's presumed dead father and convicted terrorist David Clarke is back for season four as a full-fledged series regular, buzzed hair and all. What are the ramifications of David killing Conrad? Was it just the act of a wronged man seeking vengeance? Or is Papa Clarke perhaps shadier and less virtuous than Emily's nostalgia-tinged flashbacks led us to believe? Either way, David's resurfacing should have a major impact on the show. For its first three seasons, much of Revenge has actually been focused on the past, as Emily sought retribution for other people's actions. Now, with her father alive and returned to the Hamptons, everything Emily does will be firmly rooted in the present, including her relationship with David and her battle with Victoria.
Aiden who?
Emily's twue wuv may have only just died in last season's finale, but it appears she'll be moving on pretty quickly. Brian Hallisay (Mistresses, Privileged, The Clint List) has been cast in the recurring role of Ben, a local police officer who befriends Jack Porter and romances Emily. What does this mean? For one, Jack's time with the FBI must go pretty well if he's coming out of the other side with a new cop buddy. And two, the writers just can't stop themselves from throwing obstacles in the way of an Emily & Jack happy ending. With Aiden and Fauxmanda both dead, it seemed like the perfect time for the two childhood sweethearts to finally seal the deal, but Jemily just seems destined to never actually happen. Sorry, 'shippers!
Lisa Simpson flew over the cuckoo's nest
Yeardley Smith, who's most famous for voicing Lisa in all 563 episodes of FOX's cartoon (you may also recognize her from guest starring roles on the likes of Mad Men, Hot In Cleveland, and Dharma And Greg) is joining the cast this year. Smith will appear in the season premiere as Phyllis, a patient inside the asylum in which Emily imprisoned Victoria. Countdown until Phyllis actually drives Victoria insane: 3... 2... 1...
From Asgard to the Hamptons
Actress Elena Satine, who guest starred on ABC's Marvel's Agents Of S.H.I.E.L.D. last season as Lorelei, the seductive warrior from Asgard, is coming to the Hamptons in a similarly twisted role. Satine will portray Louise, who is described as the "black sheep daughter of a wealthy Southern family" who is "slightly unhinged, though she only has the best of intentions (within the context of her own warped logic)." Louise sounds charmingly manipulative — could Emily be about to tangle with the female incarnation of season one's deranged Tyler Barrol?
There won't be a flash-forward
Breaking a well-loved tradition after three seasons running, Revenge will not open with a mysterious flashforward this year. (Season one started with someone being shot on the beach, season two with a sunken boat, and season three with Emily being shot at her wedding.) While diehard fans may be disappointed by the development, the writers are excited for the opportunity to shake up their routine. After the events of last year's finale, showrunner Sunil Nayar tells E!, "... There's a chance to shake it up from the very first frame of season four, so fans think, 'OK, this is a show that I love, but it's going to be different and surprise me.'"
It's all about Victoria's revenge
Now that Emily has accomplished her long-sought-after justice for her father, it's Victoria's turn at the revenge-wheel. ABC President Paul Lee tells TVLine the network is approaching the fourth season of the sudser as essentially a "reboot" of sorts. This creative restructuring (rooted in the present, no flashforward, focus on Victoria's vengeance) will hopefully inject the show with new energy after a couple of seasons mired in tangled conspiracies and convoluted tangents. (Remember The Initiative? We try not to, either.) Nowhere is this change more apparent than in the recently released promo for season four, narrated not by Emily as you might expect, but by a fuming Victoria.
My name is Victoria Grayson, and I have a story to tell. Over the past three years my family was destroyed, the love of my life murdered, my freedom taken away. When everything you love has been stolen from you, someone has to pay. Emily Thorne — I'm coming for you.
It's interesting how this promo manages to frame Victoria as the wronged woman and Emily as the malevolent schemer who needs to be brought down. Take a look:
Images: Colleen Hayes/ABC; ABC (Screengrab); revengeinfinity2011/Tumblr; plumkat/tumblr; Getty Images (3); Giphy