It's Not Halloween Without 'Beetlejuice'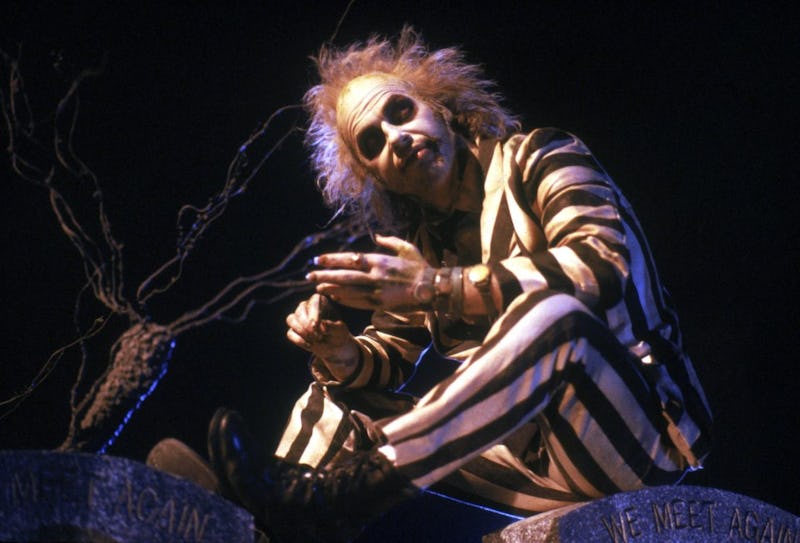 It wouldn't be Halloween if someone didn't summon Beetlejuice — or at least watch Tim Burton's 1988 classic horror comedy film, starring Michael Keaton, Alec Baldwin, and Winona Ryder. Keaton played the titular character, who is a "bio-exorcist" ghost with a very lively personality. A ghost couple hires him to scare the bejesus out of the living couple (and their goth girl daughter Lydia, played by Ryder) currently inhabiting their house — and all hell breaks loose. Back in the '80s, Beetlejuice topped the box office, won the Oscar for Best Makeup, and even inspired a long-running animated series on ABC and Fox. You can watch Beetlejuice on ABC Family on Oct. 22, Oct. 24, Oct. 24, Oct. 30 and on Halloween night. Or you can summon him on Amazon Instant Video, iTunes, and VUDU.
The other way you can on-demand Beetlejuice (the guy), as detailed by the movie, is by saying his name three times. But he's not the only pop culture icon you can summon by saying his name multiple times. The method — inspired by the urban legend of Bloody Mary (sorry, not the cocktail) — is used quite a bit in movies and TV shows as a means to scare or signal. Here are three other spooky characters you can summon by just saying their name.
Bloody Mary
As folklore says, stare into a mirror in the dark (or a dimly-lit room) and say "Bloody Mary" name three times. She's supposed to appear in the mirror and terrify you. The legend has inspired many movies and TV episodes, including an installment of the Urban Legends film series and episodes of The X-Files and Supernatural.
In reality, Bloody Mary is caused by the Caputo Effect. The "ghost" that appears in the mirror is actually your own distorted reflection. In the academic journal Perception, the Caputo Effect is described as "the apparitions in the mirror consist of new faces having new traits."
Candyman
As detailed in the 1992 horror film Candyman, say "Candyman" five times while looking in a mirror and the hook-handed ghost will reach out murder you. Um, yikes. That's probably not a good idea to do, unless you are looking to challenge the post-Civil War artist and son of a slave, whose own tragic death involved a mob that attacks him with bees.
Biggie Smalls
As Butters learned on a 2006 episode of South Park, you can call the spirit of the Notorious B.I.G. by saying "Biggie Smalls" three times into a mirror — and he does appear, gun ablaze. But once you do summon him, you might have to escort him back to Los Angeles for Satan's latest hot party, a la Butters in the episode "Hell on Earth 2006."
Don't try it at home, kids. Stick with Beetlejuice — he's way more entertaining and won't kill you. Or make you go to LA. Plus, there might just be a Beetlejuice sequel.
Images: BeetlejuiceOfficial/Facebook; Giphy (3)