Alert: There's an Official Dancing Baby Groot Toy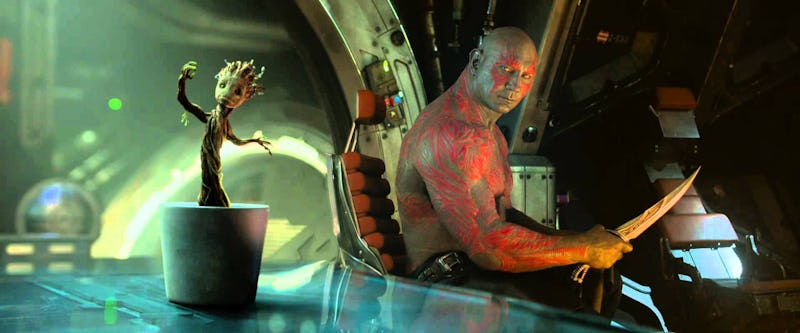 I'm calling it now: when the dancing baby Groot toy is released it's going to be the holiday season's hottest item. Marvel and KID Designs got together and heard our pleas to be able to buy an official baby Groot figure and it's better than I ever imagined. The $14.99 toy immortalizes the adorable moment from the end of Guardians of the Galaxy when baby Groot busts a move to The Jackson 5's "I Want You Back." The plastic version also plays the song out of its white pot base emblazoned with the signature phrase "I am Groot."
The toy doesn't have quite the same range of motion as the animated character, but it's still totally cute and sure to be a big hit. It's just one more example of how Guardians of the Galaxy is taking over the holidays as baby Groot is quite a popular Halloween costume this year as well. If we can just find a way to work Groot into Thanksgiving it'll dominate all the fall celebrations.
In fact, I'm betting it'll also be one of the go-to presents for the holidays considering it hits shelves in December. One look the most popular toys of Christmases past, and it's easy to see that baby Groot embodies all the quantities of previous holiday favorites and combines them into one super toy. Case in point:
IT HAS THE MOVIE FACTOR OF A BUZZ LIGHTYEAR TOY
After Toy Story debuted in 1995, the Buzz Lightyear action figure became a very popular holiday gift that year. Kids love owning things they see in movies, what can I say?
IT HAS THE DANCING ABILITY OF A TICKLE ME ELMO
This 1996 Christmas winner probably didn't get 600 percent markups because it was a Sesame Street toy. No, it was all about that dancing and giggling. Groot doesn't giggle, but he does dance and that'll help him on his way to Christmas-time profits.
IT HAS THE NOVELTY OF A FURBY
1998's most popular toy was strange to say the least, but that made it all the more entertaining. A dancing baby Groot is no less unique than a Furby, so it definitely has that going for it.
IT HAS THE POPULARITY OF FROZEN
Guardians of the Galaxy 's box office numbers are rapidly approaching Frozen's levels—and still going strong. The popularity of the Disney animated film helped launch all manner of Frozen toys, from dolls to plush snowmen, into the top of the 2013 Christmas sales. With a movie as popular as GotG, its toy has potential to have the same impact in 2014.
With all of these traits combined into one toy, you can bet this cute Groot will make a splash in the sales numbers come this December. So, check out his moves below and get excited.
Images: Walt Disney Studios; iheartchaos/Tumblr; giphy; glee, lab-rats/Wikia